Each week we are posting General Intercessions for the upcoming Sunday liturgies by Msgr. Joseph Masiello, retired pastor of Holy Trinity Parish, Westfield, NJ. These intercessions are based on the assigned scriptures, the liturgical season and current events.
---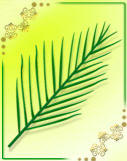 PASSION (PALM) SUNDAY
CELEBRANT: As humble servants, we pray now, in the name of Jesus, the name above every name, for the needs of our Church and of our sister and brother human beings.
READER: Please respond, "LORD, HEAR OUR PRAYER!"
1. That this Holy Week anniversary remembrance of Jesus' death and resurrection may renew in faith all who bear His name, and lead God's people, shepherds and faithful, to empty themselves, as Christ Jesus did, to serve in unselfish love family and neighbor, near and far, we pray...
2. That Ukraine and all lands and hearts, ravaged by war and by every unholy violence, may soon come to a Sabbath of healing and a new springtime of peace, we pray...
3. That Jesus' suffering and rising and the commitment of his disciples to alleviating the pain of the hurting may be a sign of hope for the countless numbers whose lives have been upended by natural disaster, for all weighed down by injustice and hatred, and for refugees and migrants crying out for compassion, we pray...
4. That those who are mourning loved ones may gaze upon Christ crucified and be consoled in the knowledge that they do not walk alone but with the One who brought life out of death, we pray...
5. That we may accompany the elect to the waters of Baptism, supporting them by our prayer and fasting, and confessing with them that Jesus Christ is Lord, we pray...
6. That the seriously ill in our community and among our family members and friends may be gifted with care, love, and the healing touch of our God, (especially _______________,) we pray...
7. That , (and) all our beloved dead may rest forever in the embrace of our God's love and peace, we pray...
CELEBRANT: God of eternal glory, you anointed Jesus as your Servant to bear our sins, to encourage the weary, to raise up and restore the fallen. Seal our lives, as his, with the virtues of humility and obedience. We ask this through Christ our Lord.
---