Provisions for the Journey to Bethlehem
Brief reflections on the week's scripture readings.
First Week of Easter - 2020.
---
We've reached the end of our Lenten journey. In the past, I have transitioned back to writing "Come and See" for the remainder of the Easter season and into ordinary time. In talking with some loyal readers, they have asked if I would stay with the Provisions format as we continue our day-to-day journey through this crisis.
So that is my plan for the foreseeable future. I will try my best to focus on hope.
---
Sunday, April 12: "They have taken the Lord from the tomb, and we don't know where they put him." (Jn 20:1-9)
Who are "they" that have taken the Lord? Mary of Magdela is at the tomb in the wee hours of the morning. She probably hasn't slept and is overcome with grief. She returns to the place where Joseph of Arimathea and Nicodemus – the two "hidden" disciples who chose in the end not to hide – had laid Jesus's body. Her use of the word "we" supposes that another woman or two is with her. They are panicked. She makes the quite logical assumption that someone has stolen his body. Perhaps it is the Jews, perhaps the Romans. Nowhere in her grief-stricken consciousness does the thought of resurrection occur. Nowhere in her frame of mind is an inkling of hope.
Right now, we might be fearful and grieving, maybe even feeling panic from time to time. These emotions are real and logical, but they rob us of our peace of mind and keep us from experiencing the hope and joy of Jesus's resurrection. Who or What are the "theys" in your life right now keeping you from hope?
Today's Provision: Make the Serenity Prayer real. We all know Reinhold Niebuhr's simple but powerful prayer: "God, grant me the Serenity to accept the things I cannot change, Courage to accept the things I can, and Wisdom to know the difference." But make it real today. Pause after each of the first two phrases and make a list. (I've attached a format for you to use if you'd like). Then go back over your list – once you've asked God for wisdom – and see if there is anything you would move from one section to the other. Remember to go back to it every day. Use it as a source for meditation and quiet prayer.
Monday, April 13: "Keep me safe, O God; you are my hope…You will show me the path to life." (Ps 16)
The Hebrew translation is beautiful and so fitting for our situation right now: "Guard me, O God, for I shelter in you …make me know the path of life." As we shelter in place, let's make sure that shelter is built around the hope we have in God's compassion. Ask God during these difficult days to show all of us, throughout the whole world, the path to life which Christ has set for us: care for the poor and alone, fervent prayer, and surrender to God's will.
Today's provision: Pray. I don't know about you, but there have been days recently I've found it difficult to pray. I get distracted easily even though I feel a great desire to pray, especially for the medical professionals on the front lines. I think, "No greater love has one than to lay down one's life for another" – in this case, mostly complete strangers. I am so humbled and yet feel so impotent. I have no excuse to succumb to compassion fatigue in the face of their sacrifices. So one thing I've started this week is to find the names of hospitals in what are called "Hot Spot" cities and town all over the world. Each day, I will dedicate my prayers and all that I do for the staff at those hospitals. How do you go about focusing your prayers during these difficult days?
Tuesday, April 14: "Our soul waits for the LORD, who is our help and our shield. May your kindness, O LORD, be upon us who have put our hope in you." (Ps 33)
"We urgently wait for the Lord. Our help and shield is He. May Your kindness, O Lord, be upon us, as we have yearned for You." The Psalms are such appropriate prayers for this time in our history. Consider reading them to join with the sufferings of the ancients and all those who have suffered down to the present day.
If you can, find a different translation from the one you normally use. A Hebrew bible is a good source. The translation of the Hebrew, a language rich in drama and hyperbole, often does not do justice to the depth of emotions conveyed by the psalmists, but as I've shown yesterday and today, a good translation can lead us to deeper prayer. Or better yet, think about what you would write to express your impatience, your longing for God.
Today's Provision: Write your own psalm. The spiritual writer, Kathleen Norris, talks about doing this with young kids. She says the children's poems "often have an emotional directness similar to that of the biblical psalter…with more honesty than most adults could muster." The prophets and the psalmists feared God, but were not afraid of God. They were honest with their anger and impatience. Give God the benefit of being able to handle your honestly. Talk to God.
Wednesday, April 15: They stopped, looking downcast…. he said to them, "How slow of heart to believe all that the prophets spoke!" …"Were not our hearts burning within us?" …they set out and returned to Jerusalem. (Lk 24:13-35)
The journey to Emmaus starts with sorrow and heavy, laden hearts. Hearts slowed by disappointment and grief. I imagine the travelers hunched over, taking slow laborious steps. Then a stranger comes along and enters the conversation uninvited. It's curious they are so open with this stranger; they are likely leaving Jerusalem to escape danger, and who knows who this stranger is! But he begins to talk and their heavy hearts come alive again. The desire and hope is starting to burn anew. And once they realize they have been in the Lord's presence, they hasten in joy to return to Jerusalem, heedless of the danger of traveling at night, to share the Good News!
Today's Provision: Let the Lord burn your heart with joy. Something I love about this story: we hear the name of one traveler, Cleopas; some scholars say the other might have been his wife. Who the heck are these people? They are not mentioned before this. Yet Jesus chooses them as some of the first people he appears to. Think about these two travelers whenever you are feeling you are not holy enough, not pious enough for Jesus to come in prayer to you. Invite him to join your prayer, and let the Lord set your heart afire with joy and hope.
Thursday, April 16: "What is man that you should be mindful of him, or the son of man that you should care for him?
You have given him rule over the works of your hands, putting all things under his feet." (Ps 8)
When I read this psalm verse, I'm led to consider what kind of ruler I'd want to be. I know that I am "under the feet" of Jesus, subservient to him. I look at Jesus as a ruler. I'd want to model myself after him: compassionate, benevolent, caring. I imagine how Jesus might treat the earth. How well have I done, how well has humankind done as rulers over the works of God's hands?
Today's Provision: Care for the works of God. I'm afraid we know the answer of how well have we done as "rulers" of Mother Earth. We have not been benevolent or compassionate, but instead have tried to drain her dry. Some scoff that this pandemic is caused by our abuse; after all, there have been pandemics in the past. Yes, that's true: Mother Nature always seeks to come back into balance; in some cases, even eliminating species that no longer serve her common good. I believe we are at a turning point. God wants us to look upon the earth and her creatures and each other as God does: not as separate nations and kingdoms, but as an entire family, ALL being cared for and fed by the Earth's great bounty!
Friday, April 17: Simon Peter said, "I am going fishing." (Jn 21:1-14)
Peter is going fishing. Life has been turned upside down. He is exhausted, confused, and fearful, so he does something familiar. He's not worried about actually catching fish. He just wants to do something he knows in his bones. I think of the familiar things I'm not able to do now: Go to church, attend meetings with colleagues, visit friends, especially those who are ill or alone. Even the not-so-great things like sitting in rush-hour traffic, waiting in line at the store or in car-pool, or spending another weekend at the kids' sporting events are out of reach for us these days.
As Jesus commissions Peter, and as he steps up to his role of leading the fledgling church, I'm sure there will be many more times he casts his net into the sea, each time hoping for a catch. This is how he makes his living. But I imagine there will never be a time when he does so without thanking Jesus for giving life, meaning, and joy to the ordinary tasks of his day. Something to keep in mind when things settle down for us. We pray some things will be the same as before, but let's make sure we are changed. Let's hope gratitude for our everyday lives—yes, even the traffic jams – will be looked upon as the gift the ordinary really is!
Today's Provision: Hunt for blessings! There are blessings to be had every day during this period of isolation. Here's something you can do: Imagine you are at God's Easter Egg Hunt. The "eggs" we are looking for are blessings right here and right now. And just as an egg can represent new life, let's consider the trials we experience as fodder for new life; don't ignore the blessings-to-come. You can do this on your own, or with the kids – Lord knows you need things to keep them busy! Write down on individual pieces of paper (shaped like eggs if you want) the "blessing eggs" you've found today and keep them in a Resurrection Blessings Basket. Do this every day and share the joy.
Saturday, April 18: "Go into the whole world and proclaim the Gospel to every creature." (Mk 16:9-15)
How do we do this now when we are sheltering in place? When the only "creatures" we see are those nearest and dearest to us (and whom, frankly, we've seen way too much of) and the deer and bunnies eating all the new growth from the garden! As I was praying with this, I realized I was adding the word "out," as in "Go out into the world."
Now, let's not read too much into this, but it's interesting to think about: how do we go into the world without going out in world? It's like being "in the world but not of the world" (Jn 17). I believe we are called at this time to go into the whole world's suffering, not dwelling just on our own problems. To unite ourselves in a deeply spiritual way with all those who are sick, dying, frightened, unemployed, alone.
Today's Provision: Dig deeply. Use this day to pray in a deep way for all those who have no one praying for them. Know that I will be praying today for each one of you who read this. Though I don't know many names, God does. I hope that gives you some comfort if you are alone. Stay safe and well. Have faith.
---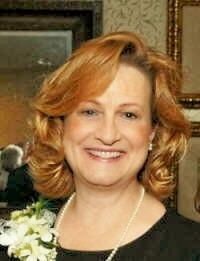 Elaine Ireland has a passion for working with parents and anyone who struggles to maintain a sense of God's love and peace amid the day-to-day challenges of life. She has a master's degree in Spiritual and Pastoral Care from the Pastoral Counseling department at Loyola, Maryland, with a focus on developmental psychology and spiritual guidance. Rooted in Ignatian spirituality, she is a writer, retreat and workshop leader, and presenter on topics such as pastoral parenting, "letting go," and finding the spiritual in the midst of everyday life. She lives in Ellicott City, Maryland with her husband, Mark and children, David and Maggie.
---
We hope you enjoy "Come and See!" and we welcome your input. Please contact Elaine Ireland at
ehireland@loyola.edu
with questions, comments, and responses.
---
© 2009 - 2018, Elaine H. Ireland - Images@FaithClipart.com
---
Up to 6 weeks of "Come and See!" reflections are saved here.
The latest is always listed first.