Dear Preachers:
In our liturgical celebrations and daily prayer we frequently pray for vocations.
I live in a novitiate community of the Southern Dominican Province, USA.
I can say that I have seen visible evidence that our prayers have been heard, for we have five vibrant novices spending their first year in the Order with us.
Please join us in praying for them as they discern their vocations.
"First Impressions" is a free weekly preaching ministry. If you can help support this ministry, as well as help with the training of our novices, we would appreciate it. Please pray for us, as we do for you, our benefactors, each day.
Send tax deductible checks (made out to "Dominican Friars") to:
Preaching Resources
Dominican Friars
3150 Vince Hagan Dr.
Irving, Texas 75062-4736
Or: For an online donation go to:

https://www.preacherexchange.com/donations.htm
Thank you.
---
WELCOME: To the latest email recipients of "First Impressions" the retreatants at Blessed Sacrament Parish in Manhattan, NY
---
---

Things are certainly warming up, aren't they. The Christmas season is in full swing. There are the decorations in the yards and stores around us. Many homes already have inside decorations and have set up Christmas trees with the stable scene at their base. Even with all the turmoil in our world these days fill a lot of people with the warm glow of the season, especially if they have children. The kids' excitement is contagious.

But for those who come to church maybe we should apologize for putting a damper on the season. John the Baptist is featured in today's gospel and he doesn't look like, or sound like, what we might expect at this time of the year. He is a grisly looking prophet, wearing camel hair clothing and a raw leather belt. His diet matches his clothes, "locusts and wild honey." John calls the Pharisees and Sadducees a "brood of vipers." Hardly the "Christmas spirit." He sounds more like Ebenezer Scrooge than a voice preparing for Christmas.

We live in quite a different world than John and the people who went out to hear him preach did. Our world is so hi-tech, with all our advanced forms of communication. (Some friends just went to Europe and it took just minutes to exchange messages and pictures with them across the ocean.) What could John possible say to us in our world that would have any meaning?

Perhaps we should call John an eccentric and dismiss him and his message. Except that something must have made sense to the people because they went out to the desert to hear him. John wasn't invading their space. He wasn't walking through their neighborhoods, knocking at their doors, or showing up in their market places. He lived in the desert, far from their towns and villages. People had to put their lives on hold to travel into the wild desert where John lived to hear him.

He was a prophet in the old style, a firebrand. God had sent similar prophets to the people before and people must have sensed in him traces of the God of their ancestors – the God who rescued them from slavery, brought them across the harsh desert for forty years and led them into the Promise Land. God did it once, maybe God was going to deliver them from another tyrant, the Romans and maybe John was the bearer of that good news. The people who heard John must have been excited with anticipation, finally God was about to help them.

The people John spoke to were mostly poor people, not well educated, except for the Pharisees and Sadducees. But they knew their tradition, and they knew their scriptures. They believed the words of the prophet Isaiah, the words we heard in today's gospel: "A voice of one crying out in the desert, 'Prepare the way of the Lord. Make straight his paths."' Having felt so low, so oppressed, so tired of bad news, the people were excited by John's presence and message – God was coming to help them.

John isn't just speaking to people in a distant past. He is speaking to us as well: who want to change, have attempted in the past, but come here today willing to admit our need for help: who want to become the compassionate people Jesus calls us to be; to make good career choices that are filled with integrity and purpose; who keep our relationships strong; who hope to end our negative, even destructive, patterns of behavior. John's voice encourages those who are discouraged, or unsure of their self worth and abilities.

As harsh as John the Baptist sounded he did draw a crowd. He was popular because they needed help and he was a voice of clarity and sanity. They and we hear his promise: someone is coming bearing a fire for spirits that are chilled by boredom, aimlessness and routine. John promises that our spirits, which are bloated with excess, can be revived by a new spirit. What has been chilled and feels tepid in us can be heated again by the fire of the coming Christ. He is coming, John tells us, with a baptism of the Spirit and fire. That must have been an exciting message to hear! We cannot revive our spirits on our own. We need what John promises us – the gift of a renewed spirit. Unlike other gifts at this buying season, this spirit of renewal cannot be bought, or charged to Visa. It cannot be owned and possessed only by the rich and powerful. It can't be cornered and monopolized by any special religious elite. It is a gift that only God can give, a baptism, John says, "with the Holy Spirit and fire."

Behind John's voice is God speaking with love and concern for us. God is sending someone out looking for us to bring us home, the one mightier than John, who will baptize with water and the Spirit. With that Spirit guiding us we will not lose our way. With that fire burning within us we will share what we believe with others who might still be on "cruise control."

We want more than just a jolly Christmas filled with tinsel and jingles. We want more than receiving the perfect Christmas item, or latest hi-tech gadget. John spells it out quite clearly what we want and need for Christmas. We want a renewing Spirit that will make us more attentive to God in our daily lives. We wait for that Spirit to move our faith beyond routine and formalism. We wait and long for a fire that will make more real, tangible and intense our love of God and neighbor. That's what John tells us God wants to give us, "The kingdom of heaven is at hand..." for us too!

Knock, knock. Who's there? John the Baptist, with some bad news – you have got to change. And some pretty good news too – God is coming to help with those changes.

Click here for a link to this Sunday's readings:


https://bible.usccb.org/bible/readings/120422.cfm

An Advent Practice

Would you drop a note to one of the death row inmates we list in each week's "First Impression?" Cf below.

Sudden as sweet

Come the unexpected feet.

All joy is young and new all art,

And he, too, whom we have by heart.

— Alice Meynell

Justice shall be the band around his waist.


—Isaiah 11:5

This eleventh chapter of Isaiah describes the Rule of Immanuel, "God with Us." Every monastic order has a Rule by which the community agrees to live. God protects the poor and afflicted with justice and so must we, as his disciples, accept this rule as part of our communal life. While it is understood that salvation always comes from God, God does expect human participation in manifesting biblical justice.

One of the documents of the Second Vatican Council is the "Decree on the Apostolate of Lay People." This document calls for the laity to exercise their cooperation as agents of God's saving grace and help create a new human community of justice based on right relationships with God, with other humans, and with the material world. The document states:

Lay people, sharing in the priestly, prophetical and kingly office of Christ, play their part in the mission of the whole people of God in the church and in the world. In the concrete, their apostolate is exercised when they work to evangelize people and make them holy; it is exercised, too, when they endeavor to have the Gospel spirit permeate and improve the temporal order, going about it in a way that bears clear witness to Christ and helps forward the salvation of humanity.

Like one of the ancient prophets, who regularly called people back to the way of God, the document states. . . members who fail to do their best to promote the growth of the body must be considered unhelpful both to the church and to themselves.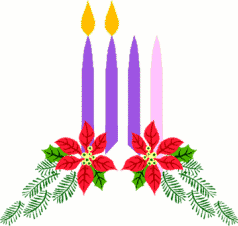 As you light the second Advent candle, reflect a moment on what the world would look like if we all participated in bringing about God's vision of a just world. In the broad strokes of an artist's brush, people would work together to meet the needs of all, the physical world would function as a peaceful unity, and all kinds of artificially created boundaries would dissolve. On the lines below, write down one brush stroke that you could do as a visible act to help in the creation of a just world.
Barbara Molinari Quinby, MPS, Director,
Office of Human Life, Dignity, and Justice Ministries
Holy Name of Jesus Cathedral, Raleigh, NC
Mini-reflections on the Sunday scripture readings designed for persons on the run. "Faith Book" is also brief enough to be posted in the Sunday parish bulletins people take home.
From today's Gospel reading:
[John told the people] I am baptizing you with water, for
repentance, but the one who is coming after me is mightier
than I.... He will baptize you with the Holy Spirit and fire.
Reflection:
God is making a promise to us today through John the Baptist: Someone is coming bearing a fire for spirits that are chilled by boredom, routine and cynicism. John also promises the Holy Spirit for spirits bloated with excess and in need of a renewed spirit. These are gifts we cannot buy for ourselves, but this Advent God wants to give them to those who ask for —a purifying fire and the renewing Spirit.
So, we ask ourselves:
What part of our lives needs a renewing and warming gift of divine fire?
Am I praying to the Holy Spirit to come into my life this Advent?
POSTCARDS TO DEATH ROW INMATES
Many people say that we need the death penalty in order to have "justice for the victims."
But so many family members of murder victims say over and over that the death penalty is not what they want. It mirrors the evil. It extends the trauma. It does not provide closure. It creates new victims… it is revenge, not justice.
Killing is the problem, not the solution.
----Shane Claiborne, Death Penalty Action's Advisory Board Chairman,
This is a particularly vulnerable time for state and federal prisoners. I invite you to write a postcard to one or more of the inmates listed below to let them know we have not forgotten them. If the inmate responds you might consider becoming pen pals.
Please write to:
Daniel M. Cummings #0095279 (On death row since 12/16/1994)
James M Thomas #0404386 (2/23/1995)
Tony Sidden #0368820 (3/15/1995)
----Central Prison, P.O. 247 Phoenix, MD 21131

Please note: Central Prison is in Raleigh, NC., but for security purposes, mail to inmates is processed through a clearing house at the above address in Maryland.

For more information on the Catholic position on the death penalty go to the Catholic Mobilizing Network:

http://catholicsmobilizing.org/resources/cacp/

On this page you can sign "The National Catholic Pledge to End the Death Penalty." Also, check the interfaith page for People of Faith Against the Death Penalty:

http://www.pfadp.org/

"First Impressions"

is a service to preachers and those wishing to prepare for Sunday worship. It is sponsored by the Dominican Friars. If you would like "First Impressions" sent weekly to a friend, send a note to Fr. John Boll, OP at jboll@opsouth.org.

If you would like to support this ministry, please send tax deductible contributions to Fr. Jude Siciliano, OP:

St. Albert Priory
3150 Vince Hagan Drive
Irving, Texas 75062-4736

Make checks payable to: Dominican Friars.

Or, go to our webpage to make an online donation:


https://www.PreacherExchange.com/donations.htm

1. We have compiled Four CDS for sale:
Individual CDs for each Liturgical Year, A, B or C
One combined CD for "Liturgical Years A, B and C."
If you are a preacher, lead a Lectionary-based scripture group, or are a member of a liturgical team, these CDs will be helpful in your preparation process. Individual worshipers report they also use these reflections as they prepare for Sunday liturgy.

You can order the CDs by going to our webpage:

www.PreacherExchange.com and clicking on the "First Impressions" CD link on the left.

2. "Homilías Dominicales" —These Spanish reflections on the Sunday and daily scriptures are written by Dominican sisters and friars. If you or a friend would like to receive these reflections drop a note to fr. John Boll, O.P. at Jboll@opsouth.org.

3. Our webpage: www.PreacherExchange.com - Where you will find "Preachers' Exchange," which includes "First Impressions" and "Homilías Dominicales," as well as articles, book reviews, daily homilies and other material pertinent to preaching.

4. "First Impressions" is a service to preachers and those wishing to prepare for Sunday worship. It is sponsored by the Dominican Friars. If you would like "First Impressions" sent weekly to a friend, send a note to Fr. John Boll, OP at the above email address.
---
Thank you and blessings on your preaching,
Fr. Jude Siciliano, OP

St. Albert the Great Priory & Novitiate
3150 Vince Hagan Drive
Irving, Texas 75062-4736
972-438-1626
---
Click on a link button below to view the reflection indicated.
(The newest items are always listed first.)