Contents: Volume 2 - Christ the King/Advent I -
C
November 20, 2022
1. -- Lanie LeBlanc OP - Christ the King - 11/20/22
2. -- Dennis Keller - Advent I - 11/27/22
3. -- Brian Gleeson CP - Christ the King - 11/20/22
4. -- Paul O'Reilly SJ - Christ the King - 11/20/22
5. --(Your reflection can be here!)
*****************************************************
*****************************************************
Solemnity of Jesus Christ the King of the Universe 2022
This special day celebrates the One in Whom "all things hold together." That is Jesus.... but Who is Jesus? The selection from the Letter to the Colossians as well as the Gospel account according to Luke offers us thoughts for meditation.
The theology is complicated perhaps, but basically, Jesus is God in the flesh, a person who people actually saw and heard and in Whom we believe. As God, well, Jesus is everything rolled into being Jesus, just doing the familiar things physical people do and acting in ways people act. Jesus is someone people can identify with, understand somewhat, and try to imitate and follow.
Jesus is King of all. As a person, Jesus showed unbounded, unconditional love to all, even the "good" criminal in today's Gospel and to many others in Scripture. Let us celebrate that the King of all, the physical image of God who walked the earth, continually and deeply loves each of us as well. As we stand before the altar and crucifix this Sunday, let us stand and also bow in reverence and awe of the all-Powerful One, the King of the Universe. Let us remember, this King of the Universe is to Whom we belong as "beloved"! Perhaps still a bit incomprehensible, but, nonetheless, that is truly awesome!
Blessings,
Dr. Lanie LeBlanc OP
Southern Dominican Laity
******************************************************
******************************************************
First Sunday of Advent - November 27, 2022
Isaiah 2:1-5; Responsorial Psalm 122; Romans 13:11-14;
Gospel Acclamation Ps 85:8; Matthew 24:37-44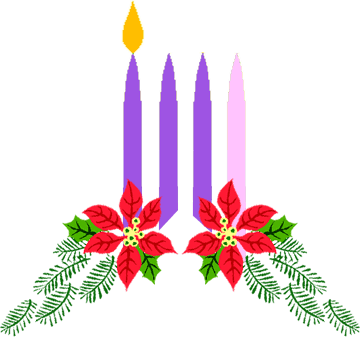 The words of Isaiah, those powerful, hope filled words! 'They shall beat their swords into plowshares and their spears into pruning hooks; one nation shall not raise the sword against another, nor shall they train for war again." From Isaiah's mouth to God's ears and a guide for those who act as leaders for peoples. However, looking at the history of Juda and Jerusalem, these words appear inconsequential. Again, Job's cry to God resounds: "Where is your mercy, O God?" That plaintive cry wrestled from the breast of every human not tied into the military industrial complex resounds repeatedly through out human history. Will we never get to truth, to community, to dignity and worth for every person? Will we ever beat our swords into plowshares and our spears into pruning hooks? Doesn't look like that's about to happen any time soon.
For certain there is this about human experience: we wait anxiously for peace, for prosperity, for fullness of life for ourselves, our loved ones, and - if we're at all mature in our thinking -- all persons. We wait with a fear the promised of Isaiah will never come to pass. Forever, there are wars and rumors of war. There is drought and flood., There is darkness and there is light.
In this Sunday's Scriptures, there remains an air of expectancy. Ancient historians characterize this period when Jesus came as a time of great expectations. Several cultures spoke of a Son of Man arriving on the clouds, bringing a new beginning. For the Hebrew peoples this would be the Messiah. Everybody had their own expectations about what this Messiah would be like and what the Messiah would do and accomplish. The reading from Isaiah paints a moving picture of all nations ascending to the house of the Lord on earth – that Mount Sion which housed the temple, where God stayed with his people. All nations would come. Our Responsorial psalm – repeated from the Solemnity of Christ the King last Sunday, is an ascent song. It makes more of an impact if we imagine a long trail of people of all ages and descriptions walking up the mountain path to the city Jerusalem where the Temple was built. That song is a psalm those walkers would sing in unison as they walked. If we imagine that scene, we'd imagine ourselves walking with them to the House of the Lord.
Paul's letter to the Romans is a shout – no mere exhortation – a rousing shout to be ready. Avoid wild revelry as is common after an athletic victory. Such orgies were a distraction and blinded persons from the coming presence of Jesus' second coming when all would have been consummated. Avoid drunkenness which is a disgraceful thing as good sense disappears when one is drunk. Avoid infidelity in one's marriage, and promiscuity outside of marriage lusting for a forbidden bed. Avoid shamefulness – or rather the lost of shame where behavior is without any fear of being found out for evil deeds. Avoid unbridled competition that seeks the destruction of another's business, home, family, and reputation. Avoid jealousy and envy. Jealousy allows the heart to hate another's success or eminence. Envy seeks to steal what another has in goods, reputation, or status. Avoid, avoid, avoid! Paul starts this litany of avoidances with the warning that the Second Coming of Jesus is at hand. He seems to have miscalculated the timing. It was the common view of early Christians that Jesus was just about to come – today or tomorrow. We don't know when – that's God's business and we can't presume to speculate about when God will call all accounts to audit. The message is to be ready. Don't allow the things of the world to distract you.
The Gospel continues the narrative. Jesus speaks about Noah and the flood. He doesn't say or imply those others were sinners. It just they hadn't given thought to the impending doom. Don't be distracted so much by dealings in the world as to ignore and forget about the day of the Lord which signals the Second Coming of Jesus to claim his own.
The lines about two men working in the field and two women grinding grain has always been confusing. What does it mean to be taken and left? The ones taken are those who are prepared. They live and work and connect to the world but continue to be aware of the Day of the Lord that signals the second coming.
How fitting we begin our season of longing, of expectation with these readings. Accept and live the longing for the second coming of Jesus. We continue living in the world, continue earning a living, raise our families, participate in social, political. and religious events but always aware that Jesus is coming. Perhaps it's not the second coming. We ought to be looking for God's presence, of Jesus walking among us in the persons of others, especially the poor, the infirm, the aged – all those people who live on the margins of society. We should not overlook the Christ in our families, knowing that each person who alive is living because of the "spark" the spirit that makes us each unique. The dignity and worth that we recognize in others keeps us aware of the coming of the Christ.
It is certainly a wonder that in the northern hemisphere that Christianity took over the celebration of the return of light from the pagans. We claim that Jesus is the light of the world. In that light we see all of life and its contents in a way that differs from those whose focus is only on the ways of the world.
Dennis Keller with Charlie dkeller002@nc.rr.com
******************************************************
******************************************************
ACCEPTING JESUS AS OUR KING
Some years ago an American soldier was traveling on a bus in Sweden. He boasted to the man sitting next to him: 'America is the most democratic country in the world. Ordinary citizens can go to the White House and discuss things with the President.' 'That's nothing,' said the other passenger, 'in Sweden the King and the people travel on the same bus.' When the man got off the bus, the other passengers said to the American: 'You have just met our King, Gustav Adolf VI.'
There is some similarity between that type of King and Jesus Christ, our King. During his time on earth Jesus ran away when the crowd tried to make him their kind of king. And this is just what we would expect from someone who told his disciples not to be lord and master over others. This is just what we would expect from someone who put a child in the centre of the circle as a model of vulnerability and openness to others. This is just what we would expect of a king who showed his authority by washing his followers' feet, and who was never so powerful as when he hung powerless on the cross, and yet as we have just heard, was able to promise paradise to a repentant thief.
As it was for Jesus, so for us his followers! We are never so influential as when we do what Jesus did – never bossing others around, not trying to be someone special or someone different, but welcoming every other person as someone like ourselves, someone with needs and longings like ours, someone who bleeds and hurts like we do. In short, we are never so influential as when we welcome every other person into our lives as another self.
On that basis, let me draw your attention to this definition of a friend which I found on the door of the fridge in a priest's house: 'A friend is someone who understands your past, believes in your future, and still accepts you the way that you are now.' That's the kind of person that Jesus wants us to be, that's the kind of person who truly belongs to his kingdom, whether they know it or not.
More than any other leader in our lives, he is our Leader, one whom we honour and love, and one to whom we readily and gladly bend the knee and bow the head.
Was it not to bring in that new world that he called 'the kingdom of God' the very reason that he came among us? Isn't that too why he stays with us? Did he not come down to earth to change our hearts, to rid us of all evil and all sin? Did he not come among us to bring an end to all hostility, all wars and all terror? Did he not come to bring us and everyone else justice, joy, peace, health and wellbeing?
His kingship, then, is not like that of other kings and rulers. It is not about wealth and power. It is not about domination and control. It is not about military might, conquests, and national security. It is not about palaces, splendor and magnificence. His kingship is about truth and honesty. It's about goodness and generosity. It's about service and self-sacrifice. It's about justice and love. It is about mercy and care. Mercy and care for all people, but especially for those who are poor, broken-hearted, neglected or ignored!
So, do you and I really qualify as subjects of his kingdom? Do we belong to him or not? Do we call him 'Our Lord', and if we do, do we really mean it and live it?
Today our liturgical year is coming to an end. Next Sunday is the First Sunday of Advent, and the start of the Year A Cycle of Readings. Today, Jesus our King is inviting us to bring this year of the Church to an end by choosing him once again and forever as our Lord and Savior, and recommitting ourselves to living his teachings, values, and example.
With the help of his amazing grace, are you and I ready and willing to renew our commitment to him during the rest of our prayer-time together today? Are we? Surely we are! Let's try to make that commitment, then, make it from the heart, make it for real, and make it for keeps!
"Brian Gleeson CP" <bgleesoncp@gmail.com>
******************************************************
******************************************************
Year C: 34th Sunday of Ordinary Time (Christ the King)
"Today you will be with me in Paradise."
Around about this time eighteen years ago, you may just remember, the whole country was talking about Margaret Hassan, a middle aged woman from Dublin who worked most of her life as an aid worker in Iraq and, that winter, was tortured and killed on television. Her horrific death brought her fifteen minutes of fame and subsequent oblivion. I want briefly to remind you of the story of her life, because I believe it is the best expression I know in action of the words of this Gospel.
She was born Margaret Fitzsimons in Dublin.
When she was a teenager, her family moved to England and settled in London.
She didn't do well at school, left early and became a youth and community worker. She also worked with the Catholic Youth Service Council. It was through doing this work that she met her future husband Tahsum Ali Hassan when he was studying in London. At the end of his period of study, they married in a Catholic Church and moved back to Iraq.
There, she worked first for the British Council, teaching English. In 1992, she began working for Care International, coordinating the supply of water, food, blankets and schooling to Iraqi communities devastated by violence and sanctions after the first Gulf War. And she was promoted to be Care International's country director.
Busy as she was, she still found time every Sunday to attend a Catholic church in Baghdad. In November 2003, during the war, Care International evacuated all their expatriate staff from Iraq. Margaret Hassan chose to remain with her husband, her family and her adopted people. She was a well known and well-loved figure on the streets of Baghdad. On October 19th, 2004, she was kidnapped, tortured and subsequently killed – all displayed on video for the political purposes of her killers.
It is not known when exactly she was killed, or where she now lies. Her body has never been found and given a Christian burial.
Our then Cardinal Cormac, who was in constant contact with her family in London throughout her final days described her as a "martyr for goodness, truth and hope".
I think he was absolutely right. She was a martyr – not just in the modern sense that she died for her Faith – but also in a more ancient sense – that she witnessed to the Faith in her life of service. Long before she was ever kidnapped and murdered, she had given her life for the people of Iraq.
In the ancient Catholic tradition, martyrs are not just people who witness to Christ in their deaths, but more in their lives. Unlike suicide bombers and other so-called modern martyrs, she did not seek death – neither for herself and certainly not for anyone else. She was no fanatic. She felt the pain of her torture and the fear of her impending death. Anyone who watched her on her killers' videos could know her fear and suffering. But her death was a part of her life – as a true servant of Christ the King. In her death, she gave witness of her faith in Christ, but throughout her life she gave witness to the Presence of Christ in the World. For us, her life is an example of what it is to live as God's person, God's Presence, in the World.
Let us pray that we too may give our lives to the best service of Christ our King, whatever it may cost us. And let us stand and profess our Faith in the only King who is worthy of our lives.
Paul O'Reilly SJ <fatbaldnproud@opalityone.net>
******************************************************
******************************************************
Volume 2 is for you. Your thoughts, reflections, and insights on the next Sundays readings can influence the preaching you hear. Send them to preacherexchange@att.net. Deadline is Wednesday Noon. Include your Name, and Email Address.
-- Fr. John Boll, OP
---
-- ABOUT DONATIONS --
If you would like to support this ministry, please send tax deductible contributions to Fr. Jude Siciliano, OP.
Make checks payable to: Dominican Friars.
St. Albert Priory, 3150 Vince Hagan Drive, Irving, Texas 75062-4736
Or, go to our webpage to make an online donation: https://preacherexchange.com/donations.htm
-- REGULAR INFORMATION ---
To UN-subscribe or Subscribe, email "Fr. John J. Boll, OP." <preacherexchange@att.net>
-- WEB PAGE ACCESS --
-- Go to http://www.preacherexchange.com Where you will find "Preachers' Exchange," which includes "First Impressions" and "Homilías Dominicales," as well as articles, book reviews and quotes pertinent to preaching.
-- Also "Daily Reflections" and "Daily Bread." and many other resources.
A service of The Order of Preachers, The Dominicans.
Province of St. Martin De Porres
(Southern Dominican Province, USA)
P.O. Box 8129, New Orleans, LA 70182
(504) 837-2129 ● Fax (504) 837-6604
(form revised 2020-09-23)
---
We keep up to six articles in this archive. The latest is always listed first.