Contents: Volume 2 - The Most Holy Trinity (B)
- May 30, 2021
---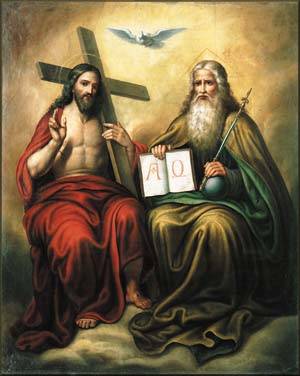 1. -- Lanie LeBlanc OP
2. -- Carol & Dennis Keller
3. -- Brian Gleeson CP
4. -- Paul O'Reilly SJ
5. --(Your reflection can be here!)
*****************************************************
*****************************************************
Solemnity of the Most Holy Trinity 2021
It is getting closer to the end of the school year for the five members of my immediate family. As Number 5, well, I am retired. I keep the glue together for the four of us who live together and checking in on the other one who lives alone. ALL of us, students and educators alike, feel that the next two or so weeks of remote/hybrid learning are impossible to navigate. Things are better pandemic- wise and we all have needed support BUT...
I think I have heard the word "overwhelmed" much more these last few weeks than ever from both family and friends. We all do need something more. I think slowing down and reflecting more on the really important thing in life will help immensely.
Two quotes from our readings this Sunday seem to provide a good beginning to that "something more". The first is "The LORD is God in the heavens above and on earth below, and that there is no other." Are we honoring the primacy of place of our Triune God in our whirlwind lives?
The second quote is Jesus' own words: " I am with you always, until the end of the age." This concept is actually one of my favorite mantras. It is the one I go to most often. It is what Jesus said to his apostles when they still doubted and felt a bit hopeless, even after Jesus appeared to them after the Resurrection. Do we actually believe that Jesus is with us on this up and down journey in life?
The mystery of the Trinity is indeed a mystery. It is not a mystery that we need something besides ourselves when we are immersed in an on-going negative situation or yet another one just pops up, however. That surely can be overwhelming and definitely compounded by the pandemic.
In addition to those comforting words of Jesus, the apostles were given a way to get un-stuck through the great commission to "make disciples of all nations". I think the most effective way for us to get un-stuck is to self-reflect on the two questions I asked. After that, invoke the aid of the Holy Spirit for guidance on how to restart/recalculate or continue on a positive path to the life of a joyful Christian. We can do that with that "Someone more". We can do that, even in a pandemic or if one more school- related deadline might otherwise lead to contagious screaming!
Blessings,
Dr. Lanie LeBlanc OP
Southern Dominican Laity
******************************************************
******************************************************
The Solemnity of the Most Holy Trinity May 30 2021
Deuteronomy 4:32-34 & 39-40; Responsorial Psalm 33; Romans 8:14-17; Matthew 28:16-20
There is an oft repeated story of St. Augustine striding to and fro along the shores of the Mediterranean Sea, contemplating the mystery of the Trinity. His mind sought to put into words the infinite depths and reality of what God is in God's self. With clarity, Augustine thought to reach more persons in his homilies to attract them to the Trinity. A small boy's rushing to fill his bucket from the sea and hurrying back to pour the water into a hole in the sand interfered with Augustine's concentration. He questioned the boy hoping to eliminate the distraction. "What on earth are you doing?" The little boy responded respectfully: "I'm emptying the sea into that hole in the sand." Augustine snorted and stifled his derisive laughter. "You should know that's impossible" he counseled the boy. The little boy's eyes met Augustine's. "It is just as possible for me to empty the sea as it is for you to understand the Trinity." Of course, this story is a madras, a story concocted to make a point. Its point remains relevant even today. The story's instruction is proof this is just the way it is with God. God is far from daily life and human experience. God is just too far away to have relevance except as the judge of our failures. The consequence of such thinking puts humanity and creation alone, without the support and care of the Creator.
By relegating the truth about God to incomprehension, we tend to write hymns and rituals that sing of an unreachable Deity. We worship an untouchable one as that is all we can do. Such transcendence encourages us to think of God in inaccessible light, inaccessible relationship, and inaccessible to appreciation of what the Trinity is for us. God in God's self is beyond comprehension. However, we have a choice. If we stick with the little boy and Augustine narrative, the mystery of the Trinity remains a truth far removed from daily living. We are the poorer because of our choice for that terrible absence. When we let go believing that philosophical speculation about God and God's nature is how we come to know God we are left along to struggle and suffer. However, if we let God be God, the Trinity becomes the source of vitality and vision for freedom and meaning for the experiences of daily living. The great truth of the gospel becomes increasingly apparent when we let God in. The gospels are truly good news. We learn through the gospels what is God's by nature becomes for us by grace what God is for us. This phrasing comes from the theologian Catherine Mowery LaCugna. In her work titled God for Us, she presents the Trinity as knowable and in relationship with us through the real story of salvation from slavery to the ways of the world, apparent meaninglessness of our living, and ultimate death. This salvation is not only collectively as people of God and church. God is available to us individually in mundane experiences. In all human relationships to creation, to family, to nation, to work and play, and clearly in our joys and sorrows God is available as Trinity. It is the events of daily living that God's fingerprints are most clearly evident. In our experiences that we discover God present here and now. And as we become more alert to God's presence we come to God as the living God of the living. In lived experiences that we can form a relationship with God. What is astonishing is that this hoped for relationship with God actually rises from our relationships with others and with creation as we experience those relationships. What is of God always leads us to God. What is not of God turns us to what is untruth, hatred, and violence. Those relationships form the foundations for our relationship with the Trinity. The more loving our relationships the more our relationship with God changes, enlarges, and gives meaning and purpose to every moment of living. This connection with God is not limited to the end of our living. It is in the present now, in the rising and sleeping, at rest, and in work or play. It is present in relationships with creation, with cultures, within human interactions. In this context, we discover Jesus as the go-to instructor, coach, mentor, and model. In this context Jesus is indeed the Way, the Truth, and the Life. This is the Word of God, this is the Son of God, this is the one who reveals how we are to live a full and happy life.
The liturgy of the Word this Trinity Sunday points to the presence of God. In the first reading from Deuteronomy, we hear Moses speaking to the People of Israel. He reminds them of their history. How they were chosen and liberated. In keeping the commandments and statutes given to them by God through Moses they will have long life on the land and prosper. Moses asks, "Did anything so great ever happen before? Was it ever heard of? Did a people ever hear the voice of God speaking from the midst of fire, as you did, and live?" When Moses was called from shepherding for his father-in-law it was a call from a bush on fire but not consumed. "Who do I tell the people who sent me," asked Moses. The response was/is "I am who am with you." That voice continues for all time, even to our time. No matter the divisiveness of religion and politics; no matter the strength of the chains of violence; no matter the conspiracies of alternate realities; no matter the infections of great disease; no matter efforts to achieve tyranny through autocracy; no matter the efforts of scapegoating and victim creating demagoguery! God remains with us even though we shout, "Where are you, O God? Help us Lord for the just are dying out and honesty has disappeared from the face of the earth."
In the reading from Romans Paul insists we are family with God. Perhaps, this is the most difficult to understand Paul's experience of Jesus as brother. How is it that we can call God "Abba?" Even more challenging – calling God "Abba" with God in his heaven and not apparently in our time and place – even more challenging is believing, caring, and loving our brothers and sisters of color, of diverse language, of conflicting cultural rituals and values. How is it that we can think of them as brothers and sisters? If God is our "Daddy" then all these others are our brothers and sisters. Our family of these others share the same table, the same dwelling, the same worth and dignity. The earth provides food and drink to all. The earth is our home. All persons are created equal – or so we say in the guiding principle of our nation.
When we hear the gospel, many turn a blind ear to the words and their meaning. Do we truly believe that Jesus is with us until the end of this age? By age, the New Testament writers mean all time since the coming of the Son of God/Son of Man till the end of creation. This is the time of the Christ, the Anointed One whose teaching, presence, and example challenges us. In his lifetime he stood up against the divisiveness and hatred of secular and religious leadership. He died in commitment to his message, in his acknowledgement of God's being "Abba" -- that the Father is "Dad" to each and every. Thus, we are all brothers and sisters united in the unity of God. The unity of God is that of three persons so unified as to form One God. Therein lies our challenge – that we are united each with all others so as to form One Body.
In his resurrection, Jesus became the anointed one, the Messiah, the Christ. He has earned through his life and his death the affirmation of his resurrection. That affirmation is proof of the truth of his teaching, his ministries of liberation, and his genuine love and concern for people. His rejection of the lies of the world is proved to be the truth of creation. Even though these lies were perpetrated by liars, Jesus did not reject liars, only lies. He is committed to loving even those who hated him and caused him pain and suffering and untimely death.
Jesus promised to be with us through the rest of time in the gospel reading this Sunday. This second person of the Trinity, as we have defined him, is here and now. Do we see him, do we encounter him on the street, at work, at play, in our family? How will we know him when we see him? Churchmen insist he is with us in the sacraments, those rituals of remembering that are made present in the actions of the community guided by a presider. We know also, especially from the story of the two on the way to Emmaus that first Easter day, that where two are gathered in his name he walks with us. We know as well that Jesus promised to send from the Father, from "Abba," an advocate who would enlighten, encourage, inspire, and guide us in our discernment of good versus evil. This Spirit, this vital, living, energetic, and wise person is presented to us by John the Evangelist as the personification of love. For it is love that is the most unifying force. Nothing else, no other power, no other idea, no other concept can gather us together in one Body.
That is the Trinity. That is God with us. In so far as we reject or simply fail to care about others, to love them for what they are in truth, we divide ourselves from that Divine family.
Richard Rohr, OFM, in his meditation for May 26 puts it this way.
The recognition of the Spirit of God as the unifying principle of all life becomes at once the most crucial experience of humanity. It says that whoever is aware of the Spirit of God in themselves enters the doors that lead into the life of their fellow people. The same idea is stated in ethical terms in the New Testament when the suggestion is made that, if a person says they love God, whom they hath not seen, and does not love their brother or sister who is with them, they are a liar and the truth does not dwell in them [1 John 4:20]. The way is difficult, because it is very comforting to withdraw from the responsibility of unity with one's fellow people and to enter alone into the solitary contemplation of God. One can have . . . [perfect] solitary communion without the risks of being misunderstood, of having one's words twisted, of having to be on the defensive about one's true or alleged attitude. In the quiet fellowship with one's God, one may seem to be relieved of any necessity to make headway against heavy odds. This is why one encounters persons of deep piousness and religiosity who are intolerant and actively hostile toward their fellow people. Some of the most terrifying hate organizations in the country are made up in large part of persons who are very devout in their worship of their God.
On this Sunday when we celebrate God's unifying presence that liberates us from the chains and terrors of hatred and lies, let us open our hearts to the presence of the Spirit of God. Let us root out hatred from our hearts and turn our minds away from violence, condemnation, and attempts to murder in others in thought or action. Let us separate in our attitudes toward others those errors, hatred, or violence they profess and practice. Let us struggle instead to discover ways of loving them. Let us search out the truth ourselves so that what we profess that is in error or based in hatred may conquered as we seek the Kingdom of God and its justice. Maybe what would help us to repent is to realize that Father, Son, and Spirit are here with us now. Their presence in creating, in revealing, and in energizing make it possible for us to let go of the chains of selfishness, of idolatry, and of the terror of death. Would it be so! Thus, God's Dream for creation would come to fruition and His Kingdom come and His will be done.
Carol & Dennis Keller dkeller002@nc.rr.com
******************************************************
******************************************************
OVERFLOWING GOODNESS AND LOVE: THE HOLY TRINITY (B)
One of the most fascinating things about being alive is the other people in our lives. Just as fascinating is the fact that the more we know them, the more there is still to know. Husbands and wives regularly report that even after more than twenty years together they are still being surprised by glimpses of new things about the other. So, it's only bit by bit that they can revel and rejoice in all the different and charming things about the other, who will always remain something of a mystery. It's the same with our knowledge and love of God – of God as Father, of God as Son, and of God as Holy Spirit. While God is anything but a closed book, it may take even years of keeping company with God, before we become aware of aspects of that great Mystery.
There are at least three ways of delving into the Mystery of the Trinity. One is by searching for how something that is one can also be three. In this approach, it might help to compare the Trinity to a tree. The Father is like the trunk of the one tree, the Son is like a branch of the same tree, and the Spirit is like the fruit that the same tree produces. Or we might compare the Father to the sun in the sky, the Son of God to its rays, and the Spirit to its heat. Or we might think of the three as like three musical notes played together as one harmonious chord.
Another approach is to concentrate more directly on the relationship of the Trinity to us. The first thing that has to be said about this is that strictly speaking, God is self-sufficient. In the interpersonal relationships that have existed forever among Father, Son, and Holy Spirit, God has been completely and perfectly happy and satisfied. But it is God's overflowing goodness that has led God to create us human beings in God's image and likeness. It is God's overflowing goodness that has led God's Son to become a human being like us and live his life for others. It is God's overflowing goodness that has led God to give us our beautiful world to both preserve and develop in a harmonious balance. And it is God's overflowing goodness that has led God to destine us for everlasting life with God on the other side of this life.
The other thing that needs to be said is that the interpersonal relationships of our three-in-one God show us that to be a person we need other people in our lives, other people to love us, and other people for us to love. In the 1960s there was a popular song that said: 'I am a rock. I am an island. And a rock feels no pain. And an island never cries.' That message is a lie. For while there are times when healthy human beings like to be alone and deliberately choose their own company, there is something wrong if they're always saying like the famous Swedish actress, Greta Garbo: 'I want to be alone.' This is because we need the company and influence of others to animate us, to draw us out of ourselves, to complete us, to challenge and comfort us. It's not for nothing that in the Genesis story of the creation of woman, God says: 'It is not good that the man should be alone; I will make him a helper as his partner' (2:18).
Some time ago I heard about a particular man who was so utterly alone in this world that nobody ever shook his hand, patted his back, gave him a hug, a friendly dig in the ribs, or even a wave. He became so desperately lonely that the only thing left for him to look forward to was a monthly visit to his barber, where at least for a few minutes someone would touch him and care for him.
Loneliness can be an acute experience of sadness and emptiness. This is particularly so for people placed in solitary confinement. I read a while back about a certain prison ward. The prisoners were given enough to eat. But they were not allowed to talk to each other. They were not allowed to work together because work leads to contact and conversation. They were not even allowed to listen to others on the radio or watch television. And of course, they were never allowed even one visitor. After months of this cruel treatment, there was not a single prisoner with even a skerrick left of self-esteem or self-confidence. More recently an Australian government minister is proposing to take away their phones from asylum-seekers. Imagine what that will do to their sense of isolation and abandonment!
I hope and pray that none of us here will ever feel so isolated or alone, and especially when we have to face that particular human experience, which no one else can face for us - our death. What happens on the other side of that experience? What will we find there? Our faith tells us, that whatever else there will be, we will enjoy the company of other human beings. And much more than that, on the other side of our death God will be waiting for us. The God who is Father, Son, and Holy Spirit. The God who has made us. The God who has loved us. The God who has understood us. The God who has forgiven us. The God who has kept us going. The God who has taken us finally to Godself.
This is what we are celebrating in our feast of the Trinity. This is why we are giving praise and thanks to God in prayer today. Because God is not alone. Because we are not alone, and never will be. And so let us pray together and mean every word we say: 'Glory be to the Father, and to the Son, and to the Holy Spirit. As it was in the beginning, is now, and ever shall be, world without end. Amen.'
"Brian Gleeson CP" <bgleesoncp@gmail.com>
******************************************************
******************************************************
Year B: Trinity Sunday (Sunday after Pentecost)
"Go, therefore, make disciples of all the nations; baptize them in the name of the Father and of the Son and of the Holy Spirit, and teach them to observe all the commands I gave you."
The story of St Patrick and the Shamrock is one that everyone half knows. The half that everyone knows is the bit where St Patrick is trying to explain to the ancient pagan Irish the Christian doctrine of the Trinity and was - like many preachers before and since - having a bit of a struggle with the whole business of how God could be both One and Three at the same time. Then he chanced upon a tiny plant - the Shamrock - which had three leaves, individual, different & distinct - but was united in a single plant. And all around him, ancient Celts nodded in sudden understanding, were converted and lived happily ever after. That's the story as most of us were told it.
But the best stories come in more than one tradition. And another tradition tells essentially the same story but in a particular context. In this tradition, St Patrick isn't just wandering about the Irish countryside, gratuitously preaching Trinitarian theology to the Gaelic peasantry just for the sheer heck of it. No, he is sent to the three sons of the king of Tara who are preparing for war to decide which of them will succeed to their father's throne. And, in this tradition, Patrick's point is not only about the nature of God, but about the nature of humanity. They are three shoots of the same branch. They are a family in the same way and for the same reason that God is a family. And because Patrick, with his little shamrock, was able to show them how they looked from the outside - that there was more to unite them than to divide them, there was peace rather than war.
That thought came to me again today partly because today is Trinity Sunday and this is my abiding understanding of the Christian trinity, but more because of something that happened to me a little while ago.
Most Saturday afternoons, I go out for a little jog. I think the idea is that it keeps me young, fit and good looking. So you can see exactly how well it's working. So, I was out for my usual little Saturday afternoon jog in the park and, as I was coming back home, I heard – away in the distance – a baby crying. But not just crying – really howling. I pitied the poor parents.
But as I got closer, I realized there was something wrong with the noise – it didn't right for a baby – it sounded more like a dog howling. And as I got closer, I began to hear in time with the howling a regular thump! Thump! Thump!!! as if the dog was being beaten - and badly beaten. I felt a sense of anger grow within me.
And then I came round a corner and I saw where the noise was coming from. A young man was standing over a huddled shape on the ground, stamping repeatedly on its head as it howled in anguish. Outraged that anyone could treat a dog like that, I ran towards him. He heard me coming and looked up. I saw a face full of anger and cruelty. And then he ran off.
I looked down on the dog as it howled and realized that it was not a dog. It was a young boy of maybe 11 or 12 years. And as I helped him up I saw that he had almost the same face as his attacker. And as I helped him stand I realized that this was a younger brother who had been beaten terribly by his older brother – and could easily have been killed by him. He was a foreigner and spoke little English, but he told me that he was not seriously hurt. He didn't want me to call an ambulance or the Police or even a taxi, or anyone else – not even his parents - especially not his parents. And, after he had sat and recovered a little, he said goodbye to me and limped away.
Being an only child, I speak as one less wise. I have never had a younger brother and I have been told they can be annoying, but I really cannot understand how anyone could be so angry as to stamp on his brother's head.
I talked to my spiritual director about it and she showed me this text, written by Albert Einstein: "A human being is part of a whole called by us Universe, a part limited in time and space. We experience ourselves, our thoughts and feelings as something separated from the rest, a kind of optical delusion of our consciousness. This delusion is a kind of prison for us, restricting us to our personal desires and to affection for a few persons near to us. Our task must be to free ourselves from this prison by widening our circle of compassion to embrace all living creatures and the whole of nature in its beauty."
This is a brave statement, but I believe it to be true. All the conflict in the World and all of the suffering that comes from it, are due to a basic unwillingness to see ourselves as God sees us - as part of a greater whole we call the 'Kingdom of God'.
That is why St Patrick's shamrock matters, why Einstein's general theory of Relativity matters, why the doctrine of the Trinity matters. Only people who have forgotten God can think of themselves as individualists. For everyone else, who knows and understands the reality of God and the reality of the Universe as science is gradually revealing it, recognizes that we live as one people under the eye of God within whom everyone and everything are ultimately united.
This is our Faith. This is the Faith of the Church – the Unitedness of the entire World in God - Father, Son and Spirit - and we are proud to profess it in Christ Jesus, Our Lord. So, let us stand and say together, "I believe…".
Paul O'Reilly, SJ <fatbaldnproud@opalityone.net>
******************************************************
******************************************************
Volume 2 is for you. Your thoughts, reflections, and insights on the next Sundays readings can influence the preaching you hear. Send them to preacherexchange@att.net. Deadline is Wednesday Noon. Include your Name, and Email Address.
-- Fr. John Boll, OP
---
-- ABOUT DONATIONS --

If you would like to support this ministry, please send tax deductible contributions to Jude Siciliano, O.P.

Make checks payable to: Dominican Friars and mail to:
St. Albert Priory

3150 Vince Hagan Drive

Irving, Texas 75062-4736
Or, go to our webpage to make an online donation:
https://preacherexchange.com/donations.htm
REGULAR INFORMATION ---
To UN-subscribe or Subscribe, email "Fr. John J. Boll, O.P." <
preacherexchange@att.net
>
-- WEB PAGE ACCESS --
-- Go to
http://www.preacherexchange.com
Where you will find "Preachers' Exchange," which includes
"First Impressions"
and "Homilias Dominicales," as well as articles, book reviews and quotes pertinent to preaching.
-- Also "Daily Reflections" and "Daily Bread." and many other resources.
A service of The Order of Preachers, The Dominicans.
Province of St. Martin De Porres
(Southern Dominican Province USA)
P.O. Box 8129, New Orleans, LA 70182
(504) 837-2129 ● Fax (504) 837-6604
(form revised 2020-09-23)
---
We keep up to six articles in this archive. The latest is always listed first.