Contents: Volume 2 - The Ascension of the Lord (B)
- May 13 & 16, 2021
---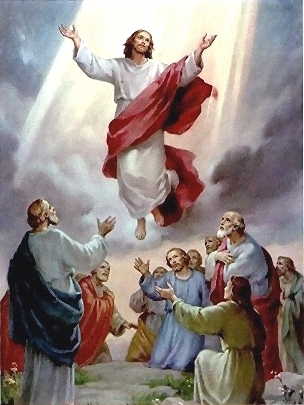 1. -- Lanie LeBlanc OP
2. -- Carol & Dennis Keller
3. -- Brian Gleeson CP
4. -- Paul O'Reilly SJ
5. --(Your reflection can be here!)
*****************************************************
*****************************************************
Ascension of the Lord 2021
At the Ascension, Jesus was taken up to heaven so that the apostles and we would receive "the promise of the Father", the Holy Spirit. In the selection from the Gospel according to Mark, Jesus told the apostles to "go into the whole world and preach the gospel to every creature." The gospel writer also reported that the apostles did exactly that "while the Lord worked with them and confirmed the word through accompanying signs."
That is how Christianity works, how the gospel needs to be preached, and how accompanying signs attest to the authenticity of what is being preached. That is a lot to take in! Perhaps looking at it a bit at a time might help us carry on this important work of Christianity.
We Christians have to have a thorough understanding of the gospel message, not a scholarly understanding necessarily, but the core of our faith, revealed through Scripture. That faith needs to be lived in our own lives. We do preach with words, but also with actions and non-actions. That includes the hard choices and the almost automatic ones. God reaps the fruit even though it may not be apparent right then and there immediately or even in our own lives, but long term.
Although there have been many falls in the history of Christianity because of the failures of human beings, Christianity still flourishes through the promise of the Father. It is our heritage and our responsibility to invoke the help of Jesus, the Lord who sits at the right hand of the Father, to preach what he preached. We need to do so authentically, not just the bits and pieces of what suits our own agenda.
As we await the promise of the Father at Pentecost, let us pray that we who preach, and that is every Christian, whether near or far, not just formal preachers, do so through our prayer and the guidance of the Holy Spirit.
Blessings,
Dr. Lanie LeBlanc OP
Southern Dominican Laity
******************************************************
******************************************************
Solemnity of the Ascension of the Lord May 13 2021
Acts 1:1-11; Responsorial Psalm 47; Ephesians 1:17-23 (or Ephesians 4:1-13 or Ephesians 4:1-7 & 11-13); Gospel Acclamation Mark 28:19-20; Mark 16:15-20
In most parishes and dioceses this solemn feast day of the return of the Son of God to the Father is celebrated in place of the seventh Sunday of Easter. The celebration of Holy Days, once an occasion of community celebrations and gatherings, has fallen prey to the socio-economic culture of our times. However, the readings for both the Ascension and the Seventh Sunday of Easter have much to tell us, inspire us, and to encourage us to live in the Way of the Lord.
The first reading for the Ascension is taken from the beginning of Luke's Act of the Apostles. He addresses his book to one Theophilus. Luke also began his gospel addressing the same name. Curiosity encourages us to wonder who this man was. In truth, it is highly probable that Theophilus is each of us. The name in Greek means One who loves God. Most of us who adhere to one of the three faith traditions arising from Abraham would insist we love God. Yet watching the evening news or cable news channels, reading newspapers and magazines, and engaging with others in commerce, social settings, and politics we quickly come to doubt there is much love of God among us. There is so much selfishness, so much lying, so much violence, so much cut-throat competition. But public media seems to focus on the bad side of human interaction. If we look for goodness, we will find it. We discover the goodness and justice of many during times of stress such as our pandemic. Sometimes it appears that those who seek self-imposed victimhood are in the majority. These are those who seek dominance over others to appear to themselves as superior to others. Persons, desperate to control, to conquer, to reduce others to subservience have created stories, conspiracies that the pandemic and the vaccine are all a contrived hoax. It seems that we are possessed by those lies. For those who stand with the Lord in faith, in hope for all, and in charity toward others there is an understanding that the Lord remains with us. Even though this celebration of the Ascension is about Jesus returning home, yet he remains within us.
As with much of God-ness, how this all works is a great and abiding mystery. The eyes of faith detect it. The looked for tomorrow of greater commitment, of understanding and of promise of a Kingdom where there is peace keeps us trekking along our pathways of pilgrimage. The hands extended to lift up our fellow walkers in the faith reveal to our hearts the presence of our Brother – the one who is both God and human. In the very many putting their lives at risk assisting others by their work of feeding, sheltering, and curing the desperate among us.
Perhaps we can arbitrarily divide the peoples of our time into three groups. There are those who say there is no God. There are those who say they love God because it is politically correct and expected in their circle of friends. And there are those who are on the look-out for God in the moments of their living. These searchers are the ones who hold together society. They are the ones whose living is a continual discovery of the presence of the living God. These are the ones to whom Luke writes both his gospel and his Acts of the Apostles. This is Theophilus. Those who deny or are unable to discover God present run an ever whirling hamster wheel of conflict, violence, anger, of self-centeredness. Those who mouth love of God without action are chasing shadows that fade in the heat of living. All of us are sinners; all of us miss the benchmark set by the Christ. All of us are called to constantly grow in faith by the actions of our daily life and relationships. In a sense, each encounter, each moment of effort is an opportunity for a baptism in the waters of the presence of Jesus the Christ. He is the Son of God and Son of Man. He ministered and ministers to us. He died as proof of his commitment to lift us up as he continually did in his ministry. His resurrection was the Father's stamp of approval to Jesus' work and life. This solemnity of the Ascension is the final proof of his being a lover of God. He is raised to be with the Father. And being with the Father, he, and the Father, united in a constant exchange of love have the capacity to send that love in the person of the Spirit to Theophilus.
Luke tells us Jesus for forty days walked with and taught his disciples about the Kingdom of God. Forty is the Hebrew measure of completion. A generation is believed to last for a period of forty years. The flood waters are said to result from forty days of rain and storm washing the earth of corruption and evil. The Hebrew nation wandered in the desert for forty years, being formed into a nation that came to know the God whose name is "I am with you."
Luke characterizes those forty days as the necessary time Jesus filled with conversation, instruction, and encouragement about the Kingdom of God. With such an instructor we would think that the disciples would certainly have come to understand the Kingdom of God. Yet, as he is about to return to the Father, the disciples ask if this is the time he will restore the kingdom of Israel. They continued to hold in their hearts the failed notion the Kingdom of God was about a government, a power to subjugate others, a restoration of the glory of the Kingdom of David. Had they not been listening? Had they not understood his words? These walkers with Jesus continued to think of the kingdom as an earthy kingdom of power, influence, and wealth.
Much of the remaining stories in Acts is about how the apostles came to understand God's presence with them. The experiences they shared during Jesus' time on earth, his death, his resurrection, and his ascension were carried in their hearts and minds. As they experienced the presence of the Spirit, they came to understand more and more what the Messiah meant, what he taught, what his miracles meant and especially what calvary, the tomb, and the empty tomb meant. As Christians continue to live in the presence of the Spirit, we continue to learn from our experiences. Those experiences are lived in the light of the presence of God in the form of the Advocate, the Spirit that was sent from the Father and the Son. That Spirit informs us, helps us understand, inspires us, provides us the energy and strength to endure what evil throws at us, and it attracts us to love God. God does not need our love. We desperately need to love God, or we are like seeds planted on rocks. We spring up and then wither and die. God gives us the unbelievable, incomprehensible gift of life as a starting point. How we grow in our years depends on how we live. The life and work of Jesus at the beginning is only the beginning. Through the history of living by Christians, that life and work contain a wellspring, a treasure trove, an inexhaustible source of wisdom. As faith, hope, and charity envelope our history, the story of God's loving kindness, of the presence of Jesus, and the indwelling of the Holy Spirit constantly expand our wisdom, understanding, counsel, fortitude, knowledge, piety, and fear of the Lord.
In Mark's gospel chosen for the Ascension, Jesus instructs his disciples to "go into the whole world and proclaim the gospel to every creature." He tells them of several signs by which the world will know they are sent. All those signs have an individual and a corporate application. They speak about the spirit more so than about the bodily living of persons and nations. There is one of those signs that is so very applicable to our time and to our circumstances. That sign is especially relevant in the political, religious, and consumerist culture of our time. In so many nations and affiliations there is a rise in authoritarianism and popularism and nationalism. Those movement seek to suppress individual dignity and worth. It is note worthy that Jesus tells his disciples that believers will drive out demons. For many, this statement appears irrelevant. Yet, if we give this some thought, we come to realize there are many demons that inhabit our hearts and minds. There is the demon of racism. There is the demon of self-seeking power. There is the demon that seduces us to the pursuit of wealth as the ultimate value. There is the demon that insists we must be worshipped in order to have worth and dignity. There is the demon that seeks to enslave by unjust wages, unjust social status. There is the crushing demon of poverty. How do we ever dispossess these demons? That is the question. The answer lies in the preaching of the good news. It lies in our accepting into our hearts another set of values. That set of values springs from the revelation of the Creator. That revelation comes to us in the living out of the Gospel, in the Good News. It is a strange message. It is a difficult message as it runs contrary to our worldly experiences. The words are simple – the living out requiring much practice, must self-examination, and much turning of our hearts. It is simple. "Love your neighbor as much as you love yourself." In that effort and action, we experience the present of the God who is source of all life, all happiness, and all meaning and purpose.
Carol & Dennis Keller dkeller002@nc.rr.com
******************************************************
******************************************************
OUR SHARED DESTINY: THE ASCENSION
In our Creed today we will be saying of Jesus: ' … he ascended into heaven and is seated at the right hand of the Father.' What picture comes to mind when we think of Jesus ascending into heaven? Do we picture him moving through the clouds like a space ship at Cape Canaveral? If we do, we don't realize that those words are not to be taken literally. They are a poetic way of saying that In his risen transformed body Jesus is no longer on earth in a physical and material way. He has gone to God and now lives with God in light, joy and glory.
And yet, in the words of our psalm today, in going to God he became 'great king over all the earth'. He is still among us, then, and we continue to experience his presence, guidance and love in special ways. In our being with one another and sharing our lives! In taking to heart the words and messages in the Readings about him! In coming to his table and being fed, nourished and refreshed by him! In the leadership of our priests! In the acceptance, inspiration and encouragement from our fellow parishioners and others! In our efforts to make the world a better place by our compassionate outreach to needy people!
In short, as we keep on being 'good news' people, Jesus our Risen Lord stays with us. In the words of our Gospel today, he stays with us 'confirming the word by the signs which accompany it' (Mark 16:20).
Today, however, we might also recognise his ascension as his destiny, and express our joy that at the end of his life's journey, God raised him to life and took him to himself for the eternal embrace of love that we call 'heaven'. Like ourselves Jesus dreamt of this day. With his whole being he longed to see God face-to-face, and to enjoy without distraction the mutual love for which we are all created, and for which deep down we all yearn. Since we admire, respect and love Jesus so much, we are very happy for him that he has reached his destination, and that his time of waiting and suffering are over. Nothing can come between the longings of his heart and the joy of their fulfillment in God.
So he remains forever with both God the Father and with us who are now his body on earth. Though 'seated at the right hand of the Father' as we pray in the Gloria, his heart reaches out to us beyond all limits of space and time. This is just as he promised: 'When I am lifted up from the earth I shall draw everyone to myself' (John 12:32). Through his powerful presence to us he keeps bringing about the reign of God's love in our broken world, even when both as individuals and communities we reject his love by falling into sin. But nothing or no one can stop the love of God for us that keeps on burning in the great heart of Jesus.
Thankfully, millions of men and women, boys and girls, keep accepting, welcoming, and living this love. They keep responding to it with the gift of their lives. Some even do so to the point of heroism, by literally laying down their lives for Christ. In fact, to look at the big picture, for all the horrors of hate, anger and violence that swirl around us, there is much more love happening in our world than hate, anger and violence.
Our Feast of the Ascension today reminds us overall that the goal of our life is the same as his. We, and everyone else, are called like Jesus to enjoy without distraction or hindrance, the company of God for ever.
Finally, our celebration of his ascension reminds us to let ourselves experience the absence of Jesus as well as his presence. Like his first followers we are sad at his not being here with us in the flesh, where we might see him, touch him and be loved by him in the ways we meet one another. But missing his physical presence reminds us that we are not meant to find our final home in this world, and must keep walking our own individual journeys of both joy and suffering as he did.
Meanwhile, let him encourage us with his Last Supper words: 'I will come again and take you to myself, so that where I am, you may also be' (John 14:3). Let him encourage us too with his Last Supper prayer: 'Father, I desire that those also, whom you have given me, may be with me where I am, to see my glory, which you have given me ...' (John 17:24). Meanwhile too, let these words from the Preface of our Feast also encourage us: 'Christ has passed beyond our sight, not to abandon us but to be our hope. He is the head of the church; where he has gone, we hope to follow.'
For the blessing, then, of our shared destiny, let us give sincere and heartfelt thanks to God, in the rest of our Eucharist today!
"Brian Gleeson CP" <bgleesoncp@gmail.com>
******************************************************
******************************************************
Year B: 7th Sunday of Easter
"Consecrate them in the Truth."
When I was at College, I had a friend Peter who is a Catholic and he shared a house with Abdul - a Muslim. They were both very religious people, each in his own way and they got on very well together. So it wasn't until they had been staying together about six weeks that they had a really big argument about religion. Neither of them can remember exactly what it was about, but they both agree that it seemed really important at the time.
Tempers became heated, voices were raised and Holy Books were produced, more or less in that rather traditional order. To strengthen his argument, Peter quoted extensively from the Holy Bible – the Catholic version of course. In response Abdul quoted – at even greater length - from the Holy Quran – in the original Arabic, of course (which, as he subsequently admitted, really helped toward mutual understanding). And they were just at the stage of getting really angry with one another, when Peter made an angry gesture with his hand and accidentally knocked his Bible off the table. Instantly, Abdul threw himself full-length across the floor to catch the Bible before it hit the ground. He held it up and placed it reverently back on the table. And then he sat back down again, ready to renew the argument. But quite suddenly, Peter found that he didn't really feel like arguing any more. Because in that instant – in that one instinctive action – Abdul had shown such respect for him and for what he believed. As a faithful Muslim, he would never allow the Holy Quran to be put on the floor and he gave the same respect to the Holy Book of his friend. It was a precious moment for them both.
We often meet people with whom we have religious differences – people of different faiths or none; people of different Christian denominations. And the differences we have with them are real, serious and important. They really do matter. They are the core beliefs which shape our lives. Christ came to give us the Truth about God, the Truth about our relationship with God and the Truth about our way in God's world. And it is our sacred duty to share that Truth with those who do not possess its fullness. And those are the Truths which shape our lives from the very Core of our Faith.
But ultimately what people believe matters less than who they are. They are all children of God. Our Creator has made each and every one of them in His own image and likeness. And in each and every one of them we must come to love and reverence the image of our Creator. Even when – perhaps especially when – we think they are completely wrong in what they believe.
I learned two things from that.
Expressed in Christian terms, they are these:
First, you shall love the Lord your God with all your heart with all your strength and with all your might.
You shall stand up for your faith in all circumstances without fear or favor. The modern Christian hypocrisy is to act in accordance with your faith, but to pretend your faith is really no different to someone else's. If your faith means anything at all, it will control your actions and then the only way of matching your words to your actions is to speak your faith from the heart, even if it may upset those of another religion or of none.
The second is like it, you shall love your neighbor's faith like your own.
If your neighbor's faith means anything at all, it is his or her most sincere attempt to know who God is and to follow what God wants in his or her life.
And that is the attitude of respect that Jesus asks of us – to see Him in our neighbor, whatever our differences, however deeply they are held, however much we know ourselves to be in the right. Our hope as a community does not come from being right; it comes for being One with God and with one another.
Respect does not mean a lack of arguing: honest disagreement compassionately expressed is part of sincere religious life. But it does mean prostrating yourself on the ground to catch our friend's holy book.
Let us stand and profess our Faith in the One God who consecrates us in His Truth.
Paul O'Reilly, SJ <fatbaldnproud@opalityone.net>
******************************************************
******************************************************
Volume 2 is for you. Your thoughts, reflections, and insights on the next Sundays readings can influence the preaching you hear. Send them to preacherexchange@att.net. Deadline is Wednesday Noon. Include your Name, and Email Address.
-- Fr. John Boll, OP
---
-- ABOUT DONATIONS --

If you would like to support this ministry, please send tax deductible contributions to Jude Siciliano, O.P.

Make checks payable to: Dominican Friars and mail to:
St. Albert Priory

3150 Vince Hagan Drive

Irving, Texas 75062-4736
Or, go to our webpage to make an online donation:
https://preacherexchange.com/donations.htm
REGULAR INFORMATION ---
To UN-subscribe or Subscribe, email "Fr. John J. Boll, O.P." <
preacherexchange@att.net
>
-- WEB PAGE ACCESS --
-- Go to
http://www.preacherexchange.com
Where you will find "Preachers' Exchange," which includes
"First Impressions"
and "Homilias Dominicales," as well as articles, book reviews and quotes pertinent to preaching.
-- Also "Daily Reflections" and "Daily Bread." and many other resources.
A service of The Order of Preachers, The Dominicans.
Province of St. Martin De Porres
(Southern Dominican Province USA)
P.O. Box 8129, New Orleans, LA 70182
(504) 837-2129 ● Fax (504) 837-6604
(form revised 2020-09-23)
---
We keep up to six articles in this archive. The latest is always listed first.