Contents: Volume 2 - Baptism of the Lord or First Sunday of Ordered Time January 9, 2022
1. -- Lanie LeBlanc OP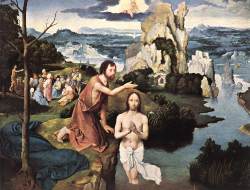 2. -- Carol & Dennis Keller
3. -- Brian Gleeson CP
4. -- Paul O'Reilly SJ
5. --(Your reflection can be here!)
*****************************************************
*****************************************************
The Baptism of the Lord 2022
Many of the Gospel stories are so familiar to us that sometimes we may hear/read them without the attention they deserve. That was the case for me this week! When I re-read the story according to Luke, I noticed something that I hadn't ever before.
It seems from this reading that Jesus was not singled out as strongly as in the other accounts of his Baptism. He was baptized along with many other people, but maybe a bit more quietly, for it says "and Jesus had also been baptized and was praying". It seems well afterwards in this account, while he was praying, that the Holy Spirit descended upon him. It seems the favorable words from above were heard, not during the actual Baptism as my mind recalled from the mixture of other accounts as minds often do, but in the quietness of Jesus's prayer afterwards.
This detail may not be super important but I think it is a telling one. For me, it speaks once again to the complete humanity of Jesus. It reminds us that Jesus was like each of us in every way except sin. He did not exalt himself in any way, but allowed the Father to do so. It also connects to the common humanity, obedience, and willing humility expressed in the first reading from the Book of Isaiah which foretells the type of servant Jesus would be in bringing justice to the world.
We, too, are baptized into the Family of God, into a Christian Church. I believe that God's favor rests within each of us as well. How will each of us use this mighty grace in 2022 to proclaim the Light of the World to the world and be part of the victory of justice?
Blessings,
Dr. Lanie LeBlanc OP
Southern Dominican Laity
******************************************************
******************************************************
The Baptism of the Lord – a.k.a. First Sunday of Ordered Time January 9, 2022
Isaiah 42:1-4 & 6-7; Responsorial Psalm 29; Acts of Apostles 10:34-38; Gospel Acclamation Mark 9:7; Luke 3:15-16 & 21-22
or
Isaiah 40:1-5 & 9-11; Responsorial Psalm 104; Titus 2:11-14 & 3:4-7; Gospel Acclamation Luke 3:15; Luke 3:15-16 & 21-22
In this year of Cycle C of Sunday readings from Scripture, this first Sunday of ordered time has optional readings for the first two readings and for the Responsorial Psalm and Acclamation. The gospel has only the single choice. The first set of readings focuses on Jesus as the Messiah. The second set focuses on John the Baptist as the preparer for the Messiah, making smooth a path into the hearts of mankind. In both cases there is an overtone of hope. In the focus on Jesus, Isaiah announces the Messiah as the Servant of God. He is the chosen one "in whom the Lord is well pleased." These words are reflected in the voice from heaven Jesus hears when he is comes out of the waters of the Jordan River, baptized by John. Isaiah speaks those most welcome words for the ears of persons who work for and practice righteousness: "I the Lord. Have called you for the victory of justice…. a light for the nations to open the eyes of the blind, to bring out prisoners from confinement, and from the dungeon, those who live in darkness." Oh, what hope there is in these words of Isaiah. Is there anyone who wishes to follow the way of the Christ who does not long for justice. Justice is that great characteristic of God which works for and insists on the wonder of life so that all life has what it needs to thrive and flourish. That is God's justice, and we should never forget it. Followers of the Way of Jesus imitate that justice. Who among us can claim clear sight in all our endeavors and relationships? Would that the blindness of our hearts were healed and scales lasered from our eyes! Who among us would not choose the light of day to the darkness of the dungeons that so often robs us of joy. Those dungeons of addiction and inclinations that stifle the joy of living? Oh, thank God for this chosen servant who gently guides and leads us out of the morass of busy-ness and the siren songs of power, wealth, and fame. This is the Messiah who reigns in hearts. Truly, the responsorial psalm states our joy at the presence of this servant when we repeat the antiphon: "The Lord will bless his people with peace." That is the peace beyond treaty, beyond law, beyond alliance. That is the peace of the Kingdom of God where life is abundant and filled with abundance for everyone.
The second reading is from the Acts of the Apostles. Peter speaks to the household of Cornelius, that Roman Centurion who was not a Jew. He and his family and servants were gentiles with no claim for the efforts of the Servant, the Chosen One. Peter comes to know the Messiah was and is the Messiah for all of humanity, for all creation. What an astounding realization – the entire world was welcome to this kingdom of the Messiah. This gentle king would not bruise a reed and smoldering wicks he would not extinguish. This was no Alexander or Julius Caesar. This was no war lord or tyrant. This is the Servant who brings light and justice. Can we not see in this story the extraordinary joy of the moment, of the exhilaration of being included, of belonging to the Lord of Justice, walking in the brightness of his presence, and in freedom as a child of the Lord?
The gospel of Luke describes the mood of people at the time of John's baptizing. He says there was an air of expectation. Something was about to happen. This was the time of the coming of the Lord. In the past this meant liberation, God's presence, and hope for an unexpectedly great future. The people flocked to John to hear the message and to commit to a change of heart. That change of heart affected what they loved. No longer greed, power, hatred, division, enmity, violence. This was different and a necessary change to allow the Servant into those hearts. They expected and be readied their hearts to receive the Lord Messiah. The crowds thought perhaps John was the Messiah. But John himself dismisses such thinking. There is one coming who will baptize with the spirit. Certainly, John did not think of God as a Trinity as we now do. Certainly, he believed the spirit was the life principle, that which in God made God the living God.
After the people had all been baptized and Jesus among them, the spirit of God came upon Jesus in the form of a dove. And Jesus heard a voice that told him, "You are my beloved Son, in whom I am well pleased." This sounds like the words of Isaiah's prophecy in our first reading. Jesus is given his marching papers. He is the Messiah and Jesus' understanding of his mission is affirmed for him by the voice from heaven. This is the beginning of God walking with mankind and with creation in the person of Jesus who is both – as incomprehensible this seems – both as God and man.
The optional set of readings concentrate on John the Baptist as the one to come who prophets spoke as making straight the way for the Lord. The focus, for us, in this optional reading, is on our preparing for the mission of Jesus. Let us not make this gospel and this Hebrew scriptures and apostolic writings mere story. This is no picture show, no stage presentation: this is not even a bit of oratory meant to thrill and entertain. Here is where we either get on the train, begin again the pathway modeled by Jesus or we stand by the tracks on the rail platform waving goodbye to passengers going – and to the Lord.
Whether we take the part of John the Baptist and take this year long trip preparing the way for the coming Messiah: whether we take the part of Jesus and heal, teach, care for sick and dying, for the poor, the widow, the orphan, the alien in our midst: whether we model God's presence among us by living as sons and daughters of the Most High, Living God; that is a choice to be made. Of course, we can just wave goodbye and go back to what we've always done. Maybe the work we must do first is prepare our hearts, our spirits for a place and a pathway for the Lord. Building the right of way on this rail into the kingdom of God is hard work. John the Baptizer should be our model then if that's where we discern our hearts to be. In such a case we must clean out any vestiges of hatred, of arrogance, of violence that may reside there. Our central focus is that all of life is sacred – even the persons of differing color, language, tradition, creed, or national origin. Observing our nation and our part in it, it is apparent there is very much to do to eliminate the evils of a system of caste that resides in hearts. There is much to do to deny any value to the expanding force of lies and conspiracy theories meant to benefit those speaking and spreading them or their associations. Is there any wonder, when we examine the depths of what we love and what we hate, that most often the choice of practicing Christians, Jews, Islamists is to stand on the rail platform and wave goodbye?
But then, if we judge ourselves free of those energies of the devil, we may choose to walk in the way of Jesus, to ride with him on this rail coach to the kingdom promised. He was fully committed to the people – even foreigners, even the poor, even the rich, even the powerful, even sinners. He healed and in that healing he brought back into community those rejected by the community. Those who believed themselves outcasts found a home and a community. Look, if you will, to see if there are any miracles recorded in the gospels or the apostolic writings where miracles fail to build up community. That is our work as well, this building up of community for the common good. If we want to take this train with Jesus we must move from "me and Jesus" to "we are one in Jesus' name." That is how we evangelize. That is the focus of St. John Paul II's encyclical encouraging a "new evangelization." We preach by healing with welcoming, with support, with recognition of others, with a helping hand that seeks no return for effort.
Our world is in terrible shape. The very wealthy increase their wealth and their power during this awful pandemic. Politics has become a hotbed of lies that create distrust, stagnation, and most certainly violence against our communities, our families. Good and necessary efforts for wholeness are hijacked and made the basis for allegiances. How very true this is with the necessary and critical movement we have called Pro-Life. That has become a primary vote getter while the whole of the Pro-Life efforts is ignored and even worsened. The alien, the impoverished, the ignorant, the sick, the aged, the resourceless, the person of different skin color, language, tradition, national origin, the incarcerated – all these are excluded from the political application of Pro-Life. In every temptation fostered by the evil one, there is a bit of truth that clouds attacks the whole truth.
In our time, the common good is forgotten, rejected, derided. The founding documents of our nation are being shredded. No longer do politicians honestly deal with the need for a more perfect union in which all men, women, and children are deemed to be created equal and endowed with rights for life, liberty, and the pursuit of happiness. As nation after nation begins to fall to rule by despot, we see in our own land the tenacles of the same movement in the interests of power. Such pursuit is merely idolatry, making a god of power.
Getting on the Baptist's train or getting on the Jesus train is essential for happiness. This is the way to bringing light to the nations, for sight for the blind, for liberation from the dungeons of darkness. If we stand on the platform waving goodbye, we forfeit our humanity, our gift of life, and our gift of being formed in the image and likeness of God. It is now the acceptable time to look into our hearts and determine what we love. It is now the acceptable time to look at all others, family, neighborhood, community, church assembly, state, nation, and world as belonging to the One Body that is the Mystical Body of the Christ. This is a year of learning, of growth in discernment, and in the unity of love for all that is. After all, the very Life of God that we say we espouse to is the Spirit, that energy, that bond, that indescribable person who energizes, lifts up flagging hearts, and purifies our spirits to become like the Spirit, living with the Spirit's inexhaustible gift of the Life of God within.
Carol & Dennis Keller dkeller002@nc.rr.com
******************************************************
******************************************************
CALLED AND SENT: THE BAPTISM OF THE LORD C
There's this young family man called 'Steve', who couldn't believe what he had just done. In the middle of the priest's homily, he suddenly left his wife and children in the pew and walked out. He felt so angry that he couldn't sit still a minute longer. But he had no idea what his anger was about. Rather than embarrass his family further, he walked home from Mass on his own.
That afternoon he talked the matter over with his wife Sue, but neither of them could work out why he felt so angry. So, he made an appointment with his priest for the following Tuesday night. Fr Paul suggested: 'Tell me everything you remember about Sunday morning, starting with all you spoke to when you arrived at church, and everything you can remember about the Mass.' Steve outlined all the people he had spoken to, and what was said as best he could remember. But nothing stood out from the conversations which shed light on the source of his anger. He then made an accurate summary of the flow of the Mass up till the gospel. But he couldn't remember what the gospel was about.
It's interesting,' Fr Paul said, 'how you remember well the first two readings, but haven't got a clue about the gospel. So, let me remind you.' The priest pulled a missal down from the shelf and read the gospel. As Steve heard the familiar words about John the Baptist and the baptism of Jesus, he became aware that he did remember hearing them on Sunday, but it was not till Fr Paul came to the last words of the text that he knew what his anger was about:
'And a voice spoke from heaven, "You are my Son, the one whom I love; I am very pleased with you".'
' As a grown man that's what I always wanted to hear from my father,' Steve said bitterly, 'and now it's too late because he's dead.' Tears came to his eyes as he let himself feel for the first time the deep hurt he had been carrying. 'Perhaps there's something you can do about it,' Fr Paul replied. 'Let's pretend that your dad is sitting right here in this chair.' He pulled an empty chair over and placed it in front of Steve. 'Tell him how you feel. Don't leave anything out.'
Steve stumbled over his words at first, but after a few moments, he spoke passionately, pouring out everything he wanted to say to his father. When he was finished, Fr Paul looked at him and said, 'What do you think your father would say to all that?' Steve thought for a minute and then replied: 'I think he would say what he used to say when I was upset and afraid as a child. He would pick me up, give me a big bear hug, and say: "Steve, I love you. There's nothing to worry about. That's my boy".' When Steve left Fr Paul's office, he felt that a heavy load had dropped from his shoulder and that he was at peace.
There are times in our lives when we need a parent, or some significant other, to reassure and encourage us, someone to tell us who we are, why we matter, and why they have high hopes for us.
The time had come in the life of Jesus when he too needed reassurance and encouragement to find a new direction in his life. Luke, in our gospel story, tells us how this need was met. It happened at his baptism by John in the River Jordan. What happened is cast in dramatic language. From the open heavens, the comforting and empowering Holy Spirit comes down on him like a dove. A voice from heaven speaks: 'You are my Son the Beloved; my favour rests on you.'
After this experience of hearing God speaking to him on the banks of the River Jordan, Jesus understands that the time has come for him to begin his work on earth as God's Son and Servant. The words of the prophet Isaiah in our First Reading come to him. '" Console my people, console them," says your God.' It's as though Jesus has just heard God the Father saying to him: 'I have chosen you for this mission. Go to my people. Tell them that I love them. Show them that I love them. Gather them together and bring them back to me.'
Now that he knew what was expected of him there would be no holding back. As we heard in our Second Reading: 'He sacrificed himself for us to set us free from all wickedness and to purify a people ... who would have no ambition except to do good.' That's why he laid down his life for others - to his very last breath and his very last drop of blood.
We too, all of us, are dearly and deeply loved by God. He is our Father too. We are his sons and daughters. We have been made so by our baptism. We are also sisters and brothers of Jesus. We have been joined to his person at our baptism and sent out on the very same mission as Jesus – to show and tell people everywhere just how much God loves them.
As we celebrate his baptism and ours in our Eucharist today, then, can we re-open our hearts to God as people on a mission, as persons called and sent? Can we hear him saying to us once again those words that in effect Jesus heard from God: 'I have chosen you for this mission? Go to my people. Tell them that I love them. Show them that I love them. Gather them together and bring them back to me'? And having re-heard them, can we re-imagine ourselves as persons deliberately reaching out to others with the heart of Jesus all through this coming year, re-imagine ourselves reaching out as missionaries of God's love to all others in our lives - at home, at school, at work, everywhere we go? Can we? Will we?
"Brian Gleeson CP" <bgleesoncp@gmail.com>
******************************************************
******************************************************
Year C: Baptism of our Lord
"This is my Child, the Beloved, my favour rests on you."
Of all things that I ever get to do in my life, I believe that the most useful to humanity, is hearing confessions. I think there is no suffering, no pain, no anguish in life that is greater than guilt – the knowledge deeply felt of all the ways that I have failed to live up to the life that I had hoped for,
all the ways that I have failed the love that I have been shown,
all the ways that I have failed the trust I have been given,
all the ways that I have failed the examples that I have been set.
all the ways that I have failed the promises of my baptism that my parents prayed for,
all the ways that I have brought sorrow into the eyes of the people who love me best.
So the privilege of hearing confessions is possibly the greatest privilege any human being can have in relation to another. People come to me and tell me truths about themselves that they can barely even tell to themselves. Frequently they will confess things that they have never told to another living soul. Often people will confess things so deep that they have not previously been able even to put into words in their own heads. Of course, since confession is simply a prayer to God overheard, those words will be spoken not to me, but to God. Still, it is my privilege to be the ear which receives them. You might think that therefore, I hear people at the worst. But, in fact that is not so: actually I think I meet people at their best – when they are trying as hard as ever they can to be honest with themselves and with God and to find a way forward into love, hope and truth. Hearing confessions never makes me cynical; only hopeful. And that is never more true than when I hear confessions in prison.
And out of all the confessions I have ever heard, there is one that stands out and stands for all. A few years ago, in Holloway prison, a woman came to me in confession. I can see her to this day, just the way she walked into the chapel. Obviously, what was said remain the secrets of her heart; between her and her Maker and they go no further than my ear. What she said was and is the secret of the Confessional. But there was no secret to how she looked. Because even as she came towards me I could see the bend in her spine and the slump in her shoulders that showed the weight of the burden that she carried, that tied her up to the ground and how desperately she needed to lay it down before the Lord. The moment I saw her, those words actually went through my mind "come to me, all you who labor and are heavy burdened and I will give you rest, says the Lord." Certainly, she did not need anyone to be telling her where she had gone wrong in life. She had heard more than a lifetime's worth of bad news. And it is never the job of the confessor to add to anyone's burden of guilt. She did need someone, or rather the Holy Spirit, to tell her how she could go right.
For a long time she simply knelt and wept. But eventually, she was able to speak. She did not speak long but every word was like a gush of blood from her heart. And at the end I had the privilege of giving her the absolution of the Church - the full forgiveness that God came to bring to her and to every single individual for whom He gave His life.
She knelt again in front of the statue of the Blessed Virgin to say her penance. And then she walked out of the Chapel. And as she walked out of the door, I could see her back straighten and – well I doubt if there's anybody here who remembers Val Doonican – but she walked tall, walked straight and looked the world right in the eye.
She is His Child, the Beloved. His favour rests on her.
Let us stand and profess our faith in God who baptises us all in His Spirit.
Paul O'Reilly <fatbaldnproud@opalityone.net>
******************************************************
******************************************************
Volume 2 is for you. Your thoughts, reflections, and insights on the next Sundays readings can influence the preaching you hear. Send them to preacherexchange@att.net. Deadline is Wednesday Noon. Include your Name, and Email Address.
-- Fr. John Boll, OP
---
-- ABOUT DONATIONS --
If you would like to support this ministry, please send tax deductible contributions to Fr. Jude Siciliano, OP.
Make checks payable to: Dominican Friars.
St. Albert Priory, 3150 Vince Hagan Drive, Irving, Texas 75062-4736
Or, go to our webpage to make an online donation: https://preacherexchange.com/donations.htm
-- REGULAR INFORMATION ---
To UN-subscribe or Subscribe, email "Fr. John J. Boll, OP." <preacherexchange@att.net>
-- WEB PAGE ACCESS --
-- Go to http://www.preacherexchange.com Where you will find "Preachers' Exchange," which includes "First Impressions" and "Homilías Dominicales," as well as articles, book reviews and quotes pertinent to preaching.
-- Also "Daily Reflections" and "Daily Bread." and many other resources.
A service of The Order of Preachers, The Dominicans.
Province of St. Martin De Porres
(Southern Dominican Province, USA)
P.O. Box 8129, New Orleans, LA 70182
(504) 837-2129 ● Fax (504) 837-6604
(form revised 2020-09-23)
---
We keep up to six articles in this archive. The latest is always listed first.