Contents: Volume 2 - Mary Mother of God -A- January 1 , 2020
---
1. -- Lanie LeBlanc OP
2. -- Carol & Dennis Keller
3. -- Brian Gleeson CP
4. -- Paul O'Reilly SJ
5. --(Your reflection can be here!)
*****************************************************
*****************************************************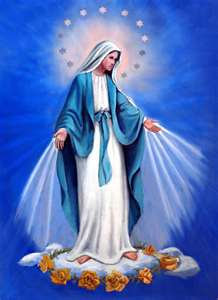 Solemnity of Mary, Mother of God 2020
For Catholic Christians, today is the solemnity of Mary, the Mother of God. In our Gospel reading, we read/hear: "Mary kept all these things, reflecting on them in her heart". Mary was able to live her sometimes very tumultuous life in accordance with God's will because of her prayerfulness and connection to the Holy.
We have a new beginning today in our lives, a bit more solemn and important perhaps than even the beginning of each new day. It is also a new year and a new decade, 2020. It is a perfect time to reflect on where we are in our spiritual lives in a serious way and to decide how also to stay prayerful and close to the Holy no matter what our lives bring.
In the midst of our New Year's Day traditions whether they include non-stop football, a family meal, a new exercise routine, or just some personal quietness, let us focus on the very, very important direction we have been going. Let us begin with mass today and, as the Offertory gifts are brought to the altar, let us offer the person we each are as well. Let us acknowledge our failings and ask for continued graces.
Let us, in particular, ask Mary, the Mother of God and our mother, to aid us as we commit to a more positive direction in our lives. Included in that must be the gift of peace, the inner peace given to Mary through grace, as she managed her surprising life with calmness and faithfulness. Let us hear the echo of the Lord's voice as he spoke through Moses and which we read/hear each January 1st: "The Lord bless and keep you! The Lord let his face shine upon you, and be gracious to you! The Lord look upon you kindly and give you peace."
Blessings,
Dr. Lanie LeBlanc OP
Southern Dominican Laity
******************************************************
******************************************************
Volume 2 is for you. Your thoughts, reflections, and insights on the next Sundays readings can influence the preaching you hear. Send them to preacherexchange@att.net. Deadline is Wednesday Noon. Include your Name, and Email Address.
-- Fr. John
---
-- ABOUT DONATIONS --
If you would like to support this ministry, please send tax deductible contributions to Jude Siciliano, O.P.,
Make checks payable to: Dominican Friars.
St. Albert Priory, 3150 Vince Hagan Drive, Irving, Texas 75062-4736
Or, go to our webpage to make an online donation: http://preacherexchange.com/donations.htm
-- REGULAR INFORMATION ---
To UN-subscribe or Subscribe, email "Fr. John J. Boll, O.P." <preacherexchange@att.net>
-- WEB PAGE ACCESS --
-- Go to http://www.preacherexchange.com Where you will find "Preachers' Exchange," which includes "First Impressions" and "Homilías Dominicales," as well as articles, book reviews and quotes pertinent to preaching.
-- Also "Daily Reflections" and "Daily Bread." and many other resources.
A service of The Order of Preachers, The Dominicans.
Southern Dominican Province, USA
1421 N. Causeway Blvd., Suite 200 Metairie, LA. 70001-4144
(504)837-2129 Fax (504)837-6604
---
We keep up to six articles in this archive. The latest is always listed first.