"FIRST IMPRESSIONS"

THE M0ST HOLY TRINITY

(A) JUNE 7, 2020

Exodus 34: 4b-6, 8-9; Daniel 3: 52-55; 2 Cor 13: 11-13; John 3: 16-18

by Jude Siciliano, OP

Dear Preachers: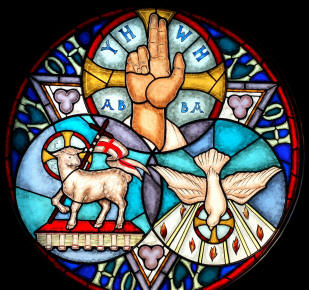 I am intimidated by these "big feasts" when I preach. Do people expect me to "explain" the subject of the feast? Especially today: am I expected to explain the Trinity? Some called St. Augustine's book "The Trinity" his masterpiece. He said he spent years writing 15 books concerning the Trinity. Not even the great Augustine could thoroughly explain the Trinity, even in 15 books!
My approach on grand feasts like today is to do what I do on ordinary days and Sunday: focus on the Scriptures for the day and their liturgical context. We don't usually focus on the Responsorial Psalm. It is what its title suggests, a response to the first reading. Today's Response is and exception, it is not a Psalm, but a selection from the Book of Daniel. "Blessed are you, O Lord, the God of our fathers, praiseworthy and exalted above all forever." These are the words of the three young men Shadrach, Meschach and Abednego who were thrown into a fiery furnace by Nebuchadnezzar for not worshiping the golden statue he had made. They were willing to die rather than betray their God. In the furnace they could be seen walking around and heard praising God. Today's Responsorial is part of the young men's Canticle.
We sometimes paint a harsh picture of the so-called "Old Testament God." But why would the men choose the fire instead of betraying God, if their God was harsh and punishing? On the feast of our triune God the blessings the three men pray from the midst of the flames remind us of the God we worship: "Blessed are you O Lord.. Praiseworthy and exalted above all forever." This is the response to our reading from Exodus. We go with Moses up Mount Sinai where God had summoned him. In calling Moses God had taken the initiative, which is how God treats us as well. Each time we pray, go to church or, as we do these days, live stream Mass, we acknowledge, the God of Moses and the God of Jesus Christ. God calls us to many "mountaintop" encounters, either by ourselves, or with a worshiping community.
Who is this God-of-summons? In the encounter with Moses God declares God's name, "The Lord, the Lord, a merciful and gracious God slow to anger and rich in kindness and fidelity." The Hebrew terms for God convey more than our English translation. The Bible does not define God, but renders powerful images of God for us. For example: "merciful" means "compassion," and in Hebrew is associated with a pregnant woman's womb. "Gracious" means to show favor towards a person and "slow to anger" suggests patience and long-suffering. ("2020 Workbook for Lectors, Gospel Readers and Proclaimers of the Word." Chicago: Liturgy Training Publications, page 194)
God has taken the initiative to call people and it is God who reveals the divine nature and its meaning to Moses on Mount Sinai. Don't you find Moses' invitation to the all-powerful and merciful God charming? "If I find favor with you, O Lord, do come along in our company." That could be our prayer as well during these pandemic days. Like Moses and the Israelites crossing the harsh desert to an unknown destination, we too are on a perilous journey and we don't know where, or when it will end.
We make Moses' prayer ours too: "If I find favor with you, O Lord, do come along in our company." On Trinity Sunday we ask, "Who is this God we worship?" Guided by our Exodus account we say, "Our God is the one who "comes along in our company" throughout our lives. And I would add, whether we find "favor" with God or not, God is always there for and with us.
John spells out more about the God we worship today. Divine love is very expensive and persistent. The prophets continually proclaimed that throughout Israel's history. John tells us that God's love extends to the whole world. How much? God's love is so expansive and intense for us that God has given everything to prove it – even God's only Son. What does God's love look like? Jesus on the cross displays that love for us. God didn't cause the crucifixion, but God let the worst happen to Jesus to show us how much God loves us. But we need to accept the healing God offers us through the Son's death. We look upon the cross and by that powerful sign of love trust the forgiveness and healing God is reaching out to give us.
In John's Gospel there is that chasm between light and darkness (1:4-5). We can accept and come into the light by believing in Jesus, God's new creation. Or, we can choose to remain in the darkness. "Whoever does not believe has already been condemned because that one has not believed in the name of the only Son of God." The condemnation comes, not because any laws have been broken, but because when we choose to remain on our own evil has its way with us and destroys and defaces – not just us as individuals, but all of the created world, trampled down by greed and indifference.
Our God is beyond our definition and comprehension and still has reached out to save us. Our Scriptures proclaim this consistently and quite plainly and we receive the blessing Paul gives us today, "The grace of the Lord Jesus Christ and the fellowship of the Holy Spirit be with all of you."
Click here for a link to this Sunday's readings: