Each week we are posting General Intercessions for the upcoming Sunday liturgies by Msgr. Joseph Masiello, retired pastor of Holy Trinity Parish, Westfield, NJ. These intercessions are based on the assigned scriptures, the liturgical season and current events.
---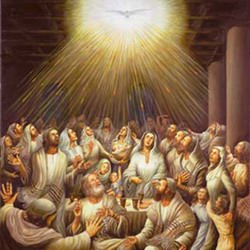 TRINITY SUNDAY
CELEBRANT: In the love of the Spirit, who makes us one with our God and each other, and in the name above all others, the name of Christ Jesus the Lord, let us pray to the Most High, our hope and our salvation.
READER: Please respond, "LORD, HEAR OUR PRAYER!"
1. That the Christian churches may come to an ever-greater unity, reflecting the unity of the Father, Son, and Spirit, we pray. . .
2. That the leaders of the nations may make a new commitment to laboring mightily for a Sabbath of healing and a season of peace for every people and land devastated by war, especially in these days for the peoples of Israel and of Gaza, we pray. . .
3. That soon and very soon the poor of the world, God's children, may be blessed with abundant supplies of the anti-covid vaccines, we pray. . .
4. That we citizens of this great land, with hearts transformed, may bless our nation with a renewed dedication to justice, to a generous hospitality to newcomers, and to a unity that respects our different racial, cultural, and ethnic backgrounds, we pray. . .
5. That those who risk their lives for the sake of others in military service, as First Responders, as healthcare workers, and their families who share their sacrifice may experience heaven's protection and our heartfelt gratitude, we pray. . .
6. That we may grow in our commitment to making our community ever more a place of welcome and hospitality, of reconciliation and forgiveness, of compassion and hope, we pray. . .
7. That the seriously ill in our community and among our family members and friends may be gifted with love's comfort and the healing touch of our God, (especially _______,) we pray. . .
8. That the hearts of the sorrowing may be wrapped in Easter's glorious promise of unending life; and, that all who made the ultimate sacrifice for our freedom, _________, and all our beloved dead may come to the everlasting embrace of God's love and peace, we pray. . .
CELEBRANT: Merciful and gracious God, listen to the prayers of your people. Grant us your Spirit of peace so that we may be what you would have us be: a people of faith, hope, and love, whose lives reveal commitment to discipleship in word and work. We
ask this through Christ our Lord.
---