Dear Preachers:
In our liturgical celebrations and daily prayer we frequently pray for vocations.
I live in a novitiate community of the Southern Dominican Province, USA.
I can say that I have seen visible evidence that our prayers have been heard, for we have five vibrant novices spending their first year in the Order with us.
Please join us in praying for them as they discern their vocations.
"First Impressions" is a free weekly preaching ministry. If you can help support this ministry, as well as help with the training of our novices, we would appreciate it. Please pray for us, as we do for you, our benefactors, each day.
Send tax deductible checks (made out to "Dominican Friars") to:
Preaching Resources
Dominican Friars
3150 Vince Hagan Dr.
Irving, Texas 75062-4736
Or: For an online donation go to:
https://www.preacherexchange.com/donations.htm
Thank you.
---
---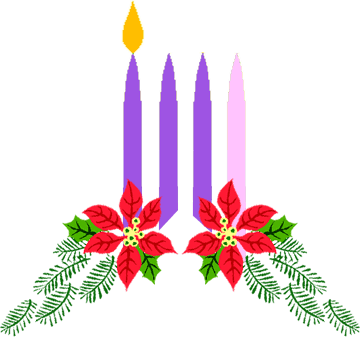 What do you use to tell the time? Perhaps you have a wrist watch, or you check your cellphone. In former days wrist watches were notoriously inaccurate and would be useless if you failed to wind them at the beginning of the day. And when they were working they might run fast, or slow. You would have to check the electric wall clock for the true time.

When Paul tells his Roman Christian community, "You know the time...," he's not looking at a time piece. (Maybe they told the time in those days with a sundial, or hour glass.) It seems in our developed world we are driven by time. Our lives are subject to the demands of the calendar and clock. We frequently check our planners to see what we must run to next. Do we have the time? Will we be late? Parents say how hard it is to coordinate the schedules of family members. We seem to run on different clocks and schedules. We look at the clock and can tell where we were an hour ago and where we have to be next.

It is the beginning of Advent, things are only going to speed ahead as we enter more and more into the holiday shopping season. But let's stop and listen to what Paul wants to tell his Roman community and us. He is telling us what time it is and he is not looking at a clock. He is looking at a different kind time and future. He reminds us that we had a beginning and we will have an ending. Are we prepared for God to end the world we know. That may sound like bad news, but Paul tells us that, with Christ's return, God wants to bring about a new creation, or finish what God began in Jesus Christ.

"The day is at hand," he tells us. That new day is like when we have to go out to a special event. We dress up for it with appropriate clothes. So, it is for us, Paul says. We have to stop dozing, being distracted and sleeping. We must get up out of bed, and dressed for what God has waiting for us. It may still be dark outside, but "the day is at hand." We are planning for an important event and we ask, "What shall we wear?" Paul tells us the "dress code" for what God is about to do: "Put on the Lord Jesus Christ." How do we do that?

First, he tells the Romans, they must stop doing the "works of darkness." Then what should we do Paul? Then follow Christ by doing his deeds, follow a good way of life. Don't get distracted by people and things that draw us away from Christ. Note, that besides personal sinful behavior we must stop doing what tears at our community – "rivalry and jealousy." Those may have been the very obstacles that divided the Roman church and would prevent them from spreading the good news.

The new day God is planning for us has already begun in the resurrection of Christ from the dead and his gift of the Holy Spirit to us. In Paul's time the sense of Christ's imminent return was charged with anticipation. It looked like their prayer, "...thy kingdom come," was about to happen. It has been a long time since then. How can we keep alive the anticipation of Christ's coming that Paul is proclaiming? Nothing has happened. So far, we are still waiting. Can we blame members of the community for looking elsewhere for comfort, pleasure and excitement? We don't have Paul's vision, he never gave us a specific date for the big day. And we can tire of waiting.

Time was on Paul's mind. How difficult it must have been for this tireless apostle to have lost precious time locked up in prison. From that place of confinement he was eager for Jesus' second coming. We hear that impatience in our Romans reading today.

Paul believes in the promise God has made to us in Christ. If we wake up, he tells us, we can trust God will act decisively in the future. In fact, if we open our eyes we can see God has already begun to heal our brokenness, forgive our sins and, we believe, overcome death. The word of God reveals God's plans for us and the world and that stirs us to renewed hope this Advent. Let's put aside our old ways and do what Paul directs, "Put on the Lord Jesus Christ."

Paul stirs baptismal images when he says, "cast off" and "put on." We must cast aside our old ways and put on the garments of the baptized. Paul uses a familiar term for our old ways, they are from the desires of the "flesh." That is, a life that does the "works of darkness" and is turned away from God.

We were baptized and so are already dressed in Christ and in him have the future God has prepared for us. Let's not doze, or fall asleep, but stay awake for our God is already healing our injured world. There is still plenty of darkness around us, but we will stay dressed in Christ's light till he comes and we will, as Paul tells us, "throw off the works of darkness." By his coming into the world Jesus' presence brought light. It is that light that comes when we do works of love, justice and peace. We have accepted Christ and we commit ourselves to living in his light and shining that light in the world. When we do that we will face challenge, but Christ has promised the support of the grace we need. It is grace that enables us to wake up, "...put on the armor of light" and become light for others.

Christmas is coming when our eyes and much of society's eyes will turn to the babe Jesus. Back in late October merchants were already focused on Christmas and gearing up for the shopping season. But Advent puts a pause on all that for us and directs us not to the babe, but to the adult, risen and returning Christ.

An Advent Practice:

Would you drop a note to one of the death row inmates we list in each week's "First Impression?" Cf below.

Click here for a link to this Sunday's readings:


https://bible.usccb.org/bible/readings/112722.cfm


"Advent is the season to cut compromise out of out Christianity: to stop being halfhearted about the church and religion; about morality and love; to face up to the frightening words spoken by the Lord God."

—Walter Burghardt, "The Living Pulpit," Oct-Dec, 1997, p.4


"You know the time; it is the hour now for you to awake from sleep."


Romans 13:11

Advent brings with it the spirit of watchfulness, a time of observing God's in-breaking salvation. Do you see God acting in quiet ways in the world? Are you preparing a place for God in your life in a more visible and tangible way? Are you ready to wake up and join in? If you listen to the nightly news, the world seems hopeless. Yet, we are called to be a people of hope and Advent is a time of preparation. We prepare because we have hope in God's love and grace.

At our Door Ministry, we strive to give the people who come to us a sense of hope. One parishioner said to me that our pledge of $100 doesn't seem like much to help a person behind on today's rents that are climbing. I always think to myself, God hasn't abandoned this person, why should our parish? We are a parish that offers hope. I have deep gratitude for all of you that contribute to the Door Fund/Ministry. You make a difference in many lives. It is like that with all of our justice ministries here at Cathedral. If you aren't participating in an outreach ministry, maybe this Advent would be a good time to explore where you could use your God-given talents and give the gift of yourself.

As you light the first Advent candle, reflect on your need to wake up to God's hopes for you; to be God's hope to others.

Barbara Molinari Quinby, MPS, Director

Office of Human Life, Dignity, and Justice Ministries

Holy Name of Jesus Cathedral, Raleigh, NC

FAITH BOOK

Mini-reflections on the Sunday scripture readings designed for persons on the run. "Faith Book" is also brief enough to be posted in the Sunday parish bulletins people take home.

From today's Romans reading:

Brothers and sisters: You know the time;
it is the hour now for you to wake from sleep.

Reflection:

Paul believes in the promise God has made to us in Christ. If we wake up, he tells us, we can trust God will act decisively in the future. In fact, if we open our eyes we can see God has already begun to heal our brokenness, forgive our sins and, we believe, overcome death.

So, we ask ourselves:
While we wait for Christ's return how do you experience his presence now in your life?
What are the works of darkness Paul warns us about?
How can we follow his advise and "Put on the Lord Jesus?"
POSTCARDS TO DEATH ROW INMATES
Many people say that we need the death penalty in order to have "justice for the victims."
But so many family members of murder victims say over and over that the death penalty is not what they want. It mirrors the evil. It extends the trauma. It does not provide closure. It creates new victims… it is revenge, not justice.
Killing is the problem, not the solution.
----Shane Claiborne, Death Penalty Action's Advisory Board Chairman,
This is a particularly vulnerable time for state and federal prisoners. I invite you to write a postcard to one or more of the inmates listed below to let them know we have not forgotten them. If the inmate responds you might consider becoming pen pals.
Please write to:
Alden M. Harden #0166056 (On death row since 8/12/1994)
William Gregory #0156529 (8.15/1994)
Philip Wilkinson #0438643 (9/15/1994)
----Central Prison, P.O. 247 Phoenix, MD 21131

Please note: Central Prison is in Raleigh, NC., but for security purposes, mail to inmates is processed through a clearing house at the above address in Maryland.

For more information on the Catholic position on the death penalty go to the Catholic Mobilizing Network:

http://catholicsmobilizing.org/resources/cacp/

On this page you can sign "The National Catholic Pledge to End the Death Penalty." Also, check the interfaith page for People of Faith Against the Death Penalty:

http://www.pfadp.org/

"First Impressions"

is a service to preachers and those wishing to prepare for Sunday worship. It is sponsored by the Dominican Friars. If you would like "First Impressions" sent weekly to a friend, send a note to Fr. John Boll, OP at jboll@opsouth.org.

If you would like to support this ministry, please send tax deductible contributions to Fr. Jude Siciliano, OP:

St. Albert Priory
3150 Vince Hagan Drive
Irving, Texas 75062-4736

Make checks payable to: Dominican Friars.

Or, go to our webpage to make an online donation:


https://www.PreacherExchange.com/donations.htm

1. We have compiled Four CDS for sale:
Individual CDs for each Liturgical Year, A, B or C
One combined CD for "Liturgical Years A, B and C."
If you are a preacher, lead a Lectionary-based scripture group, or are a member of a liturgical team, these CDs will be helpful in your preparation process. Individual worshipers report they also use these reflections as they prepare for Sunday liturgy.

You can order the CDs by going to our webpage:

www.PreacherExchange.com and clicking on the "First Impressions" CD link on the left.

2. "Homilías Dominicales" —These Spanish reflections on the Sunday and daily scriptures are written by Dominican sisters and friars. If you or a friend would like to receive these reflections drop a note to Fr. John Boll, OP at

Jboll@opsouth.org.

3. Our webpage: www.PreacherExchange.com - Where you will find "Preachers' Exchange," which includes "First Impressions" and "Homilías Dominicales," as well as articles, book reviews, daily homilies and other material pertinent to preaching.

4. "First Impressions" is a service to preachers and those wishing to prepare for Sunday worship. It is sponsored by the Dominican Friars. If you would like "First Impressions" sent weekly to a friend, send a note to Fr. John Boll, OP at the above email address.
---
Thank you and blessings on your preaching,
Fr. Jude Siciliano, OP

St. Albert the Great Priory & Novitiate
3150 Vince Hagan Drive
Irving, Texas 75062-4736
972-438-1626
---
Click on a link button below to view the reflection indicated.
(The newest items are always listed first.)