Dear Preachers: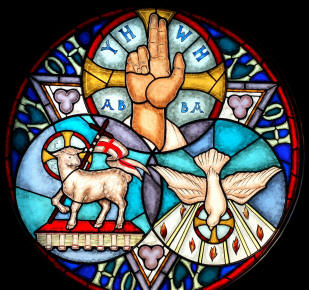 I am intimidated by these "big feasts" when I preach. Do people expect me to "explain" the subject of the feast? Especially today: am I expected to explain the Trinity? Some called St. Augustine's book "The Trinity" his masterpiece. He said he spent years writing 15 books concerning the Trinity. Not even the great Augustine could thoroughly explain the Trinity, even in 15 books!
My approach on grand feasts like today is to do what I do on ordinary days and Sunday: focus on the Scriptures for the day and their liturgical context. We don't usually focus on the Responsorial Psalm. It is what its title suggests, a response to the first reading. Today's Response is and exception, it is not a Psalm, but a selection from the Book of Daniel. "Blessed are you, O Lord, the God of our fathers, praiseworthy and exalted above all forever." These are the words of the three young men Shadrach, Meschach and Abednego who were thrown into a fiery furnace by Nebuchadnezzar for not worshiping the golden statue he had made. They were willing to die rather than betray their God. In the furnace they could be seen walking around and heard praising God. Today's Responsorial is part of the young men's Canticle.
We sometimes paint a harsh picture of the so-called "Old Testament God." But why would the men choose the fire instead of betraying God, if their God was harsh and punishing? On the feast of our triune God the blessings the three men pray from the midst of the flames remind us of the God we worship: "Blessed are you O Lord.. Praiseworthy and exalted above all forever." This is the response to our reading from Exodus. We go with Moses up Mount Sinai where God had summoned him. In calling Moses God had taken the initiative, which is how God treats us as well. Each time we pray, go to church or, as we do these days, live stream Mass, we acknowledge, the God of Moses and the God of Jesus Christ. God calls us to many "mountaintop" encounters, either by ourselves, or with a worshiping community.
Who is this God-of-summons? In the encounter with Moses God declares God's name, "The Lord, the Lord, a merciful and gracious God slow to anger and rich in kindness and fidelity." The Hebrew terms for God convey more than our English translation. The Bible does not define God, but renders powerful images of God for us. For example: "merciful" means "compassion," and in Hebrew is associated with a pregnant woman's womb. "Gracious" means to show favor towards a person and "slow to anger" suggests patience and long-suffering. ("2020 Workbook for Lectors, Gospel Readers and Proclaimers of the Word." Chicago: Liturgy Training Publications, page 194)
God has taken the initiative to call people and it is God who reveals the divine nature and its meaning to Moses on Mount Sinai. Don't you find Moses' invitation to the all-powerful and merciful God charming? "If I find favor with you, O Lord, do come along in our company." That could be our prayer as well during these pandemic days. Like Moses and the Israelites crossing the harsh desert to an unknown destination, we too are on a perilous journey and we don't know where, or when it will end.
We make Moses' prayer ours too: "If I find favor with you, O Lord, do come along in our company." On Trinity Sunday we ask, "Who is this God we worship?" Guided by our Exodus account we say, "Our God is the one who "comes along in our company" throughout our lives. And I would add, whether we find "favor" with God or not, God is always there for and with us.
John spells out more about the God we worship today. Divine love is very expensive and persistent. The prophets continually proclaimed that throughout Israel's history. John tells us that God's love extends to the whole world. How much? God's love is so expansive and intense for us that God has given everything to prove it – even God's only Son. What does God's love look like? Jesus on the cross displays that love for us. God didn't cause the crucifixion, but God let the worst happen to Jesus to show us how much God loves us. But we need to accept the healing God offers us through the Son's death. We look upon the cross and by that powerful sign of love trust the forgiveness and healing God is reaching out to give us.
In John's Gospel there is that chasm between light and darkness (1:4-5). We can accept and come into the light by believing in Jesus, God's new creation. Or, we can choose to remain in the darkness. "Whoever does not believe has already been condemned because that one has not believed in the name of the only Son of God." The condemnation comes, not because any laws have been broken, but because when we choose to remain on our own evil has its way with us and destroys and defaces – not just us as individuals, but all of the created world, trampled down by greed and indifference.
Our God is beyond our definition and comprehension and still has reached out to save us. Our Scriptures proclaim this consistently and quite plainly and we receive the blessing Paul gives us today, "The grace of the Lord Jesus Christ and the fellowship of the Holy Spirit be with all of you."
Click here for a link to this Sunday's readings:
http://www.usccb.org/bible/readings/060720.cfm
Mend your ways, encourage one another, agree with one another, live in peace, and the God of love and peace will be with you.
2 Corinthians 13:11
Sounds so easy. Yet, do we exercise the discipline not to be swayed to follow idols away from Jesus' path? Do we seek to make friends with others whose ethnic background may be different than ours? Do we set aside our individual wants for communal needs easily?
Consider this from the US bishops' 1998 statement, 'Sharing Catholic Social Teaching: Challenges and Directions;' "We believe in the triune God whose very nature is communal and social. . .God reveals himself to us as one who is not alone, but rather as one who is relational, one who is Trinity. Therefore, we who are made in God's image share this communal, social nature. We are called to reach out and to build relationships of love and justice." Are we knowledgeable in Catholic social teaching in all its aspects not just the ones with which we might choose to agree? Are we willing to promote justice for those treated unjustly by adjusting our own lives?
Now we are tasked with a particular problem in achieving strong relationships because of the pandemic and its subsequent need for physical distancing. We must remain physically distant to protect each other but that does not mean that we cannot be social. For example, how many of you, during this recent time, made a phone call or typed an e-mail or penned a letter advocating for a justice issue? Did you attend any ZOOM seminars on justice issues? Did you use God-given gifts to help someone else by donating to causes, making masks, or by helping an elderly person get their groceries? There are lots of things that we can do socially. Perhaps, this is the beginning of a whole new caring society, more in keeping with what Jesus had in mind.
Food for thought: I just learned of a new kind of economics developed in 2017 by Oxford economist Kate Raworth that she calls "Doughnut Economics." The performance of an economy is judged by the extent to which the social foundation needs of the people are met, such as education, food, healthcare, equity and so on, without piercing an ecological ceiling that will destroy the planet. This seems to be fertile ground for the work of love and justice to which Christians are called.
May the God of love and peace be with us.
---Barbara Molinari Quinby, MPS
Director of Social Justice Ministries
Holy Name of Jesus Cathedral, Raleigh, NC
Mini-reflections on the Sunday scripture readings designed for persons on the run. "Faith Book" is also brief enough to be posted in the Sunday parish bulletins people take home.
From today's first reading: (Exodus 34: 4b-6, 8-9)
Early in the morning Moses went up Mount Sinai
as the LORD had commanded him, taking along the two stone tablets.
Thus the LORD passed before him and cried out,
"The LORD, the LORD, a merciful and gracious God,
slow to anger and rich in kindness and fidelity."
Moses at once bowed down to the ground in worship.

Reflection:
Who is this God who is so revelatory to Moses? Who is this God who is about to take the Israelites, a broken and recalcitrant people and make them new again? This is the God who chooses to be with us, despite our own unworthiness.
This is the God who comes in a cloud; who may not be seen, but certainly is experienced. And what do Moses and the people experience of this God? How shall they "name" God? Judging from today's story God is: patient and compassionate; takes the initiative to reach out to us; is not dissuaded by our sins; is faithful to us, even when we have built our own idols to worship; can take a broken people and make them whole again.
So we ask ourselves:
From my present experience: What name would I give God?
Has the reality of God changed for me in recent years?
What events in my life influenced that change?
POSTCARDS TO DEATH ROW INMATES
"One has to strongly affirm that condemnation to the death penalty is an inhuman measure that humiliates personal dignity, in whatever form it is carried out."
---Pope Francis
This is a particularly vulnerable time for state and federal prisoners. Conditions, even without the pandemic, are awful in our prisons. Imagine what it is like now with the virus spreading through the close and unhealthy prison settings. I invite you to write a postcard to one or more of the inmates listed below to let them know we have not forgotten them. If the inmate responds you might consider becoming pen pals.
Please write to:
Raymond Thibodeaux #0515143 (On death row since 3/2/99)
Lyle May #0580028 (3/18/99)
Nathaniel Fair #0125241 (5/18/99)
----Central Prison, 4285 Mail Service Center, Raleigh, NC 27699-4285

For more information on the Catholic position on the death penalty go to the Catholic Mobilizing Network:

http://catholicsmobilizing.org/resources/cacp/

On this page you can sign "The National Catholic Pledge to End the Death Penalty." Also, check the interfaith page for People of Faith Against the Death Penalty: http://www.pfadp.org/

"First Impressions"

is a service to preachers and those wishing to prepare for Sunday worship. It is sponsored by the Dominican Friars. If you would like "First Impressions" sent weekly to a friend, send a note to fr. John Boll, OP at jboll@opsouth.org.

If you would like to support this ministry, please send tax deductible contributions to fr. Jude Siciliano, O.P.

St. Albert Priory, 3150 Vince Hagan Drive, Irving, TX 75062-4736

Make checks payable to: Dominican Friars. Or, go to our webpage to make an online donation:

https://www.PreacherExchange.com/donations.htm

1. We have compiled Four CDS for sale:
Individual CDs for each Liturgical Year, A, B or C
One combined CD for "Liturgical Years A, B and C."
If you are a preacher, lead a Lectionary-based scripture group, or are a member of a liturgical team, these CDs will be helpful in your preparation process. Individual worshipers report they also use these reflections as they prepare for Sunday liturgy.

You can order the CDs by going to our webpage:

www.PreacherExchange.com and clicking on the "First Impressions" CD link on the left.

2. "Homilías Dominicales" —These Spanish reflections on the Sunday and daily scriptures are written by Dominican sisters and friars. If you or a friend would like to receive these reflections drop a note to fr. John Boll, O.P. at Jboll@opsouth.org.

3. Our webpage: www.PreacherExchange.org - Where you will find "Preachers' Exchange," which includes "First Impressions" and "Homilías Dominicales," as well as articles, book reviews, daily homilies and other material pertinent to preaching.

4. "First Impressions" is a service to preachers and those wishing to prepare for Sunday worship. It is sponsored by the Dominican Friars. If you would like "First Impressions" sent weekly to a friend, send a note to fr. John Boll, OP at the above email address.
---
Thank you and blessings on your preaching,
fr. Jude Siciliano, O.P.

St. Albert the Great Priory of Texas
3150 Vince Hagan Drive
Irving, Texas 75062-4736
972-438-1626
---
Click on a link button below to view the reflection indicated.
(The newest items are always listed first.)