Dear Preachers: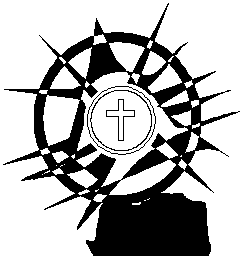 On the feast of the Body and Blood of Christ there is a tendency to go right to the gospel narratives of the Last Supper, where, Jesus celebrated the Passover meal with his disciples. In today's account Jesus takes and blesses bread, gives it to his disciples saying, "Take it, this is my body." He gives thanks over the cup, gives it to them saying, "This is my blood which will be shed for many."
Isn't that the focus of today, Jesus' institution of the Eucharist at table with his disciples? Yes, but wait a minute, what Jesus did comes from the context of the Passover and that takes us to the Jewish roots of the meal. So, let us go there, to our ancestral story, from the book of Exodus, our first reading.
Our scriptures today make reference to the use of blood in ritual re-enactment to seal our relationship with God, both in the ancient and new covenants,. We are in the 24th chapter of Exodus, the ratification of the Sinai covenant. Exodus gives a dramatic account of the ritual of word and then blood. First, Moses reads the laws to the people – a reminder of our own liturgy of the Word. It is obvious that people didn't think God's "words and ordinances" were restrictive, or burdensome, because they respond, "We will do everything that the Lord has told us."
Well, that was certainly optimistic of them! We know from our own experience that enthusiasm, while a good response to God, is not enough for faithfully carrying out God's will. Hence, the subsequent rituals. First, the burnt offerings of the young bulls. It symbolizes the people's total self-offering to God. It is called a "peace offering"; both establishing and celebrating the peace made between God and the people.
Among the ancients blood was seen as the life force. The pouring of blood in the ceremony sealed the covenant. First, it was splashed on the altar, honoring God as the initiator and principal partner in the covenant. God has reached out to the people, not because of their merits, but because of God's love. God wants to be in a permanent relationship with them. The people realize this. Is it any wonder that twice they profess their desire to follow God's "words and ordinances"? "We will do everything that the Lord has told us." "All what the Lord has said, we will heed and do."
And aren't those the responses we want to make to what God has done for us and what we celebrate today? However, on our own, we cannot do "everything the Lord has told us." But we are in covenantal relationship with God who has sealed the covenant with us in blood. Christ has offered himself on the altar for us, symbolizing God's total self-offering to us.
It is clear in today's gospel that Mark's narration of Jesus' gift of himself, his body and blood, is to be seen in light of the tradition of the Passover feast, where the Jews celebrate their deliverance from slavery with the meal of the sacrificial lamb. Today, we Christians celebrate our deliverance from sin with the meal of Jesus' body and blood.
Note, Mark mentions "the cup," not the wine, in his telling. Remember that previously in Mark Jesus asked the ambitious James and John if they could "drink the cup that I drink….?" (10:38-39) In the garden, before his arrest, Jesus prayed, "Father… take this cup away from me…." (14:36) The cup is the symbol of sacrifice, suffering and death. We followers of Jesus are invited to share in his life, the fullness of which includes our own sacrificial, self-offering. With the Israelites in our first reading, we too want to shout, "We will do everything that the Lord has told us." Well, we do try, but on our own, our discipleship falls short. But we are not discouraged because we are not on our own. God has made a covenant with us, sealed with the blood of God's own Son. We who eat and drink of the food from the altar have a share in Jesus' saving death and his new life.
At table with his disciples Jesus promises he will one day drink in the kingdom, the reign of God. He reminds us that the Eucharist we share today is just a simple remembrance of a past event when he ate his Last Supper with his friends. The meal, his gift of his body and blood, also anticipates the feast we will someday enjoy with him and each other at his table, the eternal banquet.
But in the between time of this meal now in the internal feast of heaven, we can work to fulfill what this meal symbolizes – reconciliation and community, welcome to sinners and strangers, God's embrace of all God's creatures.
Click here for a link to this Sunday's readings:
https://bible.usccb.org/bible/readings/060621.cfm
"You can't logically get from where we were to where we are now. I think that is what they mean by grace."

—Anne Lamott, in "Almost Everything: Notes on Hope."
"How shall I make a return to the Lord for all the good He has done for me?
Psalm 116: 12
How often do you ask yourself the question posed in this psalm? When I think of all the tragedy that the pandemic has brought upon the world and how fortunate we are to have scientists, healthcare and essential workers doing their selfless best to protect or help healing, I ask myself where can I begin to pay it forward.
I can be kinder, listen more carefully, engage in thoughtful dialogue, and smile more. Our society seems to be moving away from respectful discourse and most everyone knows what Jesus says about what comes out of our mouths. In case you do not know that passage, it comes from Matthew 15:11--"It is not what enters one's mouth that defiles that person; but what comes out of the mouth is what defiles one." How about joining "The Reflecting Pool"? This is our on-line monthly prayer and discussion on the topic of racism on the second Saturday of every month at 11AM. Contact: socialconcern@hnojnc.org
I can help others who are disadvantaged. The pandemic exacerbated economic challenges in our community. Participating in one of the many justice ministries here at Holy Name of Jesus Cathedral provides many opportunities. Check out: https://www.raleighcathedral.org/human-life-dignity-justice and scroll to the bottom of the page and click on the one of the listed ministries.
I can also be more conscious of taking care of the environment for future generations. I agree with Pope Francis that the earth is the most neglected of all. The crisis we face in our abuse of our earthly home needs our urgent attention. This summer is the perfect time to begin to make amends in a deliberate way. The Earth Day Network has posted their entire Earth Day program, "Restore Our Earth," in six segments of an hour each. The first segment features the reflection by Pope Francis. Caring for the earth must become a way of life every day, especially since this is the very first job that God gives humans to do (Genesis 2:15). Bookmark the Earth Day Network presentation and watch with your family in six sessions. Then, take action and join the Cathedral Creation Care Network. We can heal the earth if we do not take her for granted. Find the videos at: https://www.earthday.org/earth-day-2021/
How will you make a return for all the good God has done for you?
----Barbara Molinari Quinby, MPS, Director,
Office of Human Life, Dignity, and Justice Ministries
Holy Name of Jesus Cathedral, Raleigh, NC
Mini-reflections on the Sunday scripture readings designed for persons on the run. "Faith Book" is also brief enough to be posted in the Sunday parish bulletins people take home.
From today's Gospel reading:
While they were eating Jesus took bread, said the blessing,
broke it, gave it to them, and said, "Take it, this is my body."
Then he took a cup, gave thanks, and gave it to them and they all drank from it.
He said to them, "This is my blood of the covenant, which will be shed for many."
Reflection:
Jesus' sacrifice wasn't just his death on the cross, his whole life was a gift of himself to humanity. By receiving the Body and Blood of Christ today in the Eucharist, we are asking for the nourishment and strength, indeed, the very life of Jesus, to help us do what he did – to offer our lives as a gift to those we are called to serve.
So we ask ourselves:
How are the daily sacrifices I make like the ones Jesus made?
How does my life reflect the true presence of Christ in the world?
POSTCARDS TO DEATH ROW INMATES
"Our witness to respect for life shines most brightly when we demand respect for each and every human life, including the lives of those who fail to show that respect for others. The antidote to violence is love, not more violence."
U.S. Bishops, 1998
This is a particularly vulnerable time for state and federal prisoners. Conditions, even without the pandemic, are awful in our prisons. Imagine what it is like now with the virus spreading through the close and unhealthy prison settings. I invite you to write a postcard to one or more of the inmates listed below to let them know we have not forgotten them. If the inmate responds you might consider becoming pen pals.
Please write to:
Eddie L. Taylor #0762634 (On death row since 9/9/2005)
William M. Raines #0526698 (9/9/2005)
Jeremy D. Murrell #0940436 (2/17/2006)
----Central Prison, 4285 Mail Service Center, Raleigh, NC 27699-4285

For more information on the Catholic position on the death penalty go to the Catholic Mobilizing Network:

http://catholicsmobilizing.org/resources/cacp/

On this page you can sign "The National Catholic Pledge to End the Death Penalty." Also, check the interfaith page for People of Faith Against the Death Penalty: http://www.pfadp.org/

"First Impressions"

is a service to preachers and those wishing to prepare for Sunday worship. It is sponsored by the Dominican Friars. If you would like "First Impressions" sent weekly to a friend, send a note to fr. John Boll, OP at jboll@opsouth.org.

If you would like to support this ministry, please send tax deductible contributions to fr. Jude Siciliano, O.P.

St. Albert Priory

3150 Vince Hagan Drive

Irving, Texas 75062-4736

Make checks payable to: Dominican Friars. Or, go to our webpage to make an online donation:

https://www.PreacherExchange.com/donations.htm

1. We have compiled Four CDS for sale:
Individual CDs for each Liturgical Year, A, B or C
One combined CD for "Liturgical Years A, B and C."
If you are a preacher, lead a Lectionary-based scripture group, or are a member of a liturgical team, these CDs will be helpful in your preparation process. Individual worshipers report they also use these reflections as they prepare for Sunday liturgy.

You can order the CDs by going to our webpage:

www.PreacherExchange.com and clicking on the "First Impressions" CD link on the left.

2. "Homilías Dominicales" —These Spanish reflections on the Sunday and daily scriptures are written by Dominican sisters and friars. If you or a friend would like to receive these reflections drop a note to fr. John Boll, O.P. at Jboll@opsouth.org.

3. Our webpage: www.PreacherExchange.com - Where you will find "Preachers' Exchange," which includes "First Impressions" and "Homilías Dominicales," as well as articles, book reviews, daily homilies and other material pertinent to preaching.

4. "First Impressions" is a service to preachers and those wishing to prepare for Sunday worship. It is sponsored by the Dominican Friars. If you would like "First Impressions" sent weekly to a friend, send a note to fr. John Boll, OP at the above email address.
---
Thank you and blessings on your preaching,
fr. Jude Siciliano, O.P.

St. Albert the Great Priory of Texas
3150 Vince Hagan Drive
Irving, Texas 75062-4736
972-438-1626
---
Click on a link button below to view the reflection indicated.
(The newest items are always listed first.)