Dear Preachers: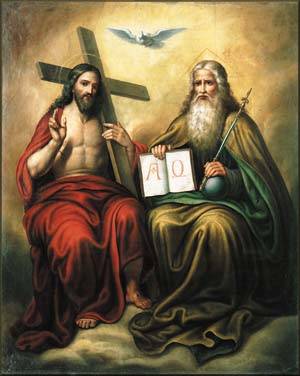 REMINDER:

Each week we post General Intercessions for the Sunday liturgies by Msgr. Joseph Masiello, retired pastor of Holy Trinity Parish, Westfield, NJ. These intercessions are based on the assigned scriptures, the liturgical season and current events.

Go to:

https://preacherexchange.com/index.htm and click on "General Intercessions."
---
---
The feast of the Trinity might stir up some caution. If asked by an inquirer, "What do you Christians believe?" Our first response probably would not be, "We believe in the Trinity." That could be a conversation stopper, it seems abstract and detached and, to be honest, how would you explain the Trinity? It sounds so detached from real life, something for theologians to ponder, but not us everyday folk. And the theologians have been at it for many centuries!
Our roots are in the Jewish faith and Jews would never speak of a triune-person God. Their's is a strong, monotheistic faith. Even in the New Testament the doctrine of the Trinity is not spelled out. Yet, when we were baptized it was the Trinitarian formula that was used as the water was poured over us. "I baptize you in the name of the Father, and of the Son and of the Holy Spirit." Here at the priory, each morning and evening we pray the Psalms and each ends with the Trinitarian doxology, "Glory be to the Father and to the Son and to the Holy Spirit." At the end of our Eucharistic celebration the priest presider sends us forth to preach the gospel, blessing us, "In the name of the Father and of the Son and of the Holy Spirit." Just as Jesus instructs his disciples to do in today's gospel, "Go therefore and make disciples of all nations, baptizing them in the name of the Father and of the Son and of the Holy Spirit." Our hymns and prayers presume the divine nature and unity of Father, and Holy Spirit. In other words, when we say we believe in God, we are really saying we believe in the Father, Son and Holy Spirit – the Trinity. And without this there is no Christian faith.
When I was young the notion I had was that the Son would try to intercede on our behalf with the Father, to get God to change God's mind and intentions towards us. Or, to put it another way, to save us from God's wrath.... God the Son at odds with God the Father. We cannot attribute to one person in the Godhead what we wouldn't to the other two. The Son is our Savior – but so are the Father and the Holy Spirit. Thus, when we look at the Son we are also seeing the Father's thoughts and feelings towards us. The Father is not the angry judge ready to smack us delinquent creatures down, were it not for the Son interceding on our behalf.
The same is true for the Spirit, who is not an independent agent working at odds with the Father and Son. If God is a Trinity, then Jesus has revealed the truth about God and our relationship to God and one another, which cannot be surpassed by any other teacher, as renowned and good as they may be. Certainly God works through many people of many faiths and lifestyles, but what draws us to them and enables us to discern God at work in them is that, for us, they reflect what we know of God through Jesus' words and actions. God speaks to us in Jesus and God draws us to God and in service to others through the Holy Spirit.
When we turn in our searching to God, what do we discern? That our God is a tender parent who wants to show a parent's loving face to us, all the time. We find a compassionate brother in Jesus, who came to serve us and offer us forgiveness, before we even asked for it. We find a liberating Spirit, who invites us into the very life that the Son shares with the Father.
Jesus sent his disciples to "make disciples of all nations." All nations. They were to preach to others what they learned about God in Jesus. Through their life with Jesus and by living his way, his attitudes and his actions, and by taking up his cross and experiencing his resurrection through Word and Sacrament, we come to know God as an intimate who is with us always, until the end
Too know the Spirit is to know the divine life which is present in us, to experience the free gift of grace and love and to be able to respond to it by living in the image and likeness of Jesus. The Spirit lifts us above fear and beyond slavish adherence to laws. Paul tells us today that the Spirit bears witness with our spirit that we are children of God." Receiving Paul's words in faith we believe that we are already beloved children of God, freed from sin, freed to love as God loves.
While we have been accustomed to calling on the triune God as Father, Son and Spirit, in the history of the church theologians and poets have used other metaphors for the Trinity. For example: God as fire, light and heat. God as composer, singer and song. And one we are more familiar with from our Scriptures, God as speaker, word and breath ("ruah). These metaphors may give us some insight into the nature of our God, but still, God's mystery is beyond all words and images. We put names on God as a valiant effort to describe our experience of our infinite divine Being. In retreats with women participants it is not unusual to call on God as Creator, Redeemer and Sanctifier.
From your experience in prayer what images would you use for God? Remember, the bottom line is, as hard as we try, we humans can never capture who God is – yet we can try. Who knows what God will reveal to us in our efforts!
Note: while Jesus used the masculine noun "Father" to refer to God, we know God has no physical body. God is not a man. Julian of Norwich, the mystic, referred to our Almighty God as Father and that we have our being in our Mother of mercy.... "Our substance is in our Father God Almighty, and our substance is in our Mother, God all wisdom...." Julian said.
Click here for a link to this Sunday's readings:
https://bible.usccb.org/bible/readings/053021.cfm
We do not think about the Trinity as much as experience it. Only then do we understand. And here is the paradox, that we understand the Trinity most when we realize that we do not understand.

—Herbert O'Driscoll, "Prayers for the Breaking of Bread"
"Upright is the word of the Lord, and all his works are trustworthy. He loves justice and right; of the kindness of the Lord the earth is full."
Psalm 33:4-5
The Church has designated today to honor the Most Holy Trinity, an incomprehensible mystery. So I find myself attracted to words in today's psalm--upright, trustworthy, loves justice and right, and kindness. The psalmist helps us to understand God using attributes that are universal among all people. Furthermore, the exercise of these attributes rely on loving relationships with others, just like the divine community of the Trinity.
The pandemic caused many of us to evaluate and value our relationships. We, humans, are truly designed to commune with others, in the image of God. In his newest encyclical," Fratelli Tutti: On Fraternity and Social Friendships," Pope Francis sees the disunity present in our world magnified by the pandemic. In this document, he seeks a re-visioning:
8. It is my desire that, in this our time, by acknowledging the dignity of each human person, we can contribute to the rebirth of a universal aspiration to fraternity. Fraternity between all men and women. "Here we have a splendid secret that shows us how to dream and to turn our life into a wonderful adventure. No one can face life in isolation… We need a community that supports and helps us, in which we can help one another to keep looking ahead. How important it is to dream together… By ourselves, we risk seeing mirages, things that are not there. Dreams, on the other hand, are built together".[6] Let us dream, then, as a single human family, as fellow travelers sharing the same flesh, as children of the same earth which is our common home, each of us bringing the richness of his or her beliefs and convictions, each of us with his or her own voice, brothers and sisters all.
85. Faith has untold power to inspire and sustain our respect for others, for believers come to know that God loves every man and woman with infinite love and "thereby confers infinite dignity" upon all humanity. . .If we go to the ultimate source of that love, which is the very life of the triune God, we encounter in the community of the three divine Persons the origin and perfect model of all life in society.
Together, let us dream of a society that is upright, trustworthy, just, righteous, loving and kind, and act in this new direction.
----Barbara Molinari Quinby, MPS, Director,
Office of Human Life, Dignity, and Justice Ministries
Holy Name of Jesus Cathedral, Raleigh, NC
Mini-reflections on the Sunday scripture readings designed for persons on the run. "Faith Book" is also brief enough to be posted in the Sunday parish bulletins people take home.
From today's Gospel reading:
Jesus said to his disciples:
"All power in heaven and on earth has been given me.
Go, therefore and make disciples of all nations...."
Reflection:
Jesus chose to give power and send out as witnesses, the least likely of his day. Doesn't that speak to us "ordinary folk" who may not feel particularly gifted in matters of religion? Still, we are the ones upon whom Jesus pours his Spirit and appoints to "make disciples of all nations."
So we ask ourselves:
How do we give daily witness to our faith in Christ?
Do we meet any opposition to our witnessing?
POSTCARDS TO DEATH ROW INMATES
"Our witness to respect for life shines most brightly when we demand respect for each and every human life, including the lives of those who fail to show that respect for others. The antidote to violence is love, not more violence."
---U.S. Bishops, 1998
This is a particularly vulnerable time for state and federal prisoners. Conditions, even without the pandemic, are awful in our prisons. Imagine what it is like now with the virus spreading through the close and unhealthy prison settings. I invite you to write a postcard to one or more of the inmates listed below to let them know we have not forgotten them. If the inmate responds you might consider becoming pen pals.
Please write to:
Alexander Polke #0801680 (On death row since 2/7/2005)
Christopher Goss #0150949 (2/8/2005)
Eric G. Lane #0667195 (7/11/2005)
----Central Prison, 4285 Mail Service Center, Raleigh, NC 27699-4285

For more information on the Catholic position on the death penalty go to the Catholic Mobilizing Network:

http://catholicsmobilizing.org/resources/cacp/

On this page you can sign "The National Catholic Pledge to End the Death Penalty." Also, check the interfaith page for People of Faith Against the Death Penalty: http://www.pfadp.org/

"First Impressions"

is a service to preachers and those wishing to prepare for Sunday worship. It is sponsored by the Dominican Friars. If you would like "First Impressions" sent weekly to a friend, send a note to fr. John Boll, OP at jboll@opsouth.org.

If you would like to support this ministry, please send tax deductible contributions to fr. Jude Siciliano, O.P.

St. Albert Priory

3150 Vince Hagan Drive

Irving, Texas 75062-4736

Make checks payable to: Dominican Friars.

Or, go to our webpage to make an online donation:

https://www.PreacherExchange.com/donations.htm

1. We have compiled Four CDS for sale:
Individual CDs for each Liturgical Year, A, B or C
One combined CD for "Liturgical Years A, B and C."
If you are a preacher, lead a Lectionary-based scripture group, or are a member of a liturgical team, these CDs will be helpful in your preparation process. Individual worshipers report they also use these reflections as they prepare for Sunday liturgy.

You can order the CDs by going to our webpage:

www.PreacherExchange.com and clicking on the "First Impressions" CD link on the left.

2. "Homilías Dominicales" —These Spanish reflections on the Sunday and daily scriptures are written by Dominican sisters and friars. If you or a friend would like to receive these reflections drop a note to fr. John Boll, O.P. at Jboll@opsouth.org.

3. Our webpage: www.PreacherExchange.org - Where you will find "Preachers' Exchange," which includes "First Impressions" and "Homilías Dominicales," as well as articles, book reviews, daily homilies and other material pertinent to preaching.

4. "First Impressions" is a service to preachers and those wishing to prepare for Sunday worship. It is sponsored by the Dominican Friars. If you would like "First Impressions" sent weekly to a friend, send a note to fr. John Boll, OP at the above email address.
---
Thank you and blessings on your preaching,
fr. Jude Siciliano, O.P.

St. Albert the Great Priory of Texas
3150 Vince Hagan Drive
Irving, Texas 75062-4736
972-438-1626
---
Click on a link button below to view the reflection indicated.
(The newest items are always listed first.)