Dear Preachers:
Matthew has ended his infancy narrative. On the feast of the Holy Family we heard that they left Egypt and settled in Galilee, in a town called Nazareth. Now, after John the Baptist's preaching (3:1-12), Jesus enters the scene. Matthew states it simply in the opening line of today's gospel, "Jesus came from Galilee to John at the Jordan to be baptized by him." Jesus is lining himself up with John who preached his coming. He is affirming John's baptism and submitting himself to God's will, "...it is fitting for us to fulfill all righteousness."
Jesus will continue the mission God proclaimed through all the prophets and up to John. Through Jesus, God has come close to God's people. God's kingdom is at hand. How was God's kingdom present to those at the Jordan that day and how is it present to us now? – through the person of Jesus Christ, who has fulfilled the hope of God's long-waiting people. He is the one John proclaimed was coming after him to baptize with "the Holy Spirit and fire" (2nd Sunday of Advent, Mt. 3: 1-12). After his baptism Jesus comes out of the water, the heavens open and he sees the Spirit descending like a dove on him – the Spirit God promised, through Isaiah, that would be given to God's chosen servant.
We are in a season of epiphanies, manifestations of Jesus' identity to the world. Last week the visitors from the East recognized Jesus and today Matthew tells us that the Holy Spirit descended on Jesus and a voice from heaven announces him as God's "beloved Son." If one were announced as God's beloved child what would one expect? – answers to all life's problems as they arose? Or, better still, no problems at all! Shouldn't God's "beloved" expect to get through life without pain and conflict? And when death did come, certainly a "beloved child" should have a swift, sure and easy passage out of this life into the arms of God.
After his baptism Jesus will be led by the Spirit to wrestle with Satan in the desert and there the temptations put to Jesus will be about expecting special treatment from God – "if you are the Son of God,"... why not receive privileged status and be spared life's pains and disappointments? But Jesus will reject these temptations to power, glory and a pain-free life. He will live our life as we must live it, trusting in the love and constancy of God, even amid life's pains and disappointments. That is the message he will preach – after his baptism and desert temptations – as he calls his first disciples (4: 1-16) and travels through Galilee teaching, proclaiming the good news and curing people. The voice proclaimed that Jesus is God's "beloved Son" and we, gifted with faith, recognize him as that beloved Son of God who shares our life and shows us God's gracious face.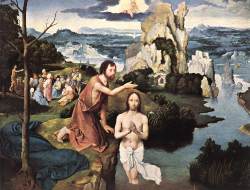 It is curious that Jesus urges John to baptize him in order, he says, "to fulfill all righteousness." God is planning to set humans right with God, to restore the relationship broken by our sin. Through Jesus, God will bring about "righteousness," but not only between God and us. God wants to make our relationships right with others as well. So, Jesus went forth preaching and healing after his baptism, reaching out to those who: asked for forgiveness, were in need of healing and hungered for God's Word.
Many of us don't like the sound of "righteousness." It feels too close to "self righteousness." It smacks of superiority and separation. Maybe we can take a lesson from prison lingo. I have heard inmates describe a guard, or even another inmate, as "righteous." It means they live up to their word and can be trusted to do the right thing. That's certainly not the full understanding of the biblical notion of "righteousness," but it gives us a clue of its positive implications. A righteous person lives a life that does not separate people or judge them, but draws them together in an atmosphere of acceptance and trust.
Jesus did "fulfill all righteousness." Therefore, we don't have to make ourselves right with God; we don't have to spend our lifetime "paying God back" for our sins and making amends for our past; we don't have to grovel to get God on our side; we don't have to say endless prayers to convince some angry god to yield to our urgent needs. The voice affirming Jesus as God's "beloved son" was God's stamp of approval on Jesus. Henceforth, what he proclaimed in words and actions about God's love for us could be trusted. His message is that we don't have to make God love us. God already does. We don't have to push and shove to move God to our side. God is already standing with us. Jesus is proof-positive of where God is in our lives. Jesus, Matthew tells us, is Emmanuel, "God with us." Jesus' life and death assure us that we don't have to earn God's righteousness, God has given it to us. Well then, what are we to do?
We could live out our right relationship with God by living "righteously" with others. God's plan, "to fulfill all righteousness," means that we are to set things right with one another through forgiveness, love and justice. We might: work to heal broken relationships; forgive others, as we have been forgiven; reach out to strangers, as God has reached out to us; feed the hungry, as Jesus did, etc. From this point in the gospel Matthew will show how the beloved child of God reveals his relationship to God. Empowered by his Spirit, we can follow his example.
We can't do all this on our own, but we can through Jesus who, as John promised, baptized us with the same Spirit that descended on him. Isn't that our mission as Christians, "to fulfill all righteousness?" Enabled and directed by the Spirit we received at baptism, we strive to set things right in the world, especially for the defenseless, neglected and mistreated.
Click here for a link to this Sunday's readings:
http://www.usccb.org/bible/readings/011220.cfm
The voice of the Lord is over the waters
Psalm 29:3
Water plays a huge role in Christian life in a richly symbolic way. From the Spirit moving over the waters in Genesis to Jesus rising from the water to begin his ministry of servant leadership to our own baptisms that provide "the gateway to life in the spirit" (CCC 1213). What do you think the Lord's voice is saying over the waters in today's world where water insecurity already exists in many places? Consider the following information:
Water is the primary medium through which we will feel the effects of climate change. . .increased incidences of flooding threaten to contaminate water sources. . .in some regions, droughts are exacerbating water scarcity. . . (UN Water)
Increasing temperatures on the planet and more variable rainfalls are expected to reduce crop yields in many tropical developing regions, where food security is already a problem. (World Health Organization-WHO)
More than 2 billion people live in countries experiencing high water stress. The situation will likely worsen as populations and the demand for water grow, and as the effects of climate change intensify. (United Nations, 2018)
With the existing climate change scenario, by 2030, water scarcity in some arid and semi-arid places will displace between 24 million and 700 million people. (UN Convention to Combat Desertification--UNCCD)
By the 2080s, land unsuitable for agriculture in sub-Saharan Africa due to severe climate, soil or terrain constraints may increase by 30 to 60 million hectares. (Food & Agriculture Organization of UN--FAO).
It is estimated that by 2040, one in four of the world's children under 18 – some 600 million in all – will be living in areas of extremely high water stress. (UNICEF, 2017).
Scientists, farmers and the business community consider variability, casted as 'extreme weather events', as one of the most likely production risks over the next ten years (World Economic Forum--WEF, 2015).
The Lord is closely aligned with the poor, who are the ones to be most adversely affected by water insecurity. Surely, the Lord is crying out for them. Join, in solidarity, the Cathedral Creation Care Network at
socialconcern@hnojnc.org
---Barbara Molinari Quinby, MPS
Director of Social Justice Ministries
Holy Name of Jesus Cathedral, Raleigh, NC
Mini-reflections on the Sunday scripture readings designed for persons on the run. "Faith Book" is also brief enough to be posted in the Sunday parish bulletins people take home.
From today's Gospel reading:
After Jesus was baptized, he came up from the water
and behold, the heavens were opened for him
and he saw the Spirit of God descending like a dove
and coming upon him.
Reflection:
Christ was not spared the costs of being God's Servant. Right after his baptism Jesus was tempted in the wilderness. His baptism doesn't guarantee him a smooth path through life; nor does it guarantee us a smooth ride. In fact, our baptism will cost us, for the faithful are to live the life of service that Jesus did.
So we ask ourselves:
When and how does it "cost" me to be a disciple of Jesus?
Do I experience God's help when being a Christian comes with a price?
POSTCARDS TO DEATH ROW INMATES
"One has to strongly affirm that condemnation to the death penalty is an inhuman measure that humiliates personal dignity, in whatever form it is carried out."
---Pope Francis
Inmates on death row are the most forgotten people in the prison system. Each week I post in this space several inmates' names and addresses. I invite you to write a postcard to one or more of them to let them know we have not forgotten them. If you like, tell them you heard about them through North Carolina's, "People of Faith Against the Death Penalty." If the inmate responds you might consider becoming pen pals.
Please write to:
Jeffrey Barrett #0021418 (On death row since 6/1/93)
Norfolk Best #0030124 (6/7/93)
James Campbell #0063592 (7/8/93)
----Central Prison, 4285 Mail Service Center, Raleigh, NC 27699-4285

For more information on the Catholic position on the death penalty go to the Catholic Mobilizing Network:

http://catholicsmobilizing.org/resources/cacp/

On this page you can sign "The National Catholic Pledge to End the Death Penalty." Also, check the interfaith page for People of Faith Against the Death Penalty: http://www.pfadp.org/

"First Impressions"

is a service to preachers and those wishing to prepare for Sunday worship. It is sponsored by the Dominican Friars. If you would like "First Impressions" sent weekly to a friend, send a note to fr. John Boll, OP at jboll@opsouth.org.

If you would like to support this ministry, please send tax deductible contributions to fr. Jude Siciliano, O.P.

St. Albert Priory 3150 Vince Hagan Drive Irving, Texas 75062-4736

Make checks payable to: Dominican Friars. Or, go to our webpage to make an online donation:

https://www.PreacherExchange.com/donations.htm

1. We have compiled Four CDS for sale:
Individual CDs for each Liturgical Year, A, B or C
One combined CD for "Liturgical Years A, B and C."
If you are a preacher, lead a Lectionary-based scripture group, or are a member of a liturgical team, these CDs will be helpful in your preparation process. Individual worshipers report they also use these reflections as they prepare for Sunday liturgy.

You can order the CDs by going to our webpage:

www.PreacherExchange.com and clicking on the "First Impressions" CD link on the left.

2. "Homilías Dominicales" —These Spanish reflections on the Sunday and daily scriptures are written by Dominican sisters and friars. If you or a friend would like to receive these reflections drop a note to fr. John Boll, O.P. at Jboll@opsouth.org.

3. Our webpage: http://www.PreacherExchange.com - Where you will find "Preachers' Exchange," which includes "First Impressions" and "Homilías Dominicales," as well as articles, book reviews, daily homilies and other material pertinent to preaching.

4. "First Impressions" is a service to preachers and those wishing to prepare for Sunday worship. It is sponsored by the Dominican Friars. If you would like "First Impressions" sent weekly to a friend, send a note to fr. John Boll, OP at the above email address.
---
Thank you and blessings on your preaching,
fr. Jude Siciliano, O.P.

St. Albert the Great Priory of Texas
3150 Vince Hagan Drive
Irving, Texas 75062-4736
972-438-1626
---
Click on a link button below to view the reflection indicated.
(The newest items are always listed first.)