Dear Preachers:
HAPPY NEW YEAR LOVERS OF GOD'S WORD!
It is New Year's Day. I hope it has been a good year for each of you. But for ALL of us, I don't think it has been. Don't we feel and share the pain of the suffering so many people have experienced over this past year? We say, "The year went by so quickly! Where did the time go?" In some ways we are lucky to be able to say that since, for those who have suffered the death of a loved one, extreme poverty, the destruction and displacement of war, terrorist bombings, family separations at our border and loss of health, the year has dragged by. These people are glad to be rid of 2019 and they hope for a better 2020.
For them and for our loved ones – we not only read and listen to the text from Numbers, we make it our prayer for 2020. We pray it for people whose names we know and who are close to our hearts. We also pray it for the anonymous ones whose names only God knows, remembers and cherishes. May God, "...bless you and keep you!...be gracious to you...look upon you kindly and give you peace." We ask a blessing from God as we pray this reading. And more. We pray we might be an instrument God uses to put flesh and blood on the blessing, so that others will experience God blessing them because of our presence in their lives.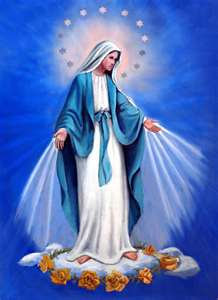 Today is the solemnity of "Mary, Mother of God." Our church's veneration of Mary goes back to our beginnings. At Christmas we celebrate the Word of God made flesh. Today we celebrate God blessing us through Mary, who was the means by which that Word took flesh among us. Through Mary we came to experience the Numbers' blessing, for in Christ, her son, God's face shines on us; is gracious to us and gives us peace. The Numbers' blessing has been made flesh for us through Mary's response to God.
The shepherds respond obediently to the message they heard from the angels (Luke 2: 15-20). They went in haste to Bethlehem to, "see this event that has taken place which the Lord has made known to us" (2:15). But the focus of the gospel reading is less on the shepherds and more on Mary who listens to the message the angels gave the shepherds about her son. Mary reflects on what she heard "in her heart" and her manner suggests a new year's resolution for us today.
Many of us make resolutions about eating less, exercising more, stopping smoking, etc. All well and good. But we who worship have another resolution to make as we observe Mary's way in the gospel today. We can use her as our model; she is one who pays attention to what she hears and reflects things over in her heart. She demonstrates throughout Luke's gospel a docility to the Word. She is the model believer who hears the Word of God and acts on it. In the light of today's gospel passage I might resolve that: throughout this new year I will practice being a better listener. I will allow myself more time to reflect and respond with deliberation to the events of my life. My first listening post will be the scriptures themselves, determined to go to them for spiritual nourishment, communion with God and direction for my life.
Listening to today's gospel text I note that Mary pondered a message she heard from lowly shepherds. In those times shepherds were considered ritually unclean and their testimony was suspect in a court of law. The reputation and ill regard her contemporaries had for shepherds did not stop Mary from paying attention to them and seriously reflecting on their message. She was a listener to the voices of the lowly and there she heard good news. We never know how God might speak in our daily lives.
Sometimes God speaks a word and the message is delivered to us: through the response of an angry child; the encouragement of a sympathetic friend; the consolation of one who sits with us in our grief; the vivid images on the evening news; the preaching of our least favorite preacher; the results of a statistical survey; or a photograph at an exhibit. For example, during the Depression in this country photographers were hired and sent to document poverty in the land. The pictures they brought back deeply touched the nation and its leaders and helped promote social legislation to help the poor, unemployed and elderly. People heard a "word" in those images of unemployed people, hungry children and strained families. They pondered what they "heard" and they responded by trying to alleviate the pain through legislation. It is far from perfect or adequate, but the "social net" has helped countless needy people keep from sinking. In the political climate of these days, that new of protection is being shredded more and more by cutbacks that affect the poor.
A good new year's resolution: try to be a better listener, regardless of the one or group who is speaking; give what we hear a serious "pondering" by not jumping too quickly to our usual conclusions. Then, pray for the wisdom to know how to respond to what we hear. That's a bit lengthy, but you get the idea.
If we were better listeners we would experience that Jesus continues to be born in our midst. We would have the same reaction as those who first heard the message from the shepherds: we too would be "amazed." Amazed to hear the good news God still proclaims to us in the very midst of our busy and diverse lives. A closer listening to that Word in daily life would reveal God's blessing us: encouraging us in the good we try to do for others, despite the naysayers; giving us words of forgiveness for our sins; healing us of past hurts and current brokenness.
There is a lot else our ears are exposed to – at work, school, home and the other places that make up our days. All we hear does not build us up, heal or strengthen us. All is not God's Word, no matter how hard we listen. That is why we need to give a disciplined hearing to the scriptural word. It will serve as our lens to help us discover and focus on God's speaking in the many other ways God does. Those who practice a prayerful listening to the Word, a "Lectio Divina," will do as Mary teaches us today: listen to the Word and ponder it in our hearts. The more we develop the ears of our heart, the more we will recognize and celebrate the daily incarnations of the Word. For God still takes flesh in our world in many and diverse ways. (For an instruction in the practice of "Lectio Divina" go to:
https://www.beliefnet.com/faiths/catholic/2000/08/how-to-practice-lectio-divina.aspx)
The more we are tuned to the Word, the better we will be able to turn away from false prophets who claim to speak the truth, but whose intentions are to deceive. Many are the voices that encourage us to put our own priorities on the top of our "to-do list." They seduce us by promises of profit, power and prestige even when it is at the expense of others. Those who ponder and treasure the Word in their hearts will know where and when God is speaking, even when the Word comes to us from the most unlikely sources: like the dirty and breathless shepherds straight from the fields who can't wait to tell Mary and Joseph the good news they, of all people, heard from the angel!
Click here for a link to this Sunday's readings:
http://www.usccb.org/bible/readings/010820.cfm
"The Lord look upon you kindly and give you peace!"
Numbers 6: 26
A new year has arrived and, on this Solemnity of the Holy Mother of God, Catholics observe a World Day of Peace. Pope Francis' theme for this year's message is "Non-violence: A Style of Politics for Peace." He urges families, faith communities, government leaders, and the international community to practice non-violence and work to build a just peace. Look for reflections on his World Day of Peace message on ToGoForth.org.
WHAT YOU CAN DO:
1. Pray. Use the Prayer for Peace in Our Communities (below) with your family, school, faith community, or in other settings.
2. Learn. Read USCCB's "The Harvest of Justice is Sown in Peace" (bit.ly/harvestofjustice) especially the section on "Nonviolence: New Importance." How can Gospel nonviolence challenge each of us personally, and as a nation? Learn how other communities are working for peace around the United States (bit.ly/peaceCCHD) and world (bit.ly/CRSpeace). How might the Holy Spirit be calling our community to respond?
3. Act. Join others to advocate for policies that build peace. For current action alerts, visit ConfrontGlobalPoverty.org and USCCB Action Center (Votervoice.net/USCCB/home).
PRAYER FOR PEACE IN OUR COMMUNITIES
Let us pray . . . O Lord our God, in your mercy and kindness, no thought of ours is left unnoticed, no desire or concern ignored. You have proven that blessings abound when we fall on our knees in prayer, and so we turn to you in our hour of need. Surrounded by violence and cries for justice, we hear your voice telling us what is required . . . "Only to do justice and to love goodness, and to walk humbly with your God" (Micah 6:8). Fill us with your mercy so that we, in turn, may be merciful to others. Strip away pride, suspicion, and racism so that we may seek peace and justice in our communities. Strengthen our hearts so that they beat only to the rhythm of your holy will. Flood our path with your light as we walk humbly toward a future filled with encounter and unity. Be with us, O Lord, in our efforts, for only by the prompting of your grace can we progress toward virtue. We ask this through Jesus Christ our Lord. Amen.
In this new year, resolve to pray, learn, and act in peace.
---Barbara Molinari Quinby, MPS
Director of Social Justice Ministries
Holy Name of Jesus Cathedral, Raleigh, NC
Mini-reflections on the Sunday scripture readings designed for persons on the run. "Faith Book" is also brief enough to be posted in the Sunday parish bulletins people take home.
From today's Gospel reading:
"The shepherds went in haste to Bethlehem
and found Mary and Joseph,
and the infant lying in the manger."
Reflection:
The shepherds got it right. God had favored them and they responded. Did they wonder what would happen to their sheep as they rushed off? No time for that. First things first! What the shepherds heard from God was more important than anything else. Hurry up and do something about what God just told you.
So we ask ourselves:
What right thing have we been putting off doing?
Shall we join the shepherds and make "haste" to respond to God's goodness to us?
NEVER HIDE THE BOOK OF GOD'S WRITTEN WORD.
The Lectionary is the "chalice" of God's Written Word, and should be handled as such. Just as the chalice and patten are held high at the end of the Eucharistic prayer, so the Lectionary and Gospel Book should be held so that the congregation sees them and accepts them as the symbols of what they contain--God's nourishment for a Holy People. In particular, it better to hold the Lectionary or Gospel Book when reading from it at the lectern so that it may be seen by the
assembly, rather than leaving it semi-hidden on the lectern. It may rest on the lectern when not actively being used, but when it is used for the proclamation, it should be visible as the Sacrament of God's Presence.
----Excerpt pertaining to the Word of God in Eucharistic liturgical practice, taken from:
HOW NOT TO SAY MASS: A GUIDEBOOK FOR ALL CONCERNED ABOUT AUTHENTIC WORSHIP, by Dennis C. Smolarski, S. J. New York: Paulist Press 1986, page 48.]
POSTCARDS TO DEATH ROW INMATES
"One has to strongly affirm that condemnation to the death penalty is an inhuman measure that humiliates personal dignity, in whatever form it is carried out."
---Pope Francis
Inmates on death row are the most forgotten people in the prison system. Each week I post in this space several inmates' names and addresses. I invite you to write a postcard to one or more of them to let them know we have not forgotten them. If you like, tell them you heard about them through North Carolina's, "People of Faith Against the Death Penalty." If the inmate responds you might consider becoming pen pals.
Please write to:
William Bowie #0039569 (On death row since 2/5/93)
Rayford Burkes #0057308 (4/1/93)
John Burr #0058316 (4/21/93)
----Central Prison, 4285 Mail Service, Center, Raleigh, NC 27699-4285

For more information on the Catholic position on the death penalty go to the Catholic Mobilizing Network:

http://catholicsmobilizing.org/resources/cacp/

On this page you can sign "The National Catholic Pledge to End the Death Penalty." Also, check the interfaith page for People of Faith Against the Death Penalty: http://www.pfadp.org/

"First Impressions"

is a service to preachers and those wishing to prepare for Sunday worship. It is sponsored by the Dominican Friars. If you would like "First Impressions" sent weekly to a friend, send a note to fr. John Boll, OP at jboll@opsouth.org.

If you would like to support this ministry, please send tax deductible contributions to fr. Jude Siciliano, O.P.

St. Albert Priory 3150 Vince Hagan Drive Irving, Texas 75062-4736

Make checks payable to: Dominican Friars. Or, go to our webpage to make an online donation:

https://www.PreacherExchange.com/donations.htm

1. We have compiled Four CDS for sale:
Individual CDs for each Liturgical Year, A, B or C
One combined CD for "Liturgical Years A, B and C."
If you are a preacher, lead a Lectionary-based scripture group, or are a member of a liturgical team, these CDs will be helpful in your preparation process. Individual worshipers report they also use these reflections as they prepare for Sunday liturgy.

You can order the CDs by going to our webpage:

www.PreacherExchange.com and clicking on the "First Impressions" CD link on the left.

2. "Homilías Dominicales" —These Spanish reflections on the Sunday and daily scriptures are written by Dominican sisters and friars. If you or a friend would like to receive these reflections drop a note to fr. John Boll, O.P. at Jboll@opsouth.org.

3. Our webpage: www.PreacherExchange.com - Where you will find "Preachers' Exchange," which includes "First Impressions" and "Homilías Dominicales," as well as articles, book reviews, daily homilies and other material pertinent to preaching.

4. "First Impressions" is a service to preachers and those wishing to prepare for Sunday worship. It is sponsored by the Dominican Friars. If you would like "First Impressions" sent weekly to a friend, send a note to fr. John Boll, OP at the above email address.
---
Thank you and blessings on your preaching,
fr. Jude Siciliano, O.P.

St. Albert the Great Priory of Texas
3150 Vince Hagan Drive
Irving, Texas 75062-4736
972-438-1626
---
Click on a link button below to view the reflection indicated.
(The newest items are always listed first.)