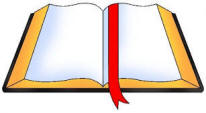 FAITH BOOK
4th SUNDAY OF ADVENT (A) DECEMBER 18, 2022
Isaiah 7: 10-14; Psalm 24; Romans 1: 1-7; Matthew 1: 18-24
Jude Siciliano, OP
---
From today's gospel:

"This is how the birth of Jesus Christ came about.
When his mother Mary was betrothed to Joseph, but before they lived together,
she was found with child through the Holy Spirit"
Reflection:
"This is how the birth of Jesus Christ came about."

What would you expect should follow an opening line like that? Would you expect that God had a neat and orderly plan that would be received with joy and marvel when it was revealed?
Well, Matthew's gospel shows us that God did have a plan. But that plan started by messing up Joseph's marriage plans with Mary. God's plan initially brought chaos into Joseph's life. Not all distressing events that happens to us are a result of God's plan for us. But when something happens that throws us off balance, the birth of Jesus reassures us that God is with us to help us work things out--- according to God's good plan for us.
So, we ask ourselves:
When did something happen to me that caused me to change or destroy my plans?

How did I experience God with me as I struggled to reorganize my life?

Can I look back and say, "God was with me and guided me at that hard time in my life?
Click here for a link to this Sunday's readings:
https://bible.usccb.org/bible/readings/121822.cfm
---
FAITH BOOK ARCHIVE: