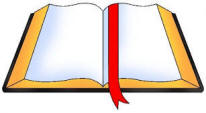 FAITH BOOK
3rd SUNDAY OF ADVENT (A) DEC. 11, 2022
Isaiah 35: 1-6a, 10; Psalm 146; James 5: 7-10; Matthew 11: 2-11
Jude Siciliano, OP
---
Mini reflections on the Sunday scripture readings designed for persons on the run. "Faith Book" is also brief enough to be posted in the Sunday parish bulletins people take home.
From today's Isaiah reading:

Say to those whose hearts are frightened:
Be strong, fear not!
Here is your God, who comes with vindication;
with divine recompense
God comes to save you.
Reflection:

We celebrate "Rejoice Sunday" today, because, as Isaiah points out, "Here is your God, who comes with vindication...." Our just God is going to set things right. That should give us hope and determination to continue (or begin!") our efforts to cooperate with God's just plans now in the world around us. Happily, we are not relying on our own efforts because we trust the prophet's assurance that God is close.
So, we ask ourselves:
In what concrete ways do I experience the closeness of God in my life now?

Do I see that the good works I do enable others to experience God's reaching out to them?
Click here for a link to this Sunday's readings:
https://bible.usccb.org/bible/readings/121122.cfm

---
FAITH BOOK ARCHIVE: