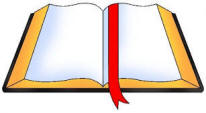 FAITH BOOK
2nd SUNDAY OF ADVENT (A) DEC 4, 2022
Isaiah 11: 1-10; Psalm 72; Romans 15: 4-9; Matthew 3: 1-12
by Jude Siciliano, OP
---
Mini reflections on the Sunday scripture readings designed for persons on the run. "Faith Book" is also brief enough to be posted in the Sunday parish bulletins people take home.
From today's Gospel reading:

[John the Baptist told them]
"I am baptizing you with water, for repentance,
but the one who is coming after me is mightier than I....
He will baptize you with the Holy Spirit."
Reflection:

There is too much clutter in our lives and John promises that Jesus' coming with his Spirit can do what we can't, "Clear the threshing floor and gather his wheat into his barn...." That is the promise we hear this Advent: the Spirit is coming to help us clear space for God and gather "the wheat" that will give us the life God wants us to have.
So, we ask ourselves:
What are the wake up calls we have been getting in our lives?

How can we stop procrastinating and respond to them this Advent?
Click here for a link to this Sunday's readings:
https://bible.usccb.org/bible/readings/120422.cfm
---
FAITH BOOK ARCHIVE: