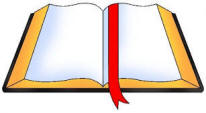 FAITH BOOK
1st SUNDAY OF ADVENT A November 27, 2022
Isaiah 2: 1-5; Psalm 122; Romans 13: 11-14; Matthew 24: 37-44
by Jude Siciliano, OP
---
Mini reflections on the Sunday scripture readings designed for persons on the run. "Faith Book" is also brief enough to be posted in the Sunday parish bulletins people take home.
From today's Romans reading:

Brothers and sisters: You know the time;
it is the hour now for you to wake from sleep.
Reflection:

Paul believes in the promise God has made to us in Christ. If we wake up, he tells us, we can trust God will act decisively in the future. In fact, if we open our eyes we can see God has already begun to heal our brokenness, forgive our sins and, we believe, overcome death
So, we ask ourselves:
While we wait for Christ's return how do you experience his presence now in your life?

What are the works of darkness Paul warns us about?

How can we follow his advice and "Put on the Lord Jesus?"
Click here for a link to this Sunday's readings:
https://bible.usccb.org/bible/readings/112722.cfm
---
FAITH BOOK ARCHIVE: