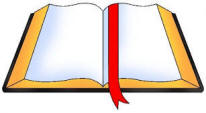 FAITH BOOK
OUR LORD JESUS CHRIST, KING OF THE UNIVERSE -C-
Nov 20, 2022
2 Samuel 5: 1-3; Psalm 122; Colossians 1: 12-20; Luke 23: 35-43
by Jude Siciliano, OP
---
Mini reflections on the Sunday scripture readings designed for persons on the run. "Faith Book" is also brief enough to be posted in the Sunday parish bulletins people take home.

From today's Gospel reading:

The rulers sneered at Jesus and said,
"He saved others, let him save himself
if he is the chosen one, the Christ of God...."
Above Jesus there was an inscription that read,
"This is the King of the Jews."
Reflection:

Jesus, the king, is showing us a power from the cross in contrast to what the world reckons as power and rule. His power is not exerted by force over us, but by inviting us to become one with him. He is offering himself to us in a relationship that is strong, even when it appears weak.
So, we ask ourselves:
Can you name two or three powers that lay claim to the hearts of people in the world?

What powers compete with Jesus' rule within our church? Within ourselves?
Click here for a link to this Sunday's readings:
https://bible.usccb.org/bible/readings/112022.cfm
---
FAITH BOOK ARCHIVE: