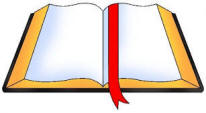 FAITH BOOK
32nd SUNDAY (B) November 7, 2021
1 Kings: 17:10-16; Psalm 146; Hebrews 9: 24-28; Mark 12: 38-44
by Jude Siciliano, OP
Mini reflections on the Sunday scripture readings designed for persons on the run. "Faith Book" is also brief enough to be posted in the Sunday parish bulletins people take home.
---
From today's Gospel reading:

"Amen, I say to you, this poor widow put in more than all
the other contributors to the treasury.
For they have all contributed from their surplus wealth,
but she, from her poverty, has contributed all she had,
her whole livelihood.
Reflection:

Jesus not only praises the widow but offers a lament for her situation. In addition, his words also contain good news. The poor may be overlooked by even the religious establishment, but God has noticed their situation. God can read the widow's heart and honors her. As far as the corrupt religious leadership who profit from her generosity, Jesus is the sign that God notices them as well and will deal with them.
So, we ask ourselves:
When did God notice me in my poverty and come to my aide?

Shall I stand on the side of Jesus and see, as he does, the neediest around me?
Click here for a link to this Sunday's readings:
https://bible.usccb.org/bible/readings/110721.cfm
---
FAITH BOOK ARCHIVE: