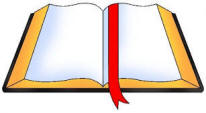 FAITH BOOK
31st SUNDAY (B) October 31, 2021
Deuteronomy 6: 2-6; Psalm 18; Hebrews 7: 23-28; Mark 12: 28b-34
Jude Siciliano, OP
---
Mini reflections on the Sunday scripture readings designed for persons on the run. "Faith Book" is also brief enough to be posted in the Sunday parish bulletins people take home
From today's Gospel reading:
Jesus said, "Hear O Israel!
The Lord our God is Lord alone!
You shall love the Lord your God with all your heart,
with all your soul, with all your mind,
and with all your strength....
You shall love your neighbor as yourself."
Reflection
Jesus invites us to see that God alone is our God. God alone gives meaning to our lives and so we are to love God totally – all of our heart, soul, mind and strength. Living in that love, we are to love ourselves and one another. Nothing is greater than this embracing love, and to teach our young ones about this God, is the greatest gift we can leave them.
So, we ask ourselves:
What legacy are we hoping to leave our children?

Will they remember the full and rich love we had for God and our neighbor, and the many ways we expressed that love?

Do they perceive that love of God and love of neighbor is the fundamental value of our lives?
Click here for a link to this Sunday's readings:
https://bible.usccb.org/bible/readings/103121.cfm
---