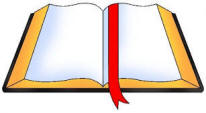 FAITH BOOK
10/17/2021 (B)
Mini reflections on the Sunday scripture readings designed for persons on the run. "Faith Book" is also brief enough to be posted in the Sunday parish bulletins people take home.
---
From today's Gospel reading:
Jesus said to his disciples,
"Whoever wishes to be great among you,
will be your servant;
whoever wishes to be the first among you
will be the slave of all."
Reflection:
Being a disciple is not about power and prestige. It's not about the first places at table. It's about following Jesus' path of service, even if it means suffering and death. That's a difficult teaching, no wonder the disciples were deaf to it. In the Lord's Prayer we ask for "daily bread," to sustain us in our life of service in Jesus' name.
So, we ask ourselves:
In what way does following Jesus require me to be a servant?

Where do I receive strength for that role?
---
FAITH BOOK ARCHIVE