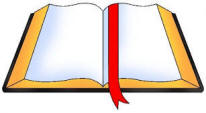 FAITH BOOK
27th SUNDAY (B) October 3, 2021
Genesis 2: 18-24; Psalm 128; Hebrews 2: 9-11; Mark 10: 2-16
By Jude Siciliano, OP
---
Mini reflections on the Sunday scripture readings designed for persons on the run. "Faith Book" is also brief enough to be posted in the Sunday parish bulletins people take home.
From today's Gospel reading:
...a man shall leave father and mother and be joined to his wife,
and the two shall become one flesh.
Therefore, what God has joined together,
no human being must separate.
Reflection:
While our Church's marriage laws are meant to protect the institution of marriage for the common good, still, Jesus has taught mercy and forgiveness and in his ministry, he kept persons primary. How then can the Church do the same? By holding fast to its current laws and restrictions? Or, while raising up the ideal, by also ministering to those wounded by their previous experiences in marriage, who now hope to start afresh in new relationships – and still be full participants in the church.?
So, we ask ourselves:
By their love and commitment to one another which married couples have witnessed to me the blessings of the sacrament of marriage?

What can I do or say to give support to those who are struggling in their commitment to one another?