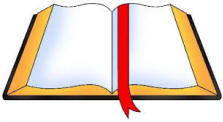 FAITH BOOK
25th SUNDAY (A) September 24, 2023
Isaiah 55: 6-9; Psalm 145;
Philippians 1: 20c-24, 27a; Matthew 20: 1-16
by Jude Siciliano, OP
---
Mini-reflections on the Sunday scripture readings designed for persons on the run. "Faith Book" is also brief enough to be posted in the Sunday parish bulletins people take home.
From today's Gospel reading:
"What if I wish to give the last one the same as you!
Or am I not free to do as I wish with my own money?
Are you envious because I am generous?"
Reflection:
In the kingdom of heaven, which has already begun, people are judged on an entirely different scale of values than the ones we use. God, like the landowner, is generous to both the big producers and the seeming-undeserving. It is not in our hands to decide and give rewards based on what others have or have not done for God. When it comes to a final reckoning God will have the last word -- and it will be a generous one!
So we ask ourselves:
Have you ever gotten a present from someone that was more than you expected?
Did that surprise have any effect on your relationship with that person?
Click here for a link to this Sunday's readings:
https://bible.usccb.org/bible/readings/092423.cfm
---
FAITH BOOK ARCHIVE:
---