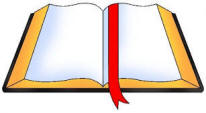 FAITH BOOK
25th SUNDAY (B) September 23, 2018
Wisdom 2: 12, 17-20; Psalm 54; James 3: 16-4:3; Mark 9: 30-37
by Jude Siciliano, OP
---
Mini reflections on the Sunday scripture readings designed for persons on the run. "Faith Book" is also brief enough to be posted in the Sunday parish bulletins people take home.
From today's Gospel reading:
Jesus said to his disciples:
"If anyone wishes to be first,
they shall be the last of all and the servant of all."
Reflection:
If someone comes up to you on the street and asks, "Have you accepted Jesus into your life?" – according to today's gospel, that means we have accepted Jesus' way of life, being "the servant of all."
So, we ask ourselves:
What Christian "servant role" am I currently involved in?

What helps me persevere in that role, even under trying conditions?