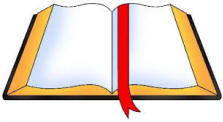 FAITH BOOK

24th SUNDAY

, SEPTEMBER 17, 2023

Sirach 27: 30-28:7; Romans
14: 7-9; Matthew 18: 21-35

Jude Siciliano, OP
---
Mini-reflections on the Sunday scripture readings designed for persons on the run. "Faith Book" is also brief enough to be posted in the Sunday parish bulletins people take home.
From today's Gospel reading:
Peter approached Jesus and asked him:
"Lord, if my brother sins against me, how often must I forgive?
As many as seven times?"
Jesus answered, "I say to you, not seven times,
but seventy-seven times."
Reflection:
Reflecting on the gift of forgiveness God has given us, might enable us to forgive the debts we hold against others. Being changed by the forgiveness God always makes available to us, can enable us to forgive, the way God does, free of charge.
So we ask ourselves:
What experience have I had of getting something I didn't earn, or deserve, for free?

Was I changed, deeply affected by that experience?

Was I moved in a similar way to be as generous to another?
Click here for a link to this Sunday's readings:
https://bible.usccb.org/bible/readings/091723.cfm
---
FAITH BOOK ARCHIVE:
---