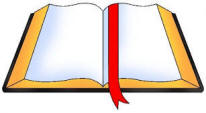 FAITH BOOK
24th SUNDAY IN ORDINARY TIME (B) September 12, 2021
Isaiah 50: 5-9a; Psalm 59; James 2: 14-18; Mark 8: 27-35
by Jude Siciliano, OP
---
Mini reflections on the Sunday scripture readings designed for persons on the run. "Faith Book" is also brief enough to be posted in the Sunday parish bulletins people take home.
From today's Isaiah reading:

The Lord God is my help,
therefore I am not disgraced.
I have set my face like flint,
knowing that I shall not be put to shame.
Reflection:

Doing the right thing doesn't guarantee we'll succeed. It's not about success, but about being faithful. But how can we be faithful when suffering is the price, we sometimes must pay for doing what is right? What will keep us from yielding and turning in another direction? Isaiah has a piece of wisdom and assurance for us today, "The Lord God is my help; therefore, I am not disgraced."

So, I ask myself:
Have I ever suffered or been penalized for doing what was right?

What gave me the determination and strength to stay the course?
Click here for a link to this Sunday's readings:
https://bible.usccb.org/bible/readings/091221.cfm