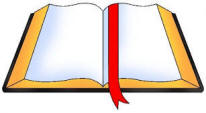 FAITH BOOK
22nd SUNDAY -C- August 28, 2022
Sirach 3: 17-18, 20, 28-30;
Ps. 68; Heb. 12: 18-19, 22-24; Luke 14: 1, 7-14
by Jude Siciliano, OP
---
Mini reflections on the Sunday scripture readings designed for persons on the run. "Faith Book" is also brief enough to be posted in the Sunday parish bulletins people take home.
From today's Gospel reading:

"Rather, when you hold a banquet
invite the poor, the crippled,
the lame, the blind,
blessed indeed will you be because
of their inability to repay you.
For you will be repaid at the
resurrection of the righteous."
Reflection:

Jesus is preparing us for a banquet where those in most need will receive honors and fulfillment. Since that will be the case, we ought to do some "kingdom practicing" now: act in ways that will reflect the kingdom in which we are already citizens— treat the poor as honored guests in our lives.
So, we ask ourselves:
Have you ever had a surprise party? What did it feel like to be surprised and honored?

To whom can you extend the "surprise" of special and honored treatment?
Click here for a link to this Sunday's readings:
https://bible.usccb.org/bible/readings/082822.cfm

---
FAITH BOOK ARCHIVE: