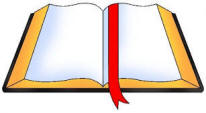 FAITH BOOK
THE ASSUMPTION - August 15, 2021
Revelation 11: 19a; 12:1-6a, 10ab; Psalm 45; I Cor 15: 20-27; Luke 1: 39-56
Jude Siciliano, OP
---
Mini reflections on the Sunday scripture readings designed for persons on the run. "Faith Book" is also brief enough to be posted in the Sunday parish bulletins people take home.
From today's Gospel reading:
Mary said...God has remembered the promise of mercy,
the promise God made to our ancestors,
to Abraham and his children forever.
Reflection:
In her "Magnificat," Mary rejoices in the saving work of God, Who "scatters the proud...casts down the mighty from their thrones...." Her prophetic proclamation voices the hope the poor and oppressed have that God has and will raise up people who embody God's mercy—as Mary's Son did and as we are called to do.
So, we ask ourselves:
Where and how do I feel called to be a voice for a victimized person or people?

What may be holding me back from doing that right now?