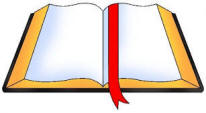 FAITH BOOK
19th SUNDAY IN ORDINARY TIME AUGUST 8, 2021
1 Kings 19: 4-8; Ephesians 4: 30-5:2; John 6: 41-51
by Jude Siciliano, OP
---
Mini reflections on the Sunday scripture readings designed for persons on the run. "Faith Book" is also brief enough to be posted in the Sunday parish bulletins people take home.
From today's 1 Kings reading:
Elijah went a day's journey into the desert,
until he came to a broom tree and sat beneath it.
He prayed for death saying:
"This is enough, O Lord!"
Reflection:
God has not left us hungering and lost in one desert or another, but has come to nourish us, stay with us and with our human family. In Jesus our life has purpose and hope. We trust that God will not let us down, even when we want to cry out, as Elijah did, "This is enough, Old Lord!"
So, we ask ourselves:
What part of life feels strained and testing these days?

How is God feeding your hunger and fatigue these days?
Click here for a link to this Sunday's readings: