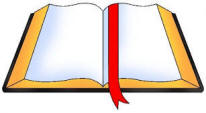 FAITH BOOK
18th SUNDAY (B) August 1, 2021
Exodus 16: 2-4, 12-15; Psalm 78; Ephesians 4: 17, 20-24; John 6: 24-35
by Jude Siciliano, OP
---
Mini reflections on the Sunday scripture readings designed for persons on the run. "Faith Book" is also brief enough to be posted in the Sunday parish bulletins people take home.
From today's Gospel reading:
Jesus said to them, "I am the bread of life,
whoever comes to me will never hunger
and whoever believes in me will never thirst."
Reflection:
We are called to be signs of God's bread for others. We have work to do, feed the hungry when we find them. Let's look around us: in our families, schools, at work, in our community. All require dedication and perseverance on our part. So again, we pray, "Give us this day our daily bread… and help us be daily bread for others, signs to them that You have not forgotten them."
So, we ask ourselves:
For what am I hungering in my life?

Where am I going to look to satisfy this hunger?
Click here for a link to this Sunday's readings: