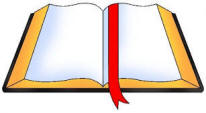 FAITH BOOK
18th SUNDAY IN ORDINARY TIME -C- July 31, 2022
Ecclesiastes 1: 2; 2:21-23; Ps. 95; Colossians 3: 1-5, 9-11; Luke 12: 13-21
Jude Siciliano, OP
---
From today's Ecclesiastes reading:
Vanity of vanities, says Quheleth,
vanity of vanities! All things are vanity!
Reflection:
Qoheleth is a wake-up call directing our attention away from the ephemeral towards what will last. Here is a mantra we repeat as a daily reminder to avoid greed and practice a simpler life, "I have all that I want, I have all that I need." It's a statement that can stir thanksgiving in our hearts as we offer today's Eucharist.
So, we ask ourselves:
Have I placed my trust in what is passing and will not sustain me in times of difficulty?

What reordering must I do in my priorities to put more balance in my life?
Click here for a link to this Sunday's readings:
https://bible.usccb.org/bible/readings/073122.cfm
---
FAITH BOOK ARCHIVE: