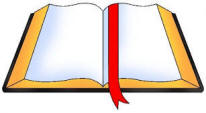 FAITH BOOK
17th SUNDAY -C- July 24, 2022
Genesis 18: 20-32; Psalm 138; Colossians 2: 12-14; Luke 11: 1-13
Jude Siciliano, OP
---
Mini reflections on the Sunday scripture readings designed for persons on the run. "Faith Book" is also brief enough to be posted in the Sunday parish bulletins people take home.
From today's Gospel reading:
Jesus said to his disciples,
"Suppose one of you has a friend,
to whom he goes at midnight and says,
'Friend, lend me three loaves of bread...."'
Reflection:
Jesus says to us today, "Suppose you were hungry, and it was late and you were weary of trying on your own, but then decided to hold out a hand to God. Wouldn't God give you something nourishing? Something you needed and can't provide for yourself? Of course, God would, because God is our friend in the night." Then Jesus would add: "You go and do likewise."
So, we ask ourselves:
For what "bread" am I hungering these days?

Am I being constant and trusting as I pray for it?
Click here for a link to this Sunday's readings:
https://bible.usccb.org/bible/readings/072422.cfm
---
FAITH BOOK ARCHIVE: