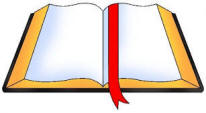 FAITH BOOK

16th SUNDAY

-C- JULY 17, 2022

Genesis 18: 1-10; Psalm 15: 2-5; Colossians 1: 24-28; Luke 10: 38-42

Jude Siciliano

, OP
---
Mini-reflections on the Sunday scripture readings designed for persons on the run. "Faith Book" is also brief enough to be posted in the Sunday parish bulletins people take home.
From today's Gospel reading:
[Jesus said to Martha]
"Martha, Martha, you are anxious and worried about many things.
There is need of only one thing.
Mary has chosen the better part and it will not be taken from her."
Reflection:
There is not just one way of being Jesus' disciples. Nor is one way superior and the other inferior. Instead, we are invited to follow both ways. The challenge is deciding when we are to choose Mary's way and when we are to choose Martha's. As one commentator has said, "The Christian life involves, among other things, a sense of timing."
So we ask ourselves:
When does your life resemble Martha's?
When do you choose to follow Mary's way?
How balanced in you life are these two ways?
Click here for a link to this Sunday's readings:
https://bible.usccb.org/bible/readings/071722.cfm
---
FAITH BOOK ARCHIVE: