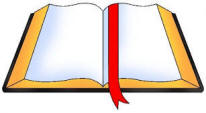 FAITH BOOK

15th SUNDAY

-C- July 10, 2022

Deuteronomy 30: 10-14; Colossians 1: 15-20; Luke 10: 25-37

Jude Siciliano

, OP
---
Mini-reflections on the Sunday scripture readings designed for persons on the run. "Faith Book" is also brief enough to be posted in the Sunday parish bulletins people take home.
From today's Gospel reading:
But a Samaritan traveler who came upon him
was moved with compassion at the sight.
Reflection:
The Samaritan would have known from his own experience what it felt like to be "beaten up" and left behind. His was a member of a despised group, an outsider to the religious and national thinking of the Jew. Which may have stirred him to respond to the victim by the side of the road. He knew what it was like to be victimized.
So we ask ourselves:
Can we remember an experience of being left out, treated as an outsider?
Does that experience make us more aware and sensitive to the plight of outsiders these days? Who are these outsiders?
Click here for a link to this Sunday's readings:
https://bible.usccb.org/bible/readings/071022.cfm
---
FAITH BOOK ARCHIVE: