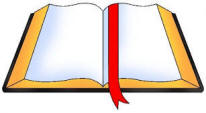 FAITH BOOK
12th SUNDAY (B) June 20, 2021
Job: 38: 1-4, 8-11; Psalm 107; 2 Cor. 5: 14-1; Mark 4: 35-41
Jude Siciliano, OP
From today's Gospel reading:
The disciples woke Jesus and said to him,
"Teacher, do you not care that we are perishing?"
He woke up, rebuked the wind and said to the sea,
"Quiet! Be still!"
The wind ceased and there was a great calm.
Reflection:
There is much that affects our church these days: scandal on the inside and rejection and persecution from the outside. With the disciples we are tempted to ask Jesus, "Don't you care...?" Today's gospel directs us to turn to Christ, who cares for God's storm-tossed children and ask him to speak a word of calm over the powerful forces that distress us – "" Quiet! Be still!"
So, we ask ourselves:
What turbulent forces in my life frighten me and test my faith?

Have I invited Jesus to speak a word that will give me courage and inner calm?