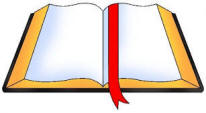 FAITH BOOK
TRINITY SUNDAY -C- June 12, 2022
Proverbs 8: 22-31; Psalm 8: 5-9;
Romans 5: 1-5; John 16: 12-15
Jude Siciliano, OP
---
From today's reading from Romans:

"...and hope does not disappoint,
because the love of God had been poured out into our hearts
through the Holy Spirit that has been given us."
Reflection:

We don't celebrate a doctrine of the church today, but the unfathomable mystery that is God, who chose to dwell among us, "fully human and fully divine," and then did not leave us orphans, but gave us a continual share in God's life through the gift of the Holy Spirit. It is this Spirit that continues to connect us to God and one another in love.
So, we ask ourselves:
What names do we have for God that reflect our experience of the divine in our lives?

Have we ever spoken of that name and experience to others?
Click here for a link to this Sunday's readings:
https://bible.usccb.org/bible/readings/061222.cfm
---
FAITH BOOK ARCHIVE: