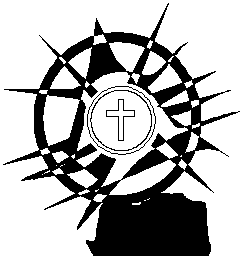 FAITH BOOK
BODY AND BLOOD OF CHRIST (B) June 6, 2021
Exodus 24:3-8; Psalm 116; Hebrews 9: 11-15; Mark 14: 12-16, 22-26
Jude Siciliano, OP
---
From today's Gospel reading:
While they were eating Jesus took bread, said the blessing,
broke it, gave it to them, and said, "Take it, this is my body."
Then he took a cup, gave thanks, and gave it to them and they all drank from it.
He said to them, "This is my blood of the covenant, which will be shed for many."
Reflection:
Jesus' sacrifice wasn't just his death on the cross, his whole life was a gift of himself to humanity. By receiving the Body and Blood of Christ today in the Eucharist, we are asking for the nourishment and strength, indeed, the very life of Jesus, to help us do what he did – to offer our lives as a gift to those we are called to serve.
So, we ask ourselves:
How are the daily sacrifices I make like the ones Jesus made?

How does my life reflect the true presence of Christ in the world?