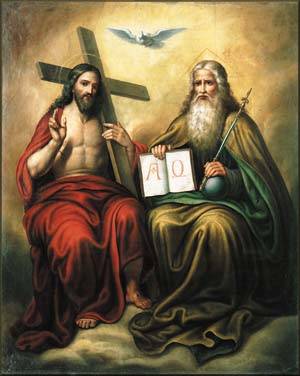 FAITH BOOK
HOLY TRINITY (B) May 30, 2021
Deuteronomy 4: 32-34, 39-40; Ps 33; Romans 8: 14-17; Matthew 28: 16-20
by Jude Siciliano, OP
Mini reflections on the Sunday scripture readings designed for persons on the run. "Faith Book" is also brief enough to be posted in the Sunday parish bulletins people take home.
From today's Gospel reading:
Jesus said to his disciples:
"All power in heaven and on earth has been given me.
Go, therefore and make disciples of all nations...."
Reflection:

Jesus chose to give power and send out as witnesses, the least likely of his day. Doesn't that speak to us "ordinary folk" who may not feel particularly gifted in matters of religion? Still, we are the ones upon whom Jesus pours his Spirit and appoints to "make disciples of all nations."
So, we ask ourselves:
·
How do we give daily witness to our faith in Christ?

Do we meet any opposition to our witnessing?