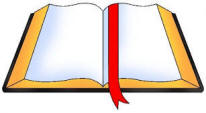 FAITH BOOK
6th SUNDAY OF EASTER, -C- May 22, 2022
Acts 15:1-2, 22-29; Psalm 67; Revelation 21: 10-14, 22-23; John 14: 23-29
By: Jude Siciliano, OP
---
From today's Book of Revelation reading:

The angel took me in spirit to a great, high mountain
and showed me the holy city Jerusalem
coming down out of heaven from God.
Reflection:

Revelation keeps our feet firmly rooted in our present struggles to live the Christian life; but it also focuses our eyes on what is to come. The world's indomitable powers, despite present appearances, will be overcome. In the meanwhile, John is inviting us to turn away from the false values and powers of the world and focus on the vision of the new Holy City where we will dwell with God and one another.
So, we ask ourselves:
How does our hope in a permanent future with God affect our lives now?

What signs do I see that strengthen my hope in the power of good over evil?
Click here for a link to this Sunday's readings:
https://bible.usccb.org/bible/readings/052222.cfmx
---
FAITH BOOK ARCHIVE: