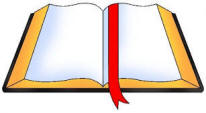 FAITH BOOK
5th SUNDAY OF EASTER -C- MAY 15, 2022
Acts 14: 21-27; Psalm 145; Revelation 21: 1-5; John 13: 31-33, 34-35
by Jude Siciliano, OP
---
Mini reflections on the Sunday scripture readings designed for persons on the run. "Faith Book" is also brief enough to be posted in the Sunday parish bulletins people take home.
From today's Acts reading:
"They strengthened the spirits of the disciples,
and exhorted them to persevere in the faith..."
Reflection:

That same Spirit that strengthened and brought new followers to the early church continues to "strengthen the spirits of the disciples" through spirit-filled preachers, teachers, musicians, lectors, parents, theologians etc.
So, we ask ourselves:
Can you name a few Spirit-filled disciples in your worshiping community and give thanks to God at today's Eucharistic celebration for them?

Would you personally thank them for the witness they give to presence of the Holy Spirit with the Church?
Click here for a link to this Sunday's readings:
https://bible.usccb.org/bible/readings/051522.cfm
---
FAITH BOOK ARCHIVE: