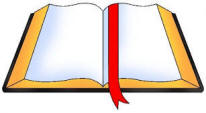 FAITH BOOK

FIFTH SUNDAY OF LENT

(A) March 26, 2023

by Jude Siciliano, OP
---
Mini-reflections on the Sunday scripture readings designed for persons on the run. "Faith Book" is also brief enough to be posted in the Sunday parish bulletins people take home.
From today's Ezekiel reading:
O my people! I will put my spirit in you that you may live, and I will settle you upon your land; thus you shall know that I am the Lord.
Reflection:
Throughout the world our Church has been seriously damaged by the clerical sexual abuse scandals. At this Eucharist we implore our Creator God to restore our dead and wounded parts to new life; to breathe the Spirit into us, as God promises to do today through the prophet Ezekiel
So we ask ourselves:
Have I prayed for the healing of the victims of sexual abuse in the Church?

Have I intensified my prayers this Lent for the healing of the Church from this scandal?
Click here for a link to this Sunday's readings:
https://bible.usccb.org/bible/readings/032623.cfm
---
FAITH BOOK ARCHIVE: