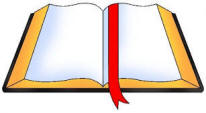 FAITH BOOK
FOURTH SUNDAY OF LENT (A) March 19, 2023
1 Samuel 16: 1b, 6-7, 10-13a; Psalm 23;
Ephesians 5: 8-14; John 9: 1-41
by Jude Siciliano, OP
---
Mini-reflections on the Sunday scripture readings designed for persons on the run. "Faith Book" is also brief enough to be posted in the Sunday parish bulletins people take home.
FROM TODAY'S GOSPEL:
When Jesus heard that they had thrown him out, he found him and said, "Do you believe in the Son of Man?" He answered and said, "Who is he, sir, that I may believe in him?"
Jesus said to him, "You have seen him, the one speaking with you is he."
He said, "I do believe, Lord," and he worshiped him. Then Jesus said,
"I came into this world for judgment, so that those who do not see might see,
and those who do see might become blind."
Some of the Pharisees who were with him heard this and said to him, "Surely we are not also blind, are we?"
Jesus said to them, "If you were blind, you would have no sin;
but now you are saying, 'We see,' so your sin remains.
REFLECTION:
We can not predict, or define God's saving presence in the world. The Pharisees couldn't imagine that God was present in Jesus, or that the blind man could discern the presence and actions of God better than they could. God is bigger and greater than any of us could imagine. The more profound darkness is to claim to have all the answers. Adapted for our purposes, this Lent we might pose the blind man's question this way, "Who are you Lord, that we might believe?" For we always are in need of more sight – more light on the "subject!"
SO, WE ASK OURSELVES:
Do I see Christ's presence in people and places that surprise me?
What person (s) has helped me "see" and grow in faith?
Click here for a link to this Sunday's readings:
https://bible.usccb.org/bible/readings/031923.cfm
---
FAITH BOOK ARCHIVE: