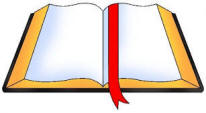 FAITH BOOK
5TH SUNDAY -C- FEBRUARY 6, 2022
Isaiah 6: 1-2a, 3-8; Psalm 138; I Corinthians 15: 1-11; Luke 5: 1-11
by Jude Siciliano, OP
---
Mini reflections on the Sunday scripture readings designed for persons on the run. "Faith Book" is also brief enough to be posted in the Sunday parish bulletins people take home.
From today's Gospel reading:

Peter said to Jesus, "Master we have worked hard all night and have caught nothing, but at your command I will lower the nets."
Reflection:

Like Peter we have things that concern us and keep our minds preoccupied during the night We can use some help to keep us focused and to guide our decisions. In the midst of all that occupies us we want to continue hearing Jesus' invitation to follow him. We especially want to do that as we toil through the sometimes, very dark periods of our lives.
So, we ask ourselves:
What areas of my life consume my energies and concern me the most?

Have I considered how Jesus is inviting me to follow him in those very places?
Click here for a link to this Sunday's readings:
https://bible.usccb.org/bible/readings/020622.cfm
---
FAITH BOOK ARCHIVE: