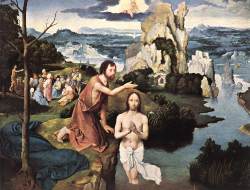 FAITH BOOK
THE BAPTISM OF THE LORD
(A) January 12, 2020
Isaiah 42: 1-4,6-7; Psalm 42; Acts 10: 34-38; Matthew 3: 13-17
By: Jude Siciliano, OP
Mini reflections on the Sunday scripture readings designed for persons on the run. "Faith Book" is also brief enough to be posted in the Sunday parish bulletins people take home.
From today's Gospel reading:
After Jesus was baptized, he came up from the water
And behold, the heavens were opened for him
And he saw the Spirit of God descending like a dove
And coming upon him.
Reflection:
Christ was not spared the costs of being God's Servant. Right after his baptism Jesus was tempted in the wilderness. His baptism doesn't guarantee him a smooth path through life; nor does it guarantee us a smooth ride. In fact, our baptism will cost us, for the faithful are to live the life of service that Jesus did.
So, we ask ourselves:
When and how does it "cost" you to be a disciple of Jesus?

Do you experience God's help when being a Christian comes with a price?
---