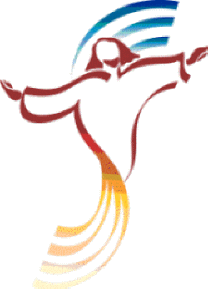 Week of October 3rd, 2021
Come and See!
---
The Word …

Brothers and sisters: He "for a little while" was made "lower than the angels, " that by the grace of God he might taste death for everyone.

For it was fitting that he, for whom and through whom all things exist,
in bringing many children to glory,
should make the leader to their salvation perfect through suffering.

He who consecrates and those who are being consecrated all have one origin.
Therefore, he is not ashamed to call them brothers and sisters.
(Heb 2:9-11)
---
Pondering the Word … "He who makes holy and those made holy all come from one." (Greek translation)
For a good part of my faith journey, I chose to keep Jesus, Mary, and the saints at arm's length, if not further. God, of course, was too scary to even entertain, although I was able to embrace the Spirit (who was and is for me the feminine image of Wisdom). It was refreshing as I began to learn — as an adult, mind you -- about the real lives of the saints, not the sanitized versions I heard as a child. It was good to hear about their mistakes, their foibles, their doubts. St. Peter became my "go-to" guy as he was, like me, always tripping over himself, his ego, and his expectations.
It's convenient though to keep Jesus and Mary on a high pedestal, out of our reach. It's an easy ploy for us to excuse our lack of holiness, and if I'm being honest, a good way for churches to keep the flock in line.
But what if we were to truly believe the words from Hebrews: that we come from the same source as Jesus, Mary, and all those we call holy? What if we were to accept that the Incarnation was God's way of showing us what our very creation was supposed to look like in the first place, before we began inserting our own egos and expectations into the equation? That God – Love – is the ultimate source and if we depend solely on Love – God – as Jesus and Mary did, we can achieve the holiness God intends for every one of us?
---
Living the Word …
Perhaps there are some raised eyebrows out there, but I mean no heresy in what I am saying. This is about the potential we each have as individuals to live out God's will. This is what we revere in Jesus and Mary, what the saints were striving for, and what we strive for as well: to live the life God intends for each of us, with the unique blessings and gifts God has given us.
These words from Hebrews are both comforting and challenging. It's amazing to know we are all created from Love and that we are Jesus' sisters and brothers. But we are also challenged to get to know God, the source of our being, intimately and without unholy fear so we can discern God's will for us and attempt—even though we fail over and over again – to carry Jesus as Mary did, and to carry out Jesus' work in the world.
"… blessed are those who hear the word of God and observe it." (Lk 11:27-28)
---
Mon, Oct 4: "And who is my neighbor?" (Lk 10:25-37)
There is good reason for this parable of Jesus to be one of the best known, and for the term "Good Samaritan" to be universally understood. There is no place to hide in this story, no excuses, no explaining away the disregard of the elite who pass by or the scandal of the virtuous, but despised foreigner. Today's reflection: Who is your neighbor? Obviously, we are not talking about geography here. Look around. Who do you see in need right now, especially those suffering that "the elite" might choose to ignore because it is not politically expedient? Provision: Pay attention today—without judgment for now—to those occasions when you literally or figuratively move to the opposite side of the road, avoiding or ignoring the need you see or hear about.
Tue, Oct 5: Martha, burdened with much serving, said, "Lord, do you not care that my sister has left me by myself to do the serving? Tell her to help me."…,"Martha, Martha, you are anxious and worried about many things." (Lk 10:38-42)
And so begins the time-honored tradition of a church "pot-luck" buffet! (Just kidding!) This translation says Martha was "burdened;" the Greek reads she was "distracted." Either way, she allows the expectations of the culture and tradition to define her and her role. Jesus, on the other hand, defies tradition by saying, "No, come sit with us and listen," a privilege given solely to men of that time. Today's reflection: What cultural or traditional expectations distract you from sitting with Jesus and listening? Do you use the Sunday obligation/option as a way to avoid sitting with Jesus? Provision: As you go about your day, notice when you are distracted from seeing God or hearing God's voice. See if you can pay attention to God's presence and whispered guidance.
Wed, Oct 6: Jesus was praying in a certain place, and when he had finished, one of his disciples said to him, "Lord, teach us to pray just as John taught his disciples."(Lk 11:1-4)
What kind of prayers did John the Baptist teach his disciples? John, the "voice crying in the wilderness," spoke and taught like the prophets of old. He preached repentance ahead of the Lord's coming. He likely used the psalms and the prayers from the prophets, but gave them renewed meaning and a sense of urgency so that the people were not just mouthing the words but heeding them. Jesus taught us to pray to God in words of praise and intercession, to speak personally to our loving parent. Today's reflection/provision: When you pray rote prayers like the psalms or the Our Father, try to use your own words, e.g., "give me today what it is I need. I think it is… but your will be done!" Pick one of the psalms and rewrite some of it from your own perspective.
Thu, Oct 7: "It is vain to serve God, and what do we profit by keeping his command…Rather must we call the proud blessed; for indeed evildoers prosper, and even tempt God with impunity." (Mal 3:13-20)
Boy, it's easy to have this same feeling! The proud and the evildoers do indeed seem to prosper, or at least get all the media coverage! Getting ourselves and our young people to see past this and look forward in hope is tough. Today's reflection: There seem to be so few repercussions these days for the" proud and important" who break the law. Talk to God about how this feels to you. Provision: Don't be afraid to call out pride and evil when you see it.
Fri, Oct 8: "The nations are sunk in the pit they have made; in the snare they set, their foot is caught." (Ps 9) "Every kingdom divided against itself will be laid waste and house will fall against house." (Lk 11:15-26)
Today's readings are apocalyptic, a precursor perhaps to the season of Advent, just eight weeks away. I'm not the "gloom and doom" type, but these messages give me pause. I see "pits and snares" set in my own country; deep and growing divisions. Contrary to our grandiose view of ourselves, we are no better than our ancestors who succumbed to the evil of nationalism, not immune to downfall when we seek to divide. Today's reflection We ignore signs at our own peril. Reflect on what you can do to foster love, not division. Provision: Pray today for your country and countries all over the world that, because of fear, build walls instead of bridges. Look deeply within yourself: Do I have any walls that need to be dismantled?
Sat, Oct 9: "… blessed are those who hear the word of God and observe it." (Lk 11:27-28)
Jesus is not dismissing Mary in this passage. Blessedness is not confined to Jesus' blood relatives or close disciples. Anyone who hears the word of God and responds as Mary did is blessed. Mary is our model for blessedness, hearing and heeding God's word. Today's Reflection: A good follow-up to Sunday's reflection. Do you believe you can be blessed like Mary? Provision: Pray to Mary today. Pray the Hail Mary or the Rosary if it is part of your tradition. Ask Mary for guidance and the courage to listen, know, and do God's will.
---
We hope you enjoy "Come and See!" and we welcome your input. Please contact Elaine Ireland at
ehireland@loyola.edu
with questions, comments, and responses.
---
To receive "Come and See!" via email, send request to ehireland@loyola.edu.
© 2021, Elaine H. Ireland.
---
Up to 6 weeks of "Come and See!" reflections are saved here.
The latest is always listed first.