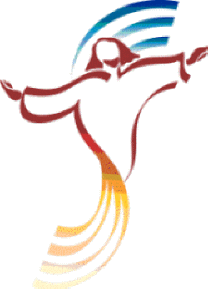 Week of September 5th, 2021
Come and See!
The Word …
"Be strong, fear not! Here is your God…he comes to save you….
Then will the eyes of the blind be opened, the ears of the deaf be cleared…"

(from Is 35:4-7)
"Listen, my beloved brothers and sisters. Did not God choose
those who are poor in the world to be rich in faith
and heirs of the kingdom that he promised to those who love him?"
(from Jas 2:1-5)
And people brought to him a deaf man who had a speech impediment…
He took him off by himself away from the crowd.
He put his finger into the man's ears and, spitting, touched his tongue;
then he looked up to heaven and groaned, and said to him,
"Ephphatha!"-- that is, "Be opened!"

( from Mk 7:31-37)
---
Pondering the Word …
"Ephphatha! Be opened!" What a wonderful gift… to be opened!
The gospel reading for this Saturday is about the floods that can come and knock us off our foundations if we are not built on the solid rock of faith. As I pondered that reading, I couldn't help but think of all the floods, hurricanes, typhoons, and other natural disasters occurring in my own country and all over the world. (As I write this, a hurricane is bearing down on the US South, with life-threatening storm surges and rainfall.)
And I also can't help but think of the people -- particularly the poor and oppressed – who express such a rich faith in God's providence after being beset by disaster after disaster. Their stories, and the stories of people with whom I am privileged to work in my own area, are more than humbling. They stop in me in my tracks and make me see the poverty of my own faith and my lack of openness to relying solely on God's saving protection, placing my hope all too often on the foundation-less things of this world.
Those of us who see ourselves as "chosen" by God because of our faith practice or by the blessings we have received in this life need to heed James' words today: God chooses the poor in the world to be rich in faith, but also to be heirs to the Kingdom. What stands in the way of our choosing poverty and gaining the Kingdom?
---
Living the Word …
This is such a debate among followers of Christ: Am I supposed to take literally the words of Jesus to the rich young man and sell all I have and follow him? Or does Jesus look to see what stands in my way of total reliance on God? Maybe it's not material riches, but the need to be needed or for recognition or the need for control. This is a difficult, but fruitful source for prayer. Where are you blind, where are you deaf? What in you needs to be opened so that you can be one of God's chosen? There is much the poor can teach us. Are you willing and open to learn from them by being a companion to the poor?
(As you plan your week, consider making Saturday, Sept 11, a day of prayer for openness, healing, and hope.)

---
Mon, Sep 6: "…in my flesh I am filling up what is lacking in the afflictions of Christ…to bring to completion for you the word of God… Christ in you..." (Col 1:24-2:3)
I was puzzled by this verse until I read the literal translation: "I am filling in the things belonging to the Anointed that are lacking in my flesh on behalf of his Body…" i.e., I am looking at what is lacking in me that I may bring to others a more complete picture of Christ so they too can do the same. Today's reflection: This is fodder for deep prayer. Start by considering Jesus' attributes, e.g., compassionate, unafraid, complete faith in God, a great listener. Then sit quietly, asking the Spirit to shine a light on where God is calling you to "fill in" in order to bring Christ to others. Pray from your heart, not your head. Provision: Pick one thing you heard in prayer and try to put it into action!
Tue, Sep 7: Jesus departed to the mountain to pray, and he spent the night in prayer to God. (Lk 6:12-19)
A lot has happened to Jesus: rejection, healings, calling of disciples, run-ins with the elders. So much to process! So he does a wise thing: he goes off to pray. We hear he prayed the whole night. He prayed for guidance as he set out to choose his closest compatriots. He prayed for himself. Any time I've prayed all night it has been for a loved one facing hardship or illness or death. When was the last time you spent an extended period of prayer to pray for guidance, for wisdom, for yourself, to discern God's will for you? Today's reflection/Provision: Set aside an extended period of time—which for some may be just an hour—to pray for yourself, to know God's will. Turn off the phone and computer. If you can't do it today, add it to your schedule later this week (see Thursday). Start out using the first phrase of Psalm 86: "Hear me, Lord, and answer me." Spend most of the time in quiet listening, letting random thoughts and distractions come and go. (I often hear people say, "I can't do this," to which I answer, "Of course you can't! None of us can. But the Spirit can!" (Rm 8:26)
Wed, Sep 8: "The virgin shall be with child and bear a son; they shall name him Emmanuel." (Mt 1:18-23 from Is 7:14)
In the Roman, Anglican, and Orthodox calendars, today is Mary's birthday. While various Christian and Muslim practices revere Mary in different ways, her birthday is a reason for celebration for all of us, as is her example of faith in God's promise. Today's reflection: "To be innocent is to retain that space in your heart that once heard a still, small voice saying not your name so much as your nature; and the wherewithal to say again and forever your wordless but lucid, your untriumphant but absolute—yes. You must protect this space so it can protect you. You must carry it with you through whatever milieu in which you find yourself growing too comfortable: the seductive assurance of secularism, the hive-like certainties of churches, the mental mazes of theology…Something in you must remain in you, voiceless as you voice your deepest faith, doubt, fear, dreams…" (adapted from My Bright Abyss [2013] by Christian Wiman, p. 64). Provision: To honor Mary today, say "Yes" to God's invitation to bear Christ in the world.
Thu, Sep 9: "…put on love… Let the word of Christ dwell in you richly, (Col 3:12-17) "Be merciful…"(Col 3:12-17)
Today's reflection: Please…read the two NT passages for today. Read them slowly and aloud in their entirety, letting each phrase resonate. Reflect on what your life would look like if you were to truly live by the advice given in these brief, but very rich passages about what it means to be a Christian. Provision: There's a lot to take in, so don't get overwhelmed. If you were not yet able to do the extended prayer from Tuesday, use these readings as a springboard.
Fri, Sep 10: "Let me remove that splinter in your eye,' (but) you do not notice the beam in your own?" (Lk 6: 39-42)
I have a dear priest friend who, whenever this Gospel comes up, places a large log on the ambo/lectern. He suggested once we should all carry a stick in our pockets to remind us of Jesus' words! Today's reflection: Our public discourse -- if you can call it that -- is fraught with judgment, criticism, and anger. Ask: Am I more judgmental, ready to criticize others whose opinions are different? Am I angrier? Provision: Just be aware today when anger and judgment arise. Try to stem those emotions and look to where God might be calling you to look at yourself.
Sat, Sep 11: "I will show you what someone is like who listens to my words, and acts on them…a man building a house who dug deeply and laid the foundation on rock; when the flood came… it could not shake it." (Lk 6:43-49)
Today's Reflection/Provision: Today marks the 20th anniversary of attack in my country that took thousands of lives and has repercussions still being felt today. It's recorded that over 4.5 million people have died worldwide from COVID; the real total is much higher. The count of those perishing in natural disasters and due to famine and climate change this year is in the millions and rising. Let us "pour out our hearts before God, our refuge!" (Ps 62). Pray for compassion, mercy, openness, healing, hope, and to heed Christ's instruction this week to love and pray for our enemies.
---
We hope you enjoy "Come and See!" and we welcome your input. Please contact Elaine Ireland at
ehireland@loyola.edu
with questions, comments, and responses.
---
To receive "Come and See!" via email, send request to ehireland@loyola.edu.
© 2021, Elaine H. Ireland.
---
Up to 6 weeks of "Come and See!" reflections are saved here.
The latest is always listed first.