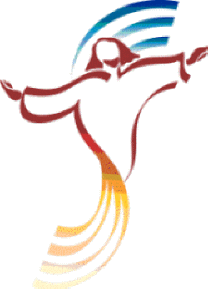 Week of July 18th, 2021
Come and See!
The Word…
"Woe to the shepherds who mislead and scatter the flock of my pasture,
says the LORD. …You have scattered my sheep and driven them away.
You have not cared for them…I myself will gather the remnant of my flock …
so that they need no longer fear and tremble; and none shall be missing,"
(from Jer 23:1-6)

"Brothers and sisters: In Christ Jesus you who once were far off
have become near by the blood of Christ.
For he is our peace, he who made both one
and broke down the dividing wall of enmity, through his flesh…
that he might create in himself one new person in place of the two,
thus establishing peace, and might reconcile both with God…"
(from Eph 2:13-18)
---
Pondering the Word …
"Woe to the shepherds." It strikes me as I read these words that the shepherds you might think God is condemning in this reading may not be the same shepherds I think of! Our view of who is part of "the flock" may be totally different as well. Fact is, neither of us has the mind of God, so we have no business imagining we know how God judges. And those shepherds and their flocks who think they do know would be well to remember that assuming to know as God knows is what got us into trouble in the first place!
So instead of getting riled up about what comes down to a liberal/conservative, "who's in/who's out" division, let's look instead at Paul's words to the Ephesians. He assures them the dividing wall of enmity between Gentiles and Jews has been broken down, that Christ came to unite, to bring peace, so that all may "have access in one Spirit."
Christ came so that "none shall be missing."
Living the Word …
To quote Jesus, "What is your opinion?" What does the phrase, "none shall be missing" mean to you? None out of this select group? None out of those who believe this and not that? Those who, like the older son in the parable, have successfully navigated the perils of humanity by sticking to the rules, but not those, like the younger son, who have strayed and might stray again?
Jesus calls God, the Father, Abba—Daddy—as a way to describe for us simple-minded human beings the type of commitment and love our ineffable creator has for all of us. Unfortunately for many, their human fathers and mothers did not meet that standard, but ideally, wouldn't we all hope for a loving parent who excludes no one, who wants none to be missing, who wants all their children home?
---
Mon, Jul 19: "Why did you bring us out of Egypt? Did we not tell you this in Egypt, when we said, 'Leave us alone. Let us serve the Egyptians?' Far better for us to be the slaves of the Egyptians than to die in the desert." (Ex 14:5-18)
There's nothing recorded that the people ever said to Moses, "Beat it!" when he proclaimed God's plan for their salvation. There was grumbling from some—these are the Israelites, after all. But there were likely those who dismissed him saying, "Leave us alone." There are always naysayers, those who are not willing to do the hard work change and salvation require.
Today's reflection: Are there areas in your life where you have given up trying? Things and ideas to which you want to say, "leave me alone, it's not worth the effort!"
Provision: Reach out of your comfort zone today. Do something or engage someone that challenges your tendency to dismiss what is new..
Tue, Jul 20: "...whoever does the will of my heavenly Father is my brother, and sister, and mother." (Mt 12:46-50)
Moms may not be too happy with Jesus in this story! It seems like he disses Mary and his family. Later on this week, when God hands down the commandments, we are warned of the punishments that will be inflicted on the descendants of those who violate the law. What Jesus is saying here is that the Kingdom of God is not limited to those whose ancestors have been faithful, or that the Kingdom is based on natural heritage or kinship. "My family are those who do the will of my Father." And who is the best example of that? Mary!
Today's reflection: Reflect on God's will for you. Deep interior peace (not resignation) can be a sign of living God's will. But so can be struggling with questions!
Provision: Ask God to show you your road to the Kingdom and then pay attention as you go about your day. What gives you joy and peace? When to you do God's will?
Wed, Jul 21: "But some seed fell on rich soil, and produced fruit, a hundred or sixty or thirtyfold." (Mt 13:1-9)
Whenever the topic of "rich soil" comes up, I like to remind us about what makes for rich soil: rotting, organic material…discards…manure. And I also like to remind us that in order for these "ingredients" to benefit the soil, they need to be incorporated, worked into the soil, not just dumped on top.
Today's reflection: Take a look at any situations, memories, or people you might just as soon discard. Could there be any benefit derived from seeing if they can strengthen or enrich you? (Note: people or current situations that are dangerous or toxic will only hurt. Get rid of them.)
Provision: Recall a past situation that, while difficult, added to your growth. Say a prayer of thanksgiving.
Thu, Jul 22: "I sought him whom my heart loves– I sought him but I did not find him. I will rise then…I will seek Him whom my heart loves… The watchmen came upon me: Have you seen him whom my heart loves?" (Sgs 3:1-4)
In several Christian traditions, today is the Feast of St. Mary of Magdala, Apostle to the Apostles. Today's reading from Songs of Songs reminds us of how Mary rises while it is still dark to go to Jesus' tomb. She seeks the comfort of being as close as she can to "him whom her heart loves." She is rewarded for her desire by the intimate gift of Christ's presence as he hovers between earth and heaven.
Today's reflection: In what ways is your relationship with Christ intimate? Does intimacy even enter the picture?
Provision: While it might be a bit uncomfortable, try reading some of the Song of Songs. Its physicality is just an attempt to get us to understand the depth of the love relationship we are invited to enter into with God.
Fri, Jul 23: "In those days: God delivered all these commandments…" (Ex 20:1-17)
"I created you from love and I will be with you always. You need not look to anyone or anything else for your salvation. When you invoke my name, make it be for good and for peace. Let's celebrate together each week by resting in each other's embrace. Cherish the ones who, with me, gave you life. Respect and cherish all creation. Be loyal and faithful. Work for what you want. Be truthful. Be happy and content with what you have."
Today's reflection: We focus so much on the "shoulds" and should nots." Focus today on the gift that is the commandment to love: what does that mean in your life?
Provision: Remember to love today as the other needs to be loved -- in their uniqueness -- which might not be the same way you need to be loved. Think about it.
Sat, Jul 24: "Where have the weeds come from?" (Mt 13:24-30)
Isn't this the question we always ask of God? Isn't this an issue theologians have debated for centuries? The weeds are there. Evil and sorrow exist. Our challenge is to continue to nurture and care for the wheat, that it will grow stronger, not only to survive but to thrive.
Today's Reflection: What are the weeds that exist in your "field?" What can you do to make sure they don't overtake the whole thing?
Provision: Let's make sure today that we are not doing anything to encourage the weeds, in our own lives and in the lives of others.

---
We hope you enjoy "Come and See!" and we welcome your input. Please contact Elaine Ireland at
ehireland@loyola.edu
with questions, comments, and responses.
---
To receive "Come and See!" via email, send request to ehireland@loyola.edu.
© 2021, Elaine H. Ireland.
---
Up to 6 weeks of "Come and See!" reflections are saved here.
The latest is always listed first.